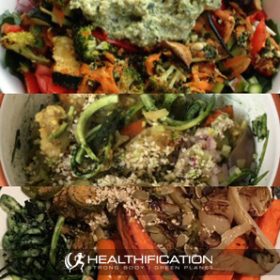 Podcast: Play in new window | Download
Subscribe: RSS
Todays show on:
How To Avoid Eating Too Many Processed Carbs As A Vegetarian Or Vegan 
was inspired by a couple of dear podcast listeners. Thank you Karen and Robyn!
It's also a subject very close to my heart. Previously frequently very close to my belly! If you're a vegetarian or vegan who eats too many processed carbs, I can 100% relate. That was me for at least 15-20 years!!!
Now I've got some great substitutes and strategies to share to help you ditch the processed carb-o-la crap-o-la cycle.
And it is a cycle. Those things are deliciously addictive. In fact they are manufactured to be as deliciously addictive as possible, as I cover in a post called: Deliberately Addictive Craving Causing Food: 3 Myths which I'll link to in the show notes. They are also crazily convenient and cost effective.
However as the saying (sort of) goes, if you are what you eat: Do YOU want to be cheap, fast and fake??
In all seriousness – and I do take food super seriously – for any sustainability I have a couple of considerations to keep at the forefront of your mind when making any upgrades to your current eating.
First, Focus on what you are GIVING your body. 
It can never be about restriction. Or deprivation. That's simply not an effective long term strategy. For the results of any food upgrade to last you need to be able to continue with the actions you took to get those results.
Second, Everything Counts. 
Be tough on yourself when you're in the decision making process BEFORE any unplanned delicious devouring. However please don't waste your energy on guilt after the act. It's a widely useless emotion. Your energy and focus are better spent learning from and out-planning any future slip ups rather than giving yourself grief or deciding: "That's it, I've fallen off the wagon – this whole cut the processed carbs crap is too tough… now where did I hide those chocolate bikkies?"
That said, I guess the 3 steps that save me most from eating too many processed carbs now are:
Step One: Meal Planning. 
Boring yet effective and good to do while listening to a podcast!
Meal planning is one of those unsexy strategies that many of us would like to ignore however it's just not going away. If you live a busy lifestyle. If you sometimes get caught up at work, with friends, with the kids and arrive home later, more tired, less disciplined than you expected. If sometimes you just get swamped with a debilitating wave of LAZY, exhausted or my personal fav a detrimental, illogical yet undeniable desire to "rebel" or "self destruct"… if that is ever you, then meal planning can be your solution.
It'll require some brainstorming in advance to come up with your delicious, nutritious meals on mass (more on that in step 2).
It'll also take a couple of blocks of time each week to do the shopping and the cooking.
When you make that time investment in advance it'll save you meal prepping time each day and so much more importantly it'll save you all that energy wasted thinking: "Is this ok?" "Can I get away with this?" "Why did I just eat that?" "Why am I so undisciplined?"
Those are certainly not fun, effective questions to spend your time asking.
Step Two: Hunting down substitutes for all the carbs you used to rely on. 
I like to keep this simple as I'm as lazy in the kitchen as I'm disciplined in the gym!
Let's start with 3 of your current Go2Dinners. I guarantee there is a processed carb free alternative for each of them. If the alternative is initially not quite as quick there are a couple of ways to look at it:
A) You'll be saving yourself tedious cardio time in the gym trying to out-train your carb habit!
B) There will be a work around / short cut, it's just a matter of finding ti.
Some of my favs include: Zoodles (that's spiralized zucchini) instead of pasta or noodles. Cauli-rice. Cauli-mash. Kale crisps instead of potato chips and also instead of nacho chips. Cos leaves instead of wraps. Portobello mushroom caps instead of pizza. Cauli-kale tabouli.
If I wanted to spend more time in the kitchen I also like: Strips of baked eggplant instead of cannelloni. Cauli-crust pizza. Cauli-rice sushi.
Most of these meals can be made on mass and frozen in portions. To really simplify the process I recommend finding just ONE meal that used to be full of processed carbs and starting with a fibrous veg based version. My current 100% plant based Go2Dinner is a smokey eggplant curry. It also has around 5 other veg dependant on what's in season. I make it in batches of 6 and serve it over zoodles tossed in Spirulina and Dulse flakes. I top it with red onion, fresh coriander and a tablespoon each of hemp and pumpkin seeds. That part of the meal takes about 5 minutes a night. I also have it with kale or brussel crisps tossed in coconut oil, pink himalayan salt and a heaped tablespoon of nutritional yeast… however that's optional, it's just that I have a huge appetite and am also an emotional eater.
When deciding on your ONE meal it's important to start with fibrous veg however however it's essential to also include satisfying protein and good fats. Otherwise you'll feel hungry and will be susceptible to cravings. Those aren't craving for processed carbs or sugar it's just a sign your body is either getting too few calories or too few micronutrients.
Often the vegan option will mean you eat more fat than you were used to on a high processed carbs diet however good fat isn't bad! You're cutting out the often nutritionally void or low value processed carbs (which often by default also cuts out low value processed fats) and replacing them with high value, micronutrient dense plant based alternatives and it means you can easily 'get away' with more fat in you eating routine.
Step Three: Still including ONLY the carbs you super love most… and never feeling guilty. 
I'm a fan of constantly upgrading your approach to eating while also loving every meal you eat.
Given "Everything Counts" and you want to "Focus On What You're Giving Your Body" the way to make step three work is to decide on your best of the best carbs or processed carbs. Move at your own pace for this one. My best of the best used to be fairly low value (yet delicious) Golden Gaytime ice-creams, Malteser's chocolates and extra crispy hot chips.
Now I prefer gorgeous cape-seed rolls on a Sat and Sun. Aaaaand, plenty (!) of Shiraz. I have a (generous) limit for each.
Whatever your carbs you super love most, it's important to decide in advance when you'll enjoy them. Also to decide on an amount that you'll feel happy and satisfied with and equally to buy only that amount so you don't have to contend with lethal leftovers!
The thing that makes enjoying only the best of the best carbs doable – even easy – is to take the time with step two and step one so that every other meal you eat each day is enjoyable.
If you don't bother with Step One: Meal Planning, then there's a good chance you'll find yourself either eating too many processed carbs OR throwing together some completely unsatisfying, joyless, boring meal at the last minute that really is not something to look forward to and as such is not sustainable.
Equally Step Two: Hunting Down Substitutes, is necessary to make your meal planning effective.
To get actionable today, what is your ONE meal that used to be full of processed carbs and can instead start with a fibrous veg based version? What satisfying protein and good fat will you also include? 
If you're not sure how to make over your meal please ask me in the comments below. I love a challenge!
That brings us to the end of today in Healthification. Huge heart felt gratitude flowing through the pod-waves to you from me for your support and for sharing this week with me.
If you've enjoyed this show and gotten value out of it I'd truly appreciate it if you pop over to iTunes and leave me a review. It helps other people find Healthification… in fact it's the single most effective way to help this little show stand out amongst the much bigger hitters in the land of iTunes. Additionally, it really does inspire me to power on with the weekly shows. Thanks so very much and Cheers!
If you liked, How To Avoid Eating Too Many Processed Carbs As A Vegetarian Or Vegan you'll also like: Healthy Vegetarian Eating (step by step).
If you're yet to share the Healthification love – just click here to zip over to iTunes and leave an honest rating and review. It'd help me out big time. With gratitude, Kate.