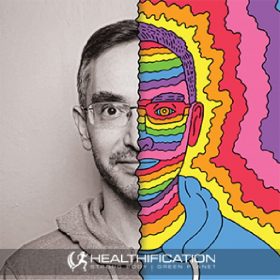 Podcast: Play in new window | Download
Subscribe: RSS
This show was a true joy to prep for. I find comedians fascinating. Their aptitude for approaching challenging topics. In Myq's case, planting vegan seeds in a fun, disarming and effective manner. 
For a little official bio: American stand-up comedian Myq Kaplan has appeared on the Tonight Show, Conan, Letterman, James Corden, Seth Meyers, Comedy Central, Last Comic Standing, and America's Got Talent.
He has a one-hour standup special on Amazon, "Small, Dork, and Handsome," and two podcasts, The Faucet and Broccoli and Ice Cream. His first album, "Vegan Mind Meld," was one of iTunes' top 10 comedy albums of the year. Myq's newest album, "A.K.A.," debuted at #1. It was originally performed at the Edinburgh Fringe Festival in 2018 as a solo show entitled All Killing Aside.
The NY Times called it "invigoratingly funny" and also shares "Kaplan dares you to go there."
I love that Myq goes there. His ethical vegan lifestyle always gets a mention in his stand-up. 
Let's hear from Comedian Myq Kaplan about Using Jokes to Drop Challenging Vegan Truth Bombs…
A joke is a wonderful delivery system for a truth. @myqkaplan
Click To Tweet
Myq's becoming vegan story.
The importance of comedy as a means by which to effectively spread a message that challenges norms in society.
Myq's craft, and challenging audiences. Does it always work out? Has he stepped too far over the line and how did he recover?
Are there any lessons from stand up that are very applicable to every day life.
Advice for new vegans / vegan curious.
Myq's go to ice cream / what he does to feel joy when times are struggle-street.
The Broccoli & Ice Cream Podcast
Myq's recent engagement with ideas from buddhism which align with veganism.
Friends I hope you enjoyed that conversation. I found Myq to be fabulous at the combination of both fun and deep thinking.
Though most of us will never attempt stand-up comedy there are certainly lessons for each of us as activists and as effective communicators.
Most of Myq's audiences are not full of vegans however he'd like to think they are full of future vegans. Which is exactly the same as most of my conversations.
Connect with Myq across the socials: Instagram | Facebook | Twitter
Myq's Website:
Check out the Broccoli & Ice Cream Podcast:
Also the Faucet Podcast:
Myq's Comedy albums:
* Vegan Mind Meld (2010, BSeenMedia)
* Meat Robot (2013, Comedy Central Records)
* Small, Dork, and Handsome (2014, Comedy Dynamics)
* No Kidding (2017, ASpecialThing Records)
* A.K.A. (2020, Blonde Medicine)
Myq's Substack Newsletter: https://myqkaplan.substack.com
Finally, I didn't get to this in our chat however Myq is also narrator in a thought-provoking video produced by creative agency Kindvertising for a coalition of animal advocacy groups to combat false advertising by the meat, egg, and dairy industries. "Don't Look," reveals marked discrepancies between industry claims and actual practices, known as "humanewashing." 
I'd gladly trade all my jokes about social justice for a world full of social justice. @myqkaplan
Click To Tweet
That's it for this week in Healthification. If you're yet to subscribe wherever you're listening please do and equally awesome, please consider sharing the show with someone you think would find value in it. Big thanks to YOU for sharing this week with me.
The Healthification podcast is proudly bought to you by my FREE 'Easy Vegan' plan. It took me 25 years to transition from a meat eater to a happy, healthy Vegan! You can do it in just 3 days with my simplified 'easy vegan' plan!  Get the fit, strong, and healthy plant based body you deserve… while avoiding ALL the mistakes I made along the way!
To learn more check out: strongbodygreenplanet.com
Till next time, remember Creating a body and life you love is Freedom. (If this ex-refined-carb queen, non genetically gifted, naturally uncoordinated vegan chick can do it – so can YOU!!!)
If you liked "Comedian Myq Kaplan and Using Jokes to Drop Challenging Vegan Truth Bombs." you'll also like E632: Vegan Comedian Jacob Yapp and Effecting Social Change Through Comedy.
If you liked "Comedian Myq Kaplan and Using Jokes to Drop Challenging Vegan Truth Bombs." you'll also like E592: James Clear and Atomic Habits, Why True Behaviour Change Is Really Identity Change.
If you liked "Comedian Myq Kaplan and Using Jokes to Drop Challenging Vegan Truth Bombs." you'll also like Look Good, Feel Good and Do Good by Becoming a Fabulous Vegan with Jasmin Singer.