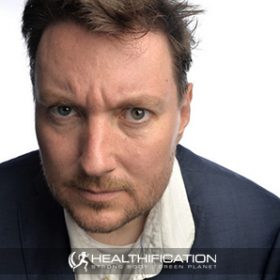 Podcast: Play in new window | Download
Subscribe: RSS
One of the many things I really love about the conversations I get to have on this podcast, is the super diverse range of guests I get to chat with. Today's show featuring:
Vegan Comedian Jacob Yapp and Effecting Social Change Through Comedy 
is the prefect example. I knew Jake would be a lovely gent, as well, I'd done my research and I could just tell.
However would he be funny in a podcast interview? 100% absolutely YES! I really enjoyed the conversation I have to share with you today.
I have such respect for professionals who bring their vegan lifestyle into their career. I know it's not possible all of the time, however surely for each of us it's possible some of the time?
As Jake and I discuss there's a bit of a balancing act between always flying the vegan flag which would be exhausting and ostracising and yet doing the animals, the environment and our own values and ethics justice by flying that flag enough of the time.
For a tad of semi-official bio: Jacob Yapp is a writer, composer and comedian, with writing and performing credits including TV Offal, Never Mind the Buzzcocks and Ronnie's Redneck Road Trip.
As well as television, Jake spent three years working on the 6Music Breakfast Show, writing, performing and producing hourly songs and sketches.
To cut in with my personal recommendation (!) I love the BBC Radio 4 series looking at the ethics of eating animals Would You Eat An Alien? To quote the series overview: "Jake the Spaceman (aka comedian Jake Yapp) has crash-landed on a remote planet and doesn't have much food to keep him going until he is rescued. Fortunately, the planet is teeming with alien life forms that are edible, but which ones should he eat? He wants to cause the minimum amount of pain and distress to the creatures."
This radio series is a great example of the way comedy can gently lead the audience right up to a horrific reality they might have otherwise stubbornly side-stepped. What the newly informed non-vegan does with this new information is of course up to them however it's a seed planted.
I'm grateful Jake is using his talent to spread the vegan message because goodness knows we need a little more bright, light and laughter and a lot less frustrated vegan rants as we progress steadily yet painfully slowly to a more compassionate vegan world.
Ok, let's discuss Effecting Social Change Through Comedy with Vegan Comedian Jacob Yapp.
In this interview we cover:
Jake's becoming vegan story.
The importance of comedy as a means by which to effectively spread a message that challenges accepted yet immoral norms in society.
Jake's best advice for new vegans / vegan curious.
Does Jake have an animal activist or vegan hero?
Does Jake have someone at the top of his Vegan wish list and WHY? 
What is the belief or habit that Jake has changed in the last 5 years that's had the most positive impact on his life?
What's Jake's kryptonite?
I hope you enjoyed that chat as much as I did!
Who knew we'd get some solid food advice too. I'm certainly up for trying some fermented tofu. After the interview Jake was able to share just a little more about his current and upcoming creative ventures and I'm excited to see them pan out. I guess I shouldn't say any more (however you know anything to do with spreading the vegan massage get's me excited right?).
Connect with Jake via his home Website: 
Or across the socials: Twitter | YouTube | Facebook
Listen to the BBC Radio 4 series looking at the ethics of eating animals Would You Eat An Alien?
Jake's vegan hero: Deborah Brown Pivain via the Gentle Gourmet Institute (Facebook)
That's it for this week in Healthification. Huge thanks to YOU for sharing this week with me. You rock and I appreciate your support!
The Healthification podcast is proudly bought to you by my FREE 'Easy Vegan' plan. It took me 25 years to transition from a meat eater to a happy, healthy Vegan! You can do it in just 3 days with my simplified 'easy vegan' plan!  Get the fit, strong, and healthy plant based body you deserve… while avoiding ALL the mistakes I made along the way!
Till next time, remember Creating a body and life you love is Freedom. (If this ex-carb queen, non genetically gifted, naturally uncoordinated vegan chick can do it – so can YOU!!!)
If you liked "Vegan Comedian Jacob Yapp and Effecting Social Change Through Comedy" you'll also like Psychologist Clare Mann and The Myths of Choice: Why People Won't Change and What You Can Do About It.
If you're yet to share the Healthification love – just click here to zip over to iTunes and leave an honest rating and review. It'd help me out big time. With gratitude, Kate.