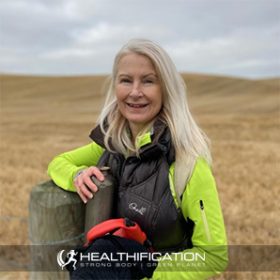 Podcast: Play in new window | Download
Subscribe: RSS
Most of my conversations are with the animals in mind and staunchly from the point of view of an animal rights activist. That will always be my priority and yet also I want to better understand how farmers can benefit – greatly – from freeing animals from their business model.
If you can continue to live on the land, to maintain the family tradition, to be sustainable and more profitable WITHOUT any animal exploitation – surely that's got to be an appealing proposition?
This is an important conversation and today our guide is Rebecca Knowles from Farmers For Stock Free Farming.
Scotland based Farmers For Stock Free Farming is an organisation that helps farmers make the transition to ethical business models without using animals.
Rebecca advocates using 3 roads to stock free farming. They are growing crops for human consumption, restoring native trees and ecosystems, and starting diversification enterprises.
Of course everything we discuss today and the abundance of information available via https://farmersforstockfreefarming.org/ is applicable to stock free farming all over the world.
In this conversation we cover:
Rebecca's vegan journey and farming history. 
Reasons to Shift to Stock-Free. Especially: Combat Financial Uncertainty | Optimise Land Use | Restore Ecosystems and Biodiversity.
Advances in biotechnology that allow high quality protein to be created from micro-organisms.
How FFSFF support farmers to transition to animal free agriculture via 3 roads to stock free farming.
Inspiring case studies of stock free farming.
Myths about farming / stock free farming that most frustrate OR surprise Rebecca.
Exciting and true: Protein for human consumption made from grass! 
And so much more!
I love that FFSFF was started in response to an outrageous comment stated as fact by a politician that Rebecca knew to be false yet also understood  she needed abundant, actionable evidence. How often in our conversations are we hit with such statements?
Especially to my animal rights activist friends who might find conversations with farmers challenging I hugely recommend you check out https://farmersforstockfreefarming.org/ to familiarise yourself with the extensive content there to help us have effective communication where we can focus on everything we have in common and the sustainable, compassionate world we can work towards together.
For the farmer who wants to position their business ahead of the curve and embrace veganic agriculture and stock free farming there are so many diverse and inspiring case studies to let you know that you do have options and opportunities.
Of course it goes without saying that not all land is suited to all crops and that is why FFSFF provides so many examples of alternate land uses. Importantly the humans species needs to move away from huge mono crops, embrace more crop diversity and accept that it's a good thing – a great thing – if we can free land as well as free animals from existing purely for our use and abuse and allow natural ecosystems to return and flourish.
I know this is a big, complicated and constantly evolving conversation that I've only just dipped a toe in the water of, however I'm excited to continue the conversation and to share my guests insights with you.
I'll link to both everything FFSFF and all the resources Rebecca mentioned in the show notes for today – just cruise to strongbodygreenplanet.com and search 728.
Connect with Farmers For Stock Free Farming via their main website: https://farmersforstockfreefarming.org/
Farmers For Stock Free Farming is not across the socials. However you can email Rebecca directly via farmersforstockfreefarming@gmail.com.
You can also connect with "Vegans For Veganics" across the socials: Facebook | Instagram | Twitter
Rebecca mentioned, The Vegconomist:
Also the, Biocyclic Vegan Standard:
I got my stats from, https://www.abs.gov.au/statistics/industry/agriculture/land-management-and-farming-australia/latest-release
Also, https://www.veganaustralia.org.au/impact_of_a_vegan_agricultural_system_on_land_use
I also hugely recommend, https://www.truthordrought.com/
That's it for this week in Healthification. Huge thanks to YOU for sharing this week with me. If you've enjoyed this show and gotten value out of it I'd super appreciate it if you pop over to iTunes or wherever you listen to the show and leave me a review.
The Healthification podcast is proudly bought to you by my FREE 'Easy Vegan' plan. It took me 25 years to transition from a meat eater to a happy, healthy Vegan! You can do it in just 3 days with my simplified 'easy vegan' plan!  Get the fit, strong, and healthy plant based body you deserve… while avoiding ALL the mistakes I made along the way!
To learn more check out: strongbodygreenplanet.com
Till next time, remember Creating a body and life you love is Freedom. (If this ex-carb queen, non genetically gifted, naturally uncoordinated vegan chick can do it – so can YOU!!!)
If you liked "Farmers For Stock Free Farming with Rebecca Knowles." you'll also like E626: Greg Litus and What Is The Most Sustainable Way To Feed The World? (Veganic vs. Animal Agriculture)
If you liked "Farmers For Stock Free Farming with Rebecca Knowles." you'll also like E619: Ex Ranchers Wife and Rowdy Girl Sanctuary Founder Renee King-Sonnen.
If you liked "Farmers For Stock Free Farming with Rebecca Knowles." you'll also like Nutrition for Longevity and Regenerative Farming with Jennifer Maynard.