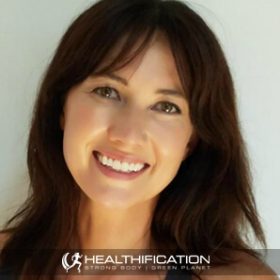 Podcast: Play in new window | Download
Subscribe: RSS
Late last year I watched the deeply impactful film A Plastic Ocean and found it both terrifying and insightful. It was also the wake up call I needed to make some changes in my life and plastic consumption habits.
Today I'm chatting with
Julie Andersen, Global Executive Director of Plastic Oceans International. 
Plastic Oceans International is a nonprofit organisation serving the ocean and public to end plastic pollution. Its goal is to change the world's attitude toward plastic, affecting consumer behaviour, corporate and public policy.
A lot needs to change. At least eight million tons of plastic are dumped into the oceans every year—the equivalent of dumping one garbage truck of plastic (one ton) into the ocean per minute. While more than 300 million tons of plastic are produced annually, more than 90% of all plastic is not recycled. 
Almost every single piece of plastic ever made is still on the planet in some form or other. We've made more plastic in the past 10 years than in the previous century. Half of which we use once and throw away.
Are you terrified yet?
We haven't even begun to discuss micro plastics, the toxics they absorb, the small fish that eat micro plastic, the larger fish that eat small fish… and the humans that eat those larger fish. 
Although the film A Plastic Ocean and the work of Plastic Oceans International is daunting, it's also hopeful. That is absolutely also my intention in my chat with Julie today. Let's discuss A Plastic Ocean and Shifting Our Reliance On Plastic with Julie Anderson.
In this interview we cover:
What is at stake if we continue with our current plastic consumption habits.
The impact of micro plastics on our food chain.
The importance of individual action / responsibility and Julie's top tips for individuals to have an impact right now.
Hope (!) and the solutions to plastic pollution Julie is currently most excited about.
And so much more!
I'm back on my own and if you haven't yet, I strongly encourage you to check out the documentary A Plastic Ocean and also follow the prolific work of A Plastic Ocean International.
There's so much more in the film that Julie and I didn't touch on. Really hopeful stuff like:
Bioremediation = the use of natural organisms to break down hazardous substances into less toxic or non toxic substances.
Phytoremediation = the use of green plants to detoxify soil and water contaminated with heavy metals or excess minerals.
Pyrogenesis = the destruction of combustable waste through the use of a plasma torch. I found this hugely exciting because it's transforming waste back into its core elements.
However more than the hopeful stuff it's my belief that as busy consumers struggling with our own personal battles… negotiating time and financial constraints, choosing between conflicting priorities and limitless causes to care about. Limitless worthy, urgent causes. Taking all those considerations into account it's way to easy to get complacent and even apathetic.
That's why it's so very important to connect with the WHY of any action. In the very same way that one vegan meal does not change the world yet it does change the world for that one animal you're not eating, one less plastic choice a day does count.
Whether you're incentivised by the impact plastic consumption is having on sea life and sea birds. On our increasingly polluted land and oceans. On the health of your family or on the food chain globally. On small islands that depend on tourism yet are literally overflowing with toxic, ugly, unnecessary plastic.
Whatever your WHY I guarantee you'll find the emotional fuel to fight complacency in A Plastic Ocean.
Plastic Oceans International website:
Watch A Plastic Ocean on You Tube: (Trailer)
Or via a Netflix subscription.
Connect with Plastic Oceans International via the socials:
That's it for this week in Healthification.
Huge thanks for sharing this week with me. I genuinely appreciate your support so very much!
The Healthification podcast is proudly bought to you by my FREE 'Easy Vegan' plan. It took me 25 years to transition from a meat eater to a happy, healthy Vegan! You can do it in just 3 days with my simplified 'easy vegan' plan!  Get the fit, strong, and healthy plant based body you deserve… while avoiding ALL the mistakes I made along the way!
Till next time, remember Creating a body and life you love is Freedom. (If this ex-carb queen, non genetically gifted, naturally uncoordinated vegan chick can do it – so can YOU!!!)
If you liked "A Plastic Ocean and Shifting Our Reliance On Plastic with Julie Anderson" you'll also like: 3 Keys To Trade In Your But's For Booty Love
If you're yet to share the Healthification love – just click here to zip over to iTunes and leave an honest rating and review. It'd help me out big time. With gratitude, Kate.