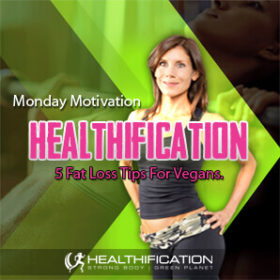 Podcast: Play in new window | Download
Subscribe: RSS
It's a little embarrassing to share however I led a Vegetarian rather than purely Plant based / Vegan lifestyle for many years NOT because of laziness. Or supreme love of cheese. Or ice cream. Or even eggs. Though I did really LOVE eggs.
The thing that held me back was part vanity and part ignorance.
I was terrified the body I'd built for years would disappear pound by hard fought for pound of lean muscle when I gave up all animal protein. I assumed low carb high protein primarily one ingredient vegan was an oxymoron.
I was wrong.
If you're considering a plant based approach to eating and yet you're not sure if it's possible to do healthily, happily AND with fat loss as a goal then todays show is for you. Or if you're already Vegan and yet you're not losing weight or maybe you're even gaining weight… I have you covered!
Today,
5 Fat Loss Tips For Vegans.
In the same way that Gluten Free | Low Carb | Diet | Sugar Free | Fat Free can all also be chocka block full of artificial rubbish and seriously void of any nutritional value, Vegan is not healthy by default.
The easiest guideline to follow is the one ingredient approach. Or close to it. If a food has one ingredient it's going to be better for you than the processed rubbish that tries to masquerade as healthy. Sadly even one ingredient doesn't mean free for all – I could easily eat 150 grams of roasted cashews a day – and that would be excessive.
Another guideline to follow when you're considering "Is it healthy?" is the kitchen bench approach. Imagine that food, perhaps it's an Oreo or bag of Doritos and instead of all prettily packaged picture the individual ingredients lined up along your kitchen bench. At this point it's just common sense… you can choose to kid yourself or you can choose 50 grams (!) of those delicious nuts instead!
Fat Loss Tips For Vegans #Two: Consciously Include Protein At Every Meal.
One of the benefits to choosing a vegan (or for that matter vegetarian) approach to eating is the consciousness it necessitates you apply to your eating decisions. You can't mindlessly munch whatever is passed to you and that's a good thing!
In the same way that you need to check for no animal products, if fat loss is your goal I also recommend you check for protein in each meal. 
This is a step that I've noticed many meat eaters take for granted. They assume "I'm having steak for dinner so I'm getting enough protein" when breakfast was toast or cereal and lunch was a salad sandwich or muffin.
As a vegan you'll need to get a little crafty with your protein focus. It's not quite as simple as including one big slab of dead animal or fish.
It's more likely going to be a series of little protein pimps. So for example:
=> If you like to start the day with a smoothie, chia bowl or oats then it's super easy to add a scoop of plant based protein powder to each of them. For extra protein and iron you could also add some Spirulina.
=> If lunch is often a salad or wrap then find or make the protein rich spread to add – like my zucchini hummus chocka full of tahini and hemp seeds. For extra protein and B vitamins you could also add a tablespoon of nutritional yeast.
=> If dinner is something easy to make on mass like chilli or curry then it's as simple as finishing it off with a tablespoon each of hemp and pumpkin seeds. I also serve my curry over either zoodles that have been tossed in Spirulina and Dulse flakes or cauli-rice that has been made with nutritional yeast.
Fat Loss Tips For Vegans #Three: Build Your Meals Around Fibrous Veg.
The easiest NON-fat-loss-friendly vegan mistake to make is to seriously up your processed carbs intake. Even if you avoid the cereal or toast at breakie and steer clear of pasta for dinner it's super easy to become reliant on good one ingredient carbs like rice, beans, chickpeas and lentils.
This is likely a little controversial and I'm not hating on rice, beans, chickpeas, lentils and the like however this show is geared towards avoiding fat loss mistakes for vegans. Although you likely know the athlete who devour limitless amounts of starchy veg and other good carbs if you're struggling to get or stay lean then focus first on fibrous veg. Some of my fav Go 2 Fibrous Swaps include:
=> Swap rice for cauli-rice and mash for cauli-mash.
=> Swap noodles and pasta for zoodles.
=> Swap beans or lentils as your curry or chilli base for an eggplant grilled whole for 30 minutes then de-skined and cubed.
=> Swap burger buns for portobello caps.
=> Swap corn chips for kale crisps and baby cos leaves.
Fat Loss Tips For Vegans #Four: Eat Enough!
I went out for dinner on the weekend and my little eyes lit up as two HUGE plates of food got delivered to our table. Times are changing. Restaurants no longer assume the vegan is some sickly thing with a sparrow like appetite. It's getting easier and easier to order delicious, generous meals that are appealing to your stomachs eye!
However not every single place will cater this well to your plant based needs. It's up to you to get to know how much your body needs to feel satisfied and replenished. The light meal you "Get away with" today will always come back to bite you.
Perhaps later that night when you "Fill up" with dessert or maybe the next day when you find yourself mindlessly stalking the fridge.
If you have to order an extra side of veggies to dump on top of your overly light salad then consider it a good investment. Equally when preparing your own meals at home focus first on all the high value nutritionally dense veggies you can give your body. Aim to eat a rainbow of colours. Get creative and make the meals you serve yourself look good. Fat loss is not about creating a huge caloric deficit. Too much restriction is just not sustainable mentally and even if you're the discipline master hormonally it's not going to work.
Your body will slam the breaks on your fat burning if it's constantly in a serious calorie deficit. It needs to trust you. Around 500 calories a day is around the most you can cut before your body starts to slow down your metabolism to keep you alive.
I'm a huge fan of not even focusing on calories. To focus on eating better not less is a much more enjoyable approach.
When you:
1) Never Assume Vegan Means Healthy and follow the primarily one ingredient approach. And you,
2) Consciously Include Protein At Every Meal. And you,
3) Build Your Meals Around Fibrous Veg. And you,
4) Eat Enough!
It's really surprisingly easy to eat plant based healthily, happily AND with fat loss as a goal.
However we still have my fav of the 5 Fat Loss Tips For Vegans to cover…
Fat Loss Tips For Vegans #Five: Decide On Your Favourite Vice and Include It In Moderation.
The strategy here is to avoid restriction and feeling deprived at all costs. You'll never deprive yourself to fit, strong and lean. Not long term or sustainably. It's got to be a lifestyle rather than a battle.
And I'm not sure about you however my lifestyle needs to include JOY… extreme food joy!
Vice is a normal and natural and I'd say even necessary part of being human. The key is to decide your best of the best rather than adopt an anything goes policy. So as you may know I enjoy alcohol. And bread. So I'll include each every single week however only my best of the best alcohol and bread. I'll eat and drink and enjoy – Guilt Free – however not no holds barred!
You'll find the way that works for you however for me I decide on a weekly quota and stick to that however it gets broken down during the week.
I'm not the type of person who gets joy from 1/2 a slice of bread a day. Or 1 glass of Shiraz a night. I'd much rather a little more a little less often.
There's no Right or Better. There will be right for YOU and better for YOU though. 
To get actionable today, is there a tip you could get better at? In closing I just want to reiterate the point I made in the last of our 5 Fat Loss Tips For Vegans: It's got to be a lifestyle rather than a battle.
It's actually applicable to each tip and also to every approach to eating. Consider you and your body a team. You've got to work together.
If you liked 5 Fat Loss Tips For Vegans., you'll also like: Becoming Vegan / Vego: 3 Tips To Make It Easier On Yourself And Those Around You.
If you're yet to share the Healthification love – just click here to zip over to iTunes and leave an honest rating and review. It'd help me out big time. With gratitude, Kate.