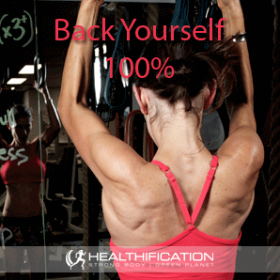 Podcast: Play in new window | Download
Subscribe: RSS
It's not a lack of Discipline or Time or Money stopping you from creating a body and life you love.
In today's show I'm weighing-in on the 4 letter word that's changes everything.
It's HOPE.
Or a lack there of. When you try and fail – repeatedly – each attempt eats away a little more of your belief that it can be any different for you.
As hope diminishes so does your resolve to give it 100%.
When really that is ALL you need… The resolve to Back Yourself and to give it 100% trumps any and every quick-fix-silver-bullet-over-promising-hope-eroding-MYTH!
You hear quite often that hope is not a strategy for success.
I agree it's not a strategy in itself however HOPE is essential.
If you think about the darkest, most miserable times in your life… I imagine a common factor present each time in your life that you felt utterly wretched was a lack of hope.
Let's make this applicable to achieving your body gain goal in 4 steps. Actually 4 steps acronym style. Before we get rolling let me set the scene…
Potentially your natural inclination and expectation so far as achieving your body gain goal is based off past disappointing results?
Like the month I went 100% alcohol-free and my body composition didn't change AT ALL. Equally disappointing I felt not even the most minuscule amount more fabulously-focused-and-eminently-eloquent.
Not one bit.
Or, previous experiences where your initial wish, Dream, HOPE for a great outcome was thwarted by any number of unforeseeable obstacles that jumped in your way? 
Maybe, on a day to day basis you might even feel that flash of hopelessness each time you jump on the scale after a week of great food and exercise and notice the number has actually crept up a tad instead of plummeting down as it should.
Possibly, you're a consistency queen (like me!) and you're still not getting the results you deserve?
It's tough to maintain hope in that scenario right?
I'll 100% agree it can be. That's why I've come up with this little H.O.P.E. acronym… and to be clear, I've selfishly designed it for me as much as for you!
I still feel a little hopeless from time to time. I absolutely need to take my own advice every once in a while. Generally not so far as health, more-so in the areas of my life in which I know I could be doing even better.
H.ave Positive Expectations.
This is an absolute non-negotiable. You simply must cultivate the habit of having positive expectations.
Firstly, because what you focus on expands.
The more you expect good things the more you will notice the opportunities as they're presented to you and be able to take advantage of them.
Of course the reverse is also true.
Second, because how hard is it too continue taking actions when you're not expecting it to pay off?
Ever?
I put to you it's fairly impossible.
O.wnership Of Actions Necessary.
This is where we ditch any wishing component of hope. Wishing without action is a waste of time. Expecting without action is a waste of time.
The ability to accept ownership for your current results or lack thereof is a vital component of Body Gain success.
Rather than seeing it as pressure view ownership as control. You may not always be in control of what happens to you however you're always in control of how you respond and the actions you take.
P.ersistance.
This is the step half of us would like to ignore. It often involves hard work. The easier option is to go hunting for another quick-fix. However as seductive as it is the quick-fix never works. At least not long term sustainably.
And as I mentioned the extra detrimental thing about succumbing to a quick-fix is that every time it doesn't work you eat away at a little more of your hope and your self-belief. In contrast each day you persist: each workout, each great meal eaten and each rubbish meal declined builds up your self belief and your hope. 
E.volve As Necessary.
This is the step those of us that do persistence well need to pay attention too! When you've been persistently taking the right actions with positive expectation – like seriously – for months not weeks or days (!) and you're still not seeing results?
It's time to get honest with yourself and commit to finding out what parts of the approach aren't working.
Perhaps you'll need help with this bit.
At this point you'll see the H.O.P.E. acronym has come full circle because it's been my experience that when you commit to finding what's not working… and you ask for help it's 97.8% not going to be a quick-fix solution you're handed.
More likely, you're going to need to:
Have Positive Expectations.
Ownership Of Actions Necessary.
Persistence.
Evolve As Necessary.
That's almost it for today.
First though is there an aspect of achieving your body gain goal in which you're lacking hope? Your action step for today is to embrace the step that most resonates with you. My to work on is #4. Evolve As Necessary.
That's it for me today. I'll be back with the Friday show and: How To Turn Your Weakness's Into Strengths.
I hope you can join me.
If you liked this you'll also like: That super frustrating question: Why can't I lose weight?
If you're yet to share the Healthification love – just click here to zip over to iTunes and leave an honest rating and review. It'd help me out big time. With gratitude, Kate.