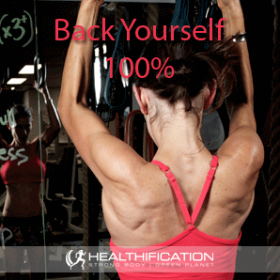 Podcast: Play in new window | Download
Subscribe: RSS
A couple of years ago the very click baitie headline How Cutting Carbs To Lose Weight Can Kill You circulated online.
It is of course sensationalist rubbish. In fact if you were to believe the multitude of food & beverage warnings you'd find that we each narrowly escape death daily!
The big food companies would have you believe their processed crap-o-la is the only way to meet your micronutrient needs. With enriched and fortified breads, cereals and bars.
In fact they did such a great job most of us did believe it for years.
We also believed fat would kill us. It didn't really matter what unrecognizable man made fake rubbish was in your fav food as long as it was low fat.
I still regularly encounter people scared of egg yolks and seduced by flashy fat free marketing.
How about the myth that a mere 3 meals a day would kill your metabolism? I fell for it and planning, preparing and eating small, unsatisfying fat free meals become a punishingly necessity that felt like a part time job.
Artificial sweeteners were the solution… and then the problem.
Low GI food was the rage… until anything carbie became the enemy.
High protein was the answer… except it got taken too far.
But there's one thing everyone agrees on. Green fibrous veg ROCKS. It's filling, chocka-full of nutrients and a wonderful eat-as-much-as-you-want one ingredient fat fighting food!
You're only eating organic though right?
Because those chemicals in non-organic… they're killing you.
So take your expensive organics (your health is worth it!) and juice them. Juices contain abundant micronutrients, and filling fibre… Just make sure you use purified water or organic, unsweetened almond milk never Soy or Dairy. But wait:
What about the joy of sitting down (and chewing!) a leisurely meal with family and friends?
Surely food isn't just fuel? As much as I'm about the fit, vital, healthy body – there's also tradition, celebration, love and dare I say pure indulgent food-JOY! And zero joy, mightn't that… kill you?
It's not just food.
Cardio was the way to lose fat… until it became the way to ensure an outta control crazy-carb-OVER-refuel.
So keep it to just a low intensity walk outside. Daily. Like our ancestors.
Watch out for the sun though. But don't cover up too much… or else you could suffer a lack of Vitamin D. Web MD tells me: Studies suggest vitamin D may go beyond its well-established role in bone health and reduce the risk of cancer, heart disease, stroke, diabetes, autoimmune diseases, and more.
How about weights? Except what if you train too hard… you'll injure yourself OR get too bulky OR stuff up your cortisol levels.
That fat storing hormone will send fat straight to your belly when you burn the candle with work, play or exercise!
Talking hormones… surely Tofu is a health food right?
Wrong. Like toxins in our environment soy can muck up your estrogen levels… it'll lead to extra fat storage in estrogen sensitive areas like your hips and thighs.
You can counter that by giving up tofu and stocking up on cruciferous super veg like: broccoli, cauliflower, kale, brussels and cabbage. Organic only though right?
And cook your cruciferous veg in coconut oil. Heating olive oil isn't good.
Even fresh citrus, balsamic and mineral water are wrecking my teeth my dentist tells me.
The solution? Eat cheese. Really? But I gave that up years ago… it makes me all puffy and bloated and I'm really not down with the way those dairy cows live.
Ok so chew sugar free gum after every meal my dentist tells me.
And while you're at it… brush your teeth before you eat. Never after.
Oh WOW I'm really confused! Are YOU?
I believe, fixating on everything that can kill you… can kill you.
It doesn't mean everything in moderation.
=> some things are just too toxic to eat at all. Or too addictive.
It also doesn't mean you need to chase perfect.
=> chasing perfect is the perfect excuse to never start. Or to stop : start because you hate your every meal, resent the time and money it's planning takes and generally feel miserable, restricted and low on energy.
There is no one best approach.
=> There is one best approach for you though. It fits in with your lifestyle and values. It's sustainable, affordable and enjoyable.
The thing is no one else can tell you your one best approach. It's a matter of following the guidelines that make sense to you and keeping them when they work and ditching them when they don't.
In my experience your one best will be a continually evolving approach.
That's because you are continually evolving. How could what worked for you 10 – 20 – 30 years ago possible be the best fit today? Too much has changed.
Almost 20 years ago I slept through most of the morning, lived off delicious muffins, scones, bread and pizza and counted walking and dancing in crazy heels till 6am as my primary exercise!
I'm guessing a lot has changed for you too?
To make today just a little bit actionable the best advice I have is to find the person who has the body, the health, the fitness you would most love and to implement one food or exercise habit of theirs this week.
Although I've done it myself it blows my mind how susceptible we are to taking the advice of people (or faceless big companies) who do NOT have the results we want!
Short and sweet however that's it for me today… and for another week in Healthification.
Super huge heart felt thanks to you for listening and especially to YOU if you've left me an iTunes rating and review.
If you liked this you'll also like: Deliberately Addictive Craving Causing Food: 3 Myths.
If you're yet to share the Healthification love – just click here to zip over to iTunes and leave an honest rating and review. It'd help me out big time. With gratitude, Kate.