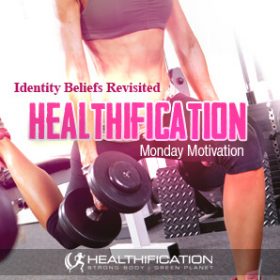 Podcast: Play in new window | Download
Subscribe: RSS
Do you see yourself as someone who will do whatever it takes to create & keep the body and health you would most love?
That is one of my identity beliefs. Perhaps it sounds a little extreme to you however it works well for me. In today's show: Identity Beliefs Revisited, I'm covering how the identity beliefs you're currently nurturing will either drive you to achieve your body gain goal or sabotage you at every step.
First up, 2 important to understand factors regarding your identity beliefs:
A). Is that you have them, whether you are conscious of them or not!
B). Again whether you are conscious of them or not you will do everything within your power to remain true to your identity beliefs. To act congruent with what you believe to be true about you.
So the question then becomes: Are your current identity beliefs supportive in relation to the actions you need to take to achieve your body gain goal?
If you're not sure, the simple measure is to determine: Are you currently happy with the way your body looks, feels & performs?
Here are 3 tactics to get your identity beliefs working to your body gain advantage:
One). Utilize the power of pain. The pain of living incongruent with your picture of how it should be for you needs to be greater then the complacency and ease which tempts you to continue doing what you've always done.
So perhaps you say you want to lose 10 kilos. 
You need to identify more strongly – to feel more congruent – with the YOU that is 10 kilos lighter than you do with the way that you are right now. If you've been there before (10 kilos lighter) focus on everything that allowed you to enjoy and experience. Everything that staying the way it is right now means you continue to miss out on.
If you haven't been there before build the picture of everything it will allow you to enjoy and experience. Look for examples of people who have the body and the health you want. Compare this to the way it is currently. However in doing this you need to…
Two). 'Look for the catch' positively. Looking for the catch is when you latch onto what makes your opportunity to do or achieve something less likely or harder or not possible.
Perhaps how someone else has it easier. Doesn't have to work. Or has more time, money, support.
It's basically just excuse hunting.
If you go hunting for excuses you'll always find them. Instead I want you to go hunting for the reasons why you can. To look for the catch positively. To hunt for – and find – the aspects of what someone else is doing that will work for you… that are implementable into your lifestyle sustainably.
If they believe exercise gives them energy, makes them more effective and efficient, keeps them calmer and happier (as I do!)… Is that a belief you could choose to take on too?
Three). Focus on the goal, the experiences, every single positive step rather than the times you've given up or 'failed' in the past. Your beliefs are yours to choose and change as your see fit.
However if you don't consciously do it you'll keep repeating the same old belief patterns… Which lead to the same old actions and of course the same old results.
It's natural to recall what hasn't worked in the past however focusing on that is not the way to get a better result. 
Write your goal out, Daily.
Focus on any and every more enjoyable experience… perhaps you felt welcome rocking into the gym today (I hope you did)… or energised and even a little proud of yourself as you finished your work-out. Focusing on this helps build the belief that you are a person who enjoys going to the gym and who feels good after exercise.
Lock in every win, every single positive step not matter how small… politely declined the cake at work today and felt good about it? Lock that in – you are becoming that person that doesn't do cake (!) especially poor quality, unnecessary, not your absolute-most-fav-cake just becauseeveryone else is…
To get actionable today, if you found this show valuable I have a heap more to share with you so far as beliefs and how they effect your ability to achieve your body gain goal. It's one of my fav subjects.
If audio is your preference I recommend the #006 show where I first covered beliefs.
In addition, here are links to some of my most popular articles on Identity Beliefs & How to align your beliefs with your body gain goal.
For todays quote I'll hand over to Tony Robbins, "It's not the events of our lives that shape us, but our beliefs as to what those events mean".
That's it for today. I'll be back tomorrow for the Tuesday Tucker show and, Meal Skipping. I hope you can join me.
If you liked this you'll also like: Smart Simple Weight Loss: Eliminate Limiting Beliefs.
If you're yet to share the Healthification love – just click here to zip over to iTunes and leave an honest rating and review. It'd help me out big time. With gratitude, Kate.