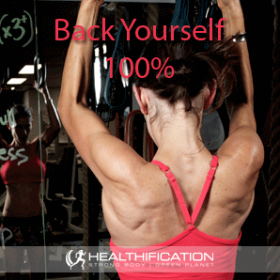 Podcast: Play in new window | Download
Subscribe: RSS
Do you believe in all you do to achieve your body gain goal you strive for success and give yourself the very best possible chance to attain it?
OR, Is it possible you create conditions for failure – ahead of time – to protect your ego and keep yourself safe?
To UNconsciously contrive excuses ahead of time.
In today's show I'm discussing: How Self Handicapping Kills Your Body Gain Motivation.
Perhaps you've met someone who conveniently becomes sick or injured when a situation gets too hard… and can't train or eat well… And in doing so avoids the risk of failing.
OR, Perhaps you personally live 'at the mercy' of your social calendar?
A month of birthday celebrations to 'survive'… and a wedding… and a long weekend… yeah, how could you possibly fuel your body well under those circumstances?
OR, Are you working 12+ hour days, skipping lunch, checking your work emails in bed…and cramming your all-too-short-weekends with social engagements that leave your poor body running on empty…
And you expect it to train hard with that treatment? To shed some fat?
OVER-COMMITTING is a common self handicap to fat loss and body gain that I see frustratingly often.
If you can relate… If all you're doing is demanding of your body then my news for you is it's in lock-down.
Survival mode.
It's not looking to drop fat because it's stressed-out (hello, belly fat storing STRESS HORMONE CORTISOL) and it doesn't know where the next good nights sleep or quality meal is coming from so if it's going to sacrifice anything, well then you better believe it's your lovely lean metabolically active muscle that's flying out the door not any pesky (lazy) fat!
The simple fact is, we all have the same time to play with.  If you choose to treat your body like a work-horse – to run it into the ground – and feed it crap-o-la then you really should expect it to break down on you.
What you say NO to is at least as important as what you say yes to.
Let's get into solution mode… starting with the fear of failure that can lead to self handicapping…
It's natural for a few doubtful thoughts to arise when ever failure is a possibility.
Self handicapping takes those doubts to the extreme. It's an unconscious reality negotiation. To stack the odds so failure isn't an option… oh, and giving it your 100% best shot isn't an option either.
You give yourself the opportunity to blame a possible future failure on something other than your ability. 
If you're always blaming your failings on external forces… rather than internal ones, well then that's not failure right?
Instead of making excuses after the event – that feel like lies – you create conditions ahead of time so the excuses can be real:
=> If you succeed… then you get to say you did so despite appalling odds.
=> If you don't… then you get to blame the events leading up to the failure. Rather than your own ability or inadequacy.
The most likely self handicappers stack their IDENTITY on their acts.
So, by this I mean they believe:
"If you criticize anything I do, you criticise me."
Risking a failure = risking a devastating blow to ego.
WOW, that is setting yourself to never attempt anything that could possibly fail… or at least, to self-protect in advance with a dose of self-handicapping.
The TEMPTATION:
The anxiety you feel as a response to possible failure is lowered every-time you see a possible way to blame that potential failure on external events and forces beyond your control.
=> the danger is that you will then be inclined to bring these events to fruition.
The SOLUTION:
As I mentioned in the #076 show Failure is Freedom.
Whether you choose to believe "There is no failure only feedback" and purely focus on what you can learn, and how you can do even better next time?
OR, if you're ok with saying; "Yeah I failed at that one, however at least I worked out one more way that doesn't work" (Thomas Edison style!) and choose to believe that learning has bought you one step closer to success.
The fear of failure is paralysing.
In contrast the realization that there is no failure or at least that it is never absolute because you always get another chance… and another chance to take action again more wisely – well then that is absolute Freedom.
=> Freedom to try whatever with the knowledge that if it doesn't work the first time you get another chance.
=> Freedom to know that your actions are not your identity. 'Failing' at something does not make you a failure… it makes you the type of person willing to try for something beyond easy.
Before the next time those doubtful thoughts raise their head, as they do for us all… here are two actions to set you up to outwit self handicapping:
Remember a time you experienced a perceived failure.  Compare the actual outcome with what you built it up to be before it happened?
Generally our greatest fears are of the imagination. What we create in our minds is far worsethan actually just going through the experience and proving to ourself that YES, we can survive it and even come out the other side a stronger, wiser, often even happier person.
Remember a time you wasted a whole lot of time, energy and happiness on a 'future failure' that never actually eventuated.
As much as its important to be aware of worst case scenario – even plan for it – there is zero value in creating conditions to make attaining your goal unlikely, when creating conditions to make attaining your goal likely is done just as easily.
To get actionable, What is YOUR #1 old self handicapping habit you're committing to ditch today?
(mine was not tracking the numbers I'm nervous to see the results for – I've made great progress recently on that one, because what gets measured gets done and then gets improved).
That brings us to the end of this week in Healthification.
So super huge thanks to you for your support and for sharing this week with me.
If you liked this you'll also like: Setting yourself up to dominate the fat loss discipline game.
If you're yet to share the Healthification love – just click here to zip over to iTunes and leave an honest rating and review. It'd help me out big time. With gratitude, Kate.