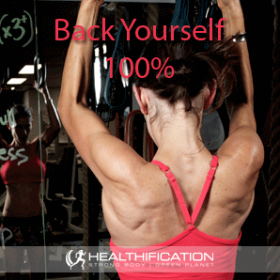 Podcast: Play in new window | Download
Subscribe: RSS
In today's show I'm sharing a rockin shoulders, triceps & core workout.
It's actually my own workout this week.
As usual I'll give you a little run down on this weeks client – me!
I currently lift weights 5 days a week so I split the program like this:
Monday is back & chest (mostly back)
Tuesday is lower bod (BOOTY LOVE!), so glutes, hammies & quadriceps
Wednesday is NOT lovely weights it's less lovely intervals, so generally just a warm up & 5 minutes of interval sprints on the treadmill.
Thursday is this workout, shoulders & triceps.
Friday is back and core.
Saturday is lower bod and anything else I might feel like throwing in again.
Biceps get covered in back for me. I never bother with any isolated biceps movements. I might throw in some extra core on days beside Friday (like today!) however generally I count the work my core does in big compound movements like lunges, dead-lifts & chin ups as the bulk of what I need to do.
The only exercise I haven't mentioned is the incidental walking I do. Around 40 minutes a day 7 days a week.
This program is 'Kate' in maintenance mode which also involves very clean eating (by that I mean generous amounts of primarily one ingredient food and zero refined carbs except for bread on the weekend) and fairly generous Shiraz and Vodka drinking. 
If I wanted to shed a little fat I'd add a longer walk once a week, around 90 minutes and a couple of additional interval sessions of around 12-20 minutes after my shorter weights work-outs (so likely on Monday and Friday).
Oh and I'd extend the 5 minute Wednesday work-out to more like 20-30 minutes.
Here's the slide of the work-out: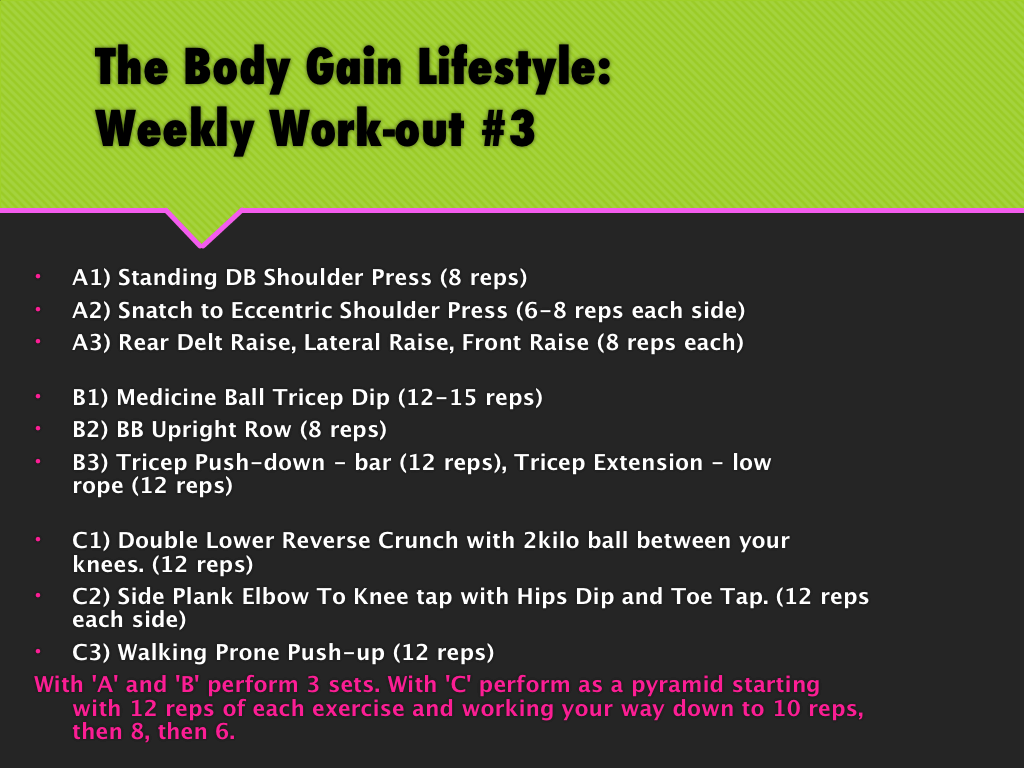 So here's that rockin shoulders, triceps & core workout:
A1) Standing DB Shoulder Press (8 reps)
A2) Snatch to Eccentric Shoulder Press (6-8 reps each side)
A3) Rear Delt Raise, Lateral Raise, Front Raise (8 reps each)
B1) Medicine Ball Tricep Dip (12-15 reps)
B2) BB Upright Row (8 reps)
B3) Tricep Push-down – bar (12 reps), Tricep Extension – low rope (12 reps)
C1) Double Lower Reverse Crunch with 2kilo ball between your knees. (12 reps)
C2) Side Plank Elbow To Knee tap with Hips Dip and Toe Tap. (12 reps each side)
C3) Walking Prone Push-up (12 reps)
With 'A' and 'B' perform 3 sets. With 'C' perform as a pyramid starting with 12 reps of each exercise and working your way down to 10 reps, then 8, then 6. Even 4 and 2 if you want.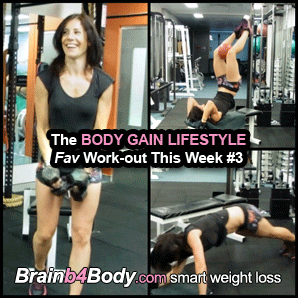 To get actionable today, you guessed it – it's got to be try this work-out right? If there's anything you're not sure of please leave me a comment in the comments below and I'll provide you with an explanation or alternative.
That's it for me today. I hope you can join me tomorrow for the Friday FAQ show where I cover, How Self Handicapping Kills Your Body Gain Motivation.
If you liked this you'll also like: Weight Loss Success Habits.
If you're yet to share the Healthification love – just click here to zip over to iTunes and leave an honest rating and review. It'd help me out big time. With gratitude, Kate.