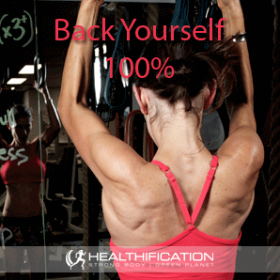 Podcast: Play in new window | Download
Subscribe: RSS
For years I believed the path to leanness was paved with hours of cardio.  And a zero fat diet.
I also accepted that genetically I was 'meant to be' fairly chunky on the bottom and scrawny up top.
Hips and thighs were just where my fat gravitated to right? 
And if I got super extreme with running and cutting everything out of my diet my lower body would get acceptably lean – at the expense of a now emaciated looking face and upper body.
As you can imagine these beliefs were not working particularly well for me.
Today's show is dedicated to:
BELIEFS
and more specifically to freeing you of the beliefs that are making fat loss and achieving your ideal body impossible.
Now, by ideal, I mean whatever is ideal for you… because I believe there is no one best way to look. It's more about the body that you feel confident in, and congruent with. The body that is super fun to get around in and supports you through your busy day rather then getting in your way and holding you back.
Let's start by taking a look at 3 of your current beliefs surrounding your body and your health.                        
Oh, and this is 100% a judgement and censoring free zone ok? …just run with whatever comes first to mind.
#1. What do you believe in relation to your ability to achieve your ideal body?
When I ask someone who is not yet at their goal level of health a question like this I'll often here how hard it is to lose weight.  I'll hear about a slow metabolism, how they struggle with motivation… and consistency… how they are not naturally sporting… even how they are naturally lazy… then I'll hear of all the times before when it hasn't worked AND so on.
#2. What is exercise to you?
Boring, hard, tedious? A necessary evil? Vanity? Something to be endured – when you have nothing better to do?
This is not my belief, however if I chose to entertain this belief I could absolutely find evidence to support it: treadmill trudging, spin classes, trying to increase my weights every session, sticking to the same old program… and so on.
#3. What is clean eating to you?
Bland and time consuming? Expensive and restrictive? Something to be endured as punishment for a weekend of 'normal eating'?
Why is it important to have zero tolerance for such beliefs?
If the way you think is not in support of your weight loss goal than it is absolutely in conflict.
There is no status quo as far as your beliefs.
Limiting beliefs sap the life out of your best intentions. They attract more of the same. More energy sapping, confidence eroding, insidious thoughts and beliefs that make it impossible to realize your goal.
If you listened to the very first Healthification show you'll recall how vital FOCUS is.
I even called it the number one law of weight loss: because for better or worse what you focus on expands.
As such, you will filter in evidence to support your current beliefs… and filter out evidence that does not support your beliefs.
Who wants to filter in more evidence to support how hard it is to lose weight?
Or how boring exercise is?
Or how bland clean eating is?
Not me!
So, let's power on and cover how to eliminate your limiting beliefs and ensure your thoughts are HELPING you lose weight.
First up, it's worth noting that some of what I'm going to recommend may seem a little manufactured to start with.  The thing is, there is no right or wrong when it comes to your beliefs.
Beliefs, as we've mentioned are possibility filters and the important thing is to create the beliefs that filter in more of what you want and less of what you don't want.
Before you decide if it's worth the effort or time I have a simple question for you:
How are your current beliefs working for you?
Ok, if you're not happy with the results you're currently getting it's time to take back control of the beliefs that are not working for you.
A couple of useful questions to ask yourself:
=> "When did I decide to believe that?"
and
=> "What evidence do I have to support that?" or "How do I know that to be true?"
For a number of years I held tight to the belief that all cardio was either punishingly boring and time consuming or impossibly hard and exhausting.  When I questioned that belief it really did seem to be a little extreme.  Perhaps even an excuse to conveniently give myself an 'avoid hard cardio at all costs' card.
Once you've questioned the validity of any current beliefs that do not make it easier to do the things you know you need to do to achieve your weight loss goal… The final step is to search for proof to support more sustainable beliefs.
What could you believe if you wanted to focus only on what was going to make it easier for you to achieve your goal?
To take a look back at our 3 original questions:
#1. What do you believe in relation to your ability to achieve your ideal body?
Perhaps you could believe: "I am a person who will do whatever it takes to achieve my ideal body."
#2. What is exercise to you?
Could exercise be: "A tool to create a strong, fit, healthy body that allows me to wear whatever I like and have the energy to do whatever I like? (perhaps it's also) Precious, fun and indulgent me time?"
#3. What is clean eating to you?
Could clean eating be: "How I ensure my body looks, feels and functions optimally? A chance to get creative and make yummy meals that I love and that support my best health?"
If you're stuck as to where to, beyond my examples, take a look at the people who have the results you're seeking.  Imagine what their beliefs might be?  Or simply just ask them how they think of exercise, food, or health in general.  People who are doing well – in any aspect of their life – are generally fairly willing to discuss it.
Now lets put this into action with todays actions step:
Actually I have a choice of actions steps for you today.  Simple yet AWESOME action step one is to decide on the ONE most powerful belief that you could rock into tomorrow believing in relation to your ability to achieve your ideal body.
Your more extensive action step is to complete the short exercise I have detailed for you in this blog post I wrote on How To Eliminate Your Limiting Beliefs.  It's actually part 3 in a 6 part series of super implementable posts.
It must be time to end todays show with a quote and today I'm handing over to Tony Robbins who states: "Beliefs have the power to create and the power to destroy. Human beings have the awesome ability to take any experience of their lives and create a meaning that disempowers them or one that can literally save their lives".
If you liked this you'll also like: How to use your Identity Beliefs to Fuel Your Fat Loss.
Thank you so much for your support! To rock even more – and share the Healthification love – just click here to zip over to iTunes and leave an honest rating and review. It'd help me out big time. With gratitude, Kate.