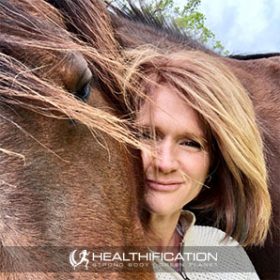 Podcast: Play in new window | Download
Subscribe: RSS
Friends, we're in for a mind and heart opening emotional roller coaster ride today.
I approached former chicken and cattle farmer Jennifer Barrett of Barrett Family Farm because I want to better understand the pressures and considerations that animal farmers face when they contemplate transitioning away from animal agriculture.
I could not have imagined just how genuine and open Jennifer would be. Ok, I had a little inkling from following The Barrett Family Farm on Instagram however this chat is really a special one. You'll hear animals in the background because Jennifer and her husband Rodney are hell bent on providing sanctuary to 238 cows plus so many other individuals on Barrett Family Farm.
I'll be honest. I found this conversation gut wrenching. As much as I'm gunning with all my heart for the Barretts to save their farm, to run it as a Sanctuary and to produce abundant vegan deliciousness – I really had no idea just how hard it is to break away. How financially trapped animal farmers are.
Of course vegan friends you know I consider life more important than profit – ALWAYS – and yet we need to make the process easier.
Enough from me for now, I'm excited to share this conversation with you…
In this conversation we cover:
Jennifer and husband Rodney's first: plant based for health, then: vegan for the animals journey.
The health setbacks, financial hardships and moral crises that led the Barretts to transition out of animal agriculture.
The compartmentalisation that animal farmers must practice to continue sending animals to slaughter.
What would Jennifer say to the animal farmer who is concerned with the financial viability of transitioning out of animal farming? 
The current fundraiser and Sanctuary plan at Barrett Family Farm. PLUS, how you can help!
And so much more!
I hope this conversation reinforces that farmers are generally good, honest, hard working people. I hate what animal farmers do. I don't hate them… generally.
It's not a profession you get into to get rich or live an easy life. I know this as I come from farming family on my mums side. Sheep and dairy farmers that were kind, generous and community minded. Whose livelihood depended on not understanding the inherent and unnecessary cruelty of animals agriculture.
The thing is: You can still be farmers, you can still take care of animals however you don't need to send them to slaughter. 
I guess that means as vegans and animal rights activists we must get even better at effectively communicating the inherent and unnecessary cruelty of animal agriculture. At spreading the vegan message with love and compassion. At passing the mic and the platform to people who have been there and have transitioned to a more compassionate and healthy lifestyle. People like Jennifer who likely are much more relatable that I am.
If we want a vegan world then sharing the human side of the horrors of animals agriculture is vital. Yet so is lobbying governments to provide funding and transition strategies and to STOP sending our tax payers money to propping up and perpetuating the cycle of animal agriculture.
To learn more about the options available to animal farmers I highly recommend the website https://farmersforstockfreefarming.org/ and also my chat in E728 with Rebecca Knowles from Farmers For Stock Free Farming.
To connect with, share and support the Barrett Family Farm I have you all linked up below.
Support and share The Barrett Family Farm GoFundMe here:
Connect with The Barrett Family Farm across the socials: Facebook | Instagram | YouTube
That's it for this week in Healthification. Big thanks to YOU for sharing this week with me. I value your time and I appreciate your support! If you're yet to subscribe to this podcast please do – it's actually hugely impactful so far as helping this show get a smudge of visibility among 2 million+ podcasts AND it means you'll know when a new show drops.
Upcoming amazing guests include: The Sea Shepherd's Captain Paul Watson and Animals Australia's Shatha Hamade.
The Healthification podcast is proudly bought to you by my FREE 'Easy Vegan' plan. It took me 25 years to transition from a meat eater to a happy, healthy Vegan! You can do it in just 3 days with my simplified 'easy vegan' plan!  Get the fit, strong, and healthy plant based body you deserve… while avoiding ALL the mistakes I made along the way!
To learn more check out: strongbodygreenplanet.com
Till next time, remember Creating a body and life you love is Freedom. (If this ex-carb queen, non genetically gifted, naturally uncoordinated vegan chick can do it – so can YOU!!!)
If you liked "Former Chicken and Cattle Farmers Go Vegan and Leave Animal Agriculture with Jennifer Barrett." you'll also like Farmers For Stock Free Farming with Rebecca Knowles.
If you liked "Former Chicken and Cattle Farmers Go Vegan and Leave Animal Agriculture with Jennifer Barrett." you'll also like E561: The Last Pig Film with Allison Argo.
If you liked "Former Chicken and Cattle Farmers Go Vegan and Leave Animal Agriculture with Jennifer Barrett." you'll also like Kathy Freston and 72 Reasons To Be Vegan: Why Plant-based Why Now.
If you liked "Former Chicken and Cattle Farmers Go Vegan and Leave Animal Agriculture with Jennifer Barrett." you'll also like E602: Alex Lockwood's Short Film 73 Cows.