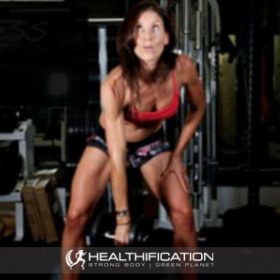 Podcast: Play in new window | Download
Subscribe: RSS
In todays show I want to bust some of the misconceptions common to being vegan and getting lean.
Myths I believed for years that sadly are still propagated by large scale animal agriculture and mainstream health and fitness.
If I look back to around 8 years ago – when I was vego and prepping for a body sculpting competition I truely had no clue so far as all the delicious options available to me. I'm embarrassed to admit that the matter of staying lean and maintaining muscle played a role in holding me back from becoming vegan earlier.
Before we get rolling I'm going to finish todays show with my top 7 rapid fire tips – the things I'd prioritize if I was starting again so far as being vegan and getting lean.
For now, onwards with just a few of the UN-truths I believed about a vegan diet:
One. Lack of lean protein.
I believed the easiest way to get lean was to cut the processed carbie crap out of your diet and amp up the lean protein. The thing with a vegan diet is that your protein options are generally going to come with a decent dose of carbs (like with: beans, legumes and quinoa) or a decent dose of fat (like with: nuts and seeds).
After years in the fitness industry I was unnecessarily scared of carbs and fats. 
My recommendation to you if you're interested in being vegan and getting lean is cutting processed carbs is absolutely the most impactful first step you can make. Thankfully when you remove stuff like sugar, cereal and bread from your regular eating routine your body will tolerate – even welcome! – generous amounts of ONE INGREDIENT carbs and fats.
Still on the notion of a lack of lean protein, as long as you're getting enough calories you're getting enough protein. You could eat just beans or just broccoli and you would not be protein deficient. However that'd be super boring and not so satisfying right?!
That's why I advocate consciously adding plant based protein to all your meals and I'll share some of my fav one ingredient options at the end of the show.
Two. You'll be faced with a whole lot of carb options.
From pasta to pizza to risotto… this is still true however it does not have to hold you back so far as being vegan and getting lean. As covered in UN-truth one, it's just a matter of prioritizing one ingredient carbs over processed carbs. It's amazing how many options you'll become aware of once you start looking for the whole foods that offer your body the most value as well as tasting great.
That's probably my second most vital piece of advice: Focus first on what you're GIVING your body. No diet approach should ever be about restriction or deprivation. It's UN-fun and unsustainable. So while Yes you're eliminating the processed crap-o-la you're also going to be focusing on everything else available for your eating pleasure.
I genuinely eat a much more diverse, delicious and nutritious range of foods now as a vegan than as a vego or as a meat eater. 
I recommend trying new food options at every opportunity and focusing on both the taste and also the value they provide to your body. Some of my recent new food discoveries include: Jackfruit (great as a pulled pork alternative), edamame (cheap, easier and full of protein, iron and calcium – how had I not known about these wonder beans?!), Dulse leaves (red seaweed that's fab to snack on or add to a sushi bowl).
Three. It's super tough to do hearty-low-carb-high-protein-one-ingredient-vegan.
Back when I was in prepping for body sculpting hell, at the insistence of my carnivorous trainer I gave up thigh-fat-inducing-tofu. I also got super reliant on protein powder. I had so much learning to do.
I believed the estrogen mimicking soy propaganda for so long that it's only been in the past year that I've welcomed soy back into my regular eating routine. It's something I cover in show #518, To Eat Soy or Not To Eat Soy?
Back to the matter of hearty-low-carb-high-protein-one-ingredient-vegan (!) it's super doable. It just a matter of finding one hearty, delicious meal at a time that works for you. I was demolishing one of mine at the gym on the weekend when a couple of gents walked in and one exclaimed: "WOW, that's a huge bowl of lunch!" It was just my normal lazy lunch of kale-slaw, coconut yoghurt and black bean and beetroot burgers.
I now think of "low carb" as low processed carbs.
High protein as 15-20 grams a meal rather than the excessive and unnecessary 40+ grams.
One ingredient as primarily one ingredient.
Why get stuck striving for perfection when good enough is effective?
Now that we've covered some of the common misconceptions common to being vegan and getting lean let's check out the HUGE advantages you'll experience and just for today let's take ethics and environmental impact and improved health off the table.
If you've listened to the Healthification podcast for any period of table you'll know the animals, the environment, your health are generally where I focus (and 100% my priority) however just for today I'm keeping it to the superficial level of being a vegan who wants to shed excess fat and maintain lean muscle aka "Getting Lean."
One. Being Vegan, brings an awareness and a volition to your eating.
Before you accept on auto-pilot that greasy canapé on offer you ask, "What's in that spring roll please?" Whether its vegan or not you've already put a hold on the old hand to mouth process for long enough to decide, "Is this something I want to be feeding my body?"
Again it's all about what you're GIVING your body.
Two. Being Vegan, is a convenient excuse.
I usually see excuses as result-ruining-rubbish to avoid however, when you're still building your ability to politely yet firmly decline food that does not support your goals… it can be pretty handy to pull the "I'm vegan" card.
This has saved me from many a scary sausage roll or dodgy-stodgy pizza in my time.
Three. Limiting your food options can force you to give up on overly fussy and embrace some of those awesomely nutritious vegetables your mum always told you you should eat.
Who know's if I'd be so keen on kale, fond of fennel or taken with tempeh if I still got to indulge in my previous loves of T-bone steak, roast chicken and rack of lamb?
In modern times an abundance of / reliance on our favourite (relatively few) foods and the subsequent lack of diversity in especially fruits and veg is not working out well for the health of most people trapped by the SAD Standard American (Australian!) Diet. We eat according to taste and convenience rather than aligned with the seasons and with what's nutritionally valuable.
This point in further emphasized in the recent episode #17 of The Plant Proof Podcast hosted by Simon Hill and with The Gut Health MD (also known as Dr B).
In the interests of sharing some of the better, vegan one ingredient protein choices here are 7 that are increasingly available even in your regular supermarket. 
Hemp Seeds 5.3 grams of protein per tablespoon… gram for gram that's MORE THAN BEEF!
Pumpkin Seeds 4.5grams of protein per tablespoon… gram for gram on par with beef.
Edamame17 grams of protein per 1 cooked cup… and 15 grams of carbs a cup.
Lentils 18 grams of protein per 1 cooked cup… and 20 grams of carbs a cup.
Chickpeas13 grams protein per 1 canned + drained cup… and30 grams of carbs a cup.
Chia Seeds2grams of protein per tablespoon.
Spirulina 1gram of protein per teaspoon… though a little goes a long way so your serving size will be more like 1/2 a teaspoon.
How to use them?
Purely in the interest of Being Vegan And Getting Lean, Yes I keep qualifying this as this is not the eating strategy to follow if your primary goal is to put on decent muscle (you need to be in calorie surplus for that) OR if your goal is fitness / endurance related (again you're going to have to eat a lot more to account for all the extra energy output) however for those of my vegan / vegan curious friends that want to be fit, strong and lean then here's how you might use all of this one ingredient goodness in a normal day.
=> Add 1 tablespoon Chia and / or Hemp seeds and 1/2 – 1 teaspoon Spirulina to your breakfast smoothie. Some of my other fav smoothie ingredients include: a large handful each of kale and spinach. Plus 1/2 a kiwifruit (I'm leaving the skin on right now), 1/2 an apple and 50-100 grams of mixed frozen berries. I also add a scoop of plant based protein powder however to keep it one ingredient you could go for a couple of Medjool dates instead.
=> Another super simple and delicious option is my Blueberry, Almond Chia Pudding. Topped with fresh fruit plus Pumpkin Seeds and / or Hemp seeds. You'll find it in day 2 of the 3 Day Easy Vegan Plan which I'll link to in the show notes. Just cruise to strongbodygreenplanet.com and search 539.
=> Add 1/2 cup Lentils and / or Chickpeas to your lunch salad or dinner curry. Top your salads, curries, stir-frys (or anything really!) with 1 tablespoon Pumpkin Seeds and / or Hemp seeds. Some of my fav fibrous veg to form the bulk of a salad, curry, stir-fry are dark leafy greens, cruciferous super veg like: kale, cauli, broccoli, brussels and red cabbage. I also add ALL the colours like carrot, beetroot, tomato and capsicum to my salads. Fresh herbs like basil and coriander. And of course avocado. Almost everything is better with avocado.
=> Another super simple and delicious option are my Stuffed Capsicum made with Black beans and / or Lentils and Chickpeas. Plus other goodies such as cashews, corn and the always amazing, nutritional yeast. Again, you'll find the full recipe in day 3 of the 3 Day Easy Vegan Plan.
=> Snack on 1/2 cup dry roasted Edamame and / or Chickpeas. 
=> Or an iron packed trail mix made with: 25 grams pumpkin seeds, 25 grams raw cashews, 25 grams dark chocolate, 50 grams raspberries. Would you believe that's 10.33 milligrams / 18 milligrams of your daily iron goals in one high energy delicious mix!
For more Easy Vegan Iron Sources check out show #517:
I know I'm prone to getting a little excitable and somewhat not succinct when discussing either being vegan or getting lean and as such the combo has opened somewhat of an information flood gate. So as promised let's finish todays show with: My top 7 rapid fire tips – the things I'd prioritize if I was starting again so far as being vegan and getting lean.
prioritize one ingredient plant based food.
Keep store bought meat and dairy substitutes + refined carbs like bread to the weekend / 2-3 times a week only.
Make friends with meal prep. You only need 1-2 three hour blocks a week.
Focus on what you're GIVING your body not "everything you can't / shouldn't have."
You're only ever the very next meal or the very next workout away from "being back on track."
prioritize 45 minutes movement daily. I LOVE weights and walking however what you're most likely to do consistently is going to be your most effective option.
Prioritize 7-8 hours sleep a night.
To get actionable today, does ONE of those top 7 tips jumps out as something you could focus more on?
That's it today in Healthification. Huge thanks to YOU for spending this time with me. I appreciate it with all my heart.
The Healthification podcast is proudly bought to you by my FREE 'Easy Vegan' plan. It took me 25 years to transition from a meat eater to a happy, healthy Vegan! You can do it in just 3 days with  my simplified 'easy vegan' plan!  Get the fit, strong, and healthy plant based body you deserve… while avoiding ALL the mistakes I made along the way!
To learn more check out: strongbodygreenplanet.com
Till next time, remember Creating a body and life you love is Freedom. (If this ex-carb queen, NON-genetically gifted, naturally uncoordinated VEGAN-chick can do it – so can YOU!!!)
If you liked 'Being Vegan And Getting Lean' you'll also like: Turning 7 Days Of Veganish Deliciousness Into A 30 Day Plan.
If you're yet to share the Healthification love – just click here to zip over to iTunes and leave an honest rating and review. It'd help me out big time. With gratitude, Kate.