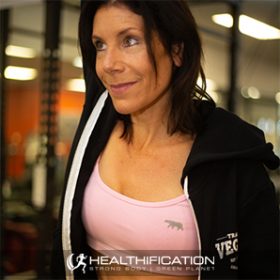 Podcast: Play in new window | Download
Subscribe: RSS
Todays show covers one of those topics that you'll get mixed advice on. Today I'm weighing in on:
Should I Exercise When I'm Sick? 
I have a lot of respect for my clients who still rock up to training when they are unwell. 
Of course there is a line however my belief is that if you are well enough to go to work, to go out for dinner or even to go to the movies then you are well enough to exercise.
I guess my caveat is that if you're someone who will – as we say in Aus – throw a sickie fairly easily then perhaps you're even going to be well enough to train when you're not well enough to work! So what to do on the day you're feeling under the weather yet NOT vomiting like a teenager who's just discovered black sambuca or tequila shots?
Here are 3 steps I recommend when you're sick and questioning: Should I Exercise? 
Step one: The honest assessment.
It's easy to know where the line is if you happen to work in an industry where no work equals no pay as I have for a lot of my career. When there's no sick-pay you quickly decide just how bad you're really feeling.
When it's that bad the decision is made for you. Like when I got a bout of Gastro that saw me shed 6 kilo's in a week. Now that may sound good however it was actually incredibly UN-fun and to be honest, frightening how quickly my body cannibalised it's own muscle.
Honestly, ask yourself: "Am I well enough to do that thing I really love?" If you're well enough for that thing you're likely also well enough for some sort of exercise.
Step two: Make some modifications.
I'd never expect you to fire up for your toughest-personal-best-beating-work-out when your body is fighting some nastiness off.
You're going to want to go at a slower pace and likely have a session on the shorter side. Personally I'm never up for interval training when I'm fighting something off, however lifting heavy'ish weights or going for a long walk always feel fine.
I tried the whole don't train when sick approach – briefly – I found I didn't get well any quicker and I started to feel anxious about the break to my training routine. The older I get, exercise is not just about the way my body looks or even feels. More and more it becomes about my mental health and happiness. Feeling sick you're likely not feeling your most joyful and positive and so this is the perfect time to prioritise (a modified more gentle) adherence to your planned exercise.
Equally, when I'm unwell I want to downplay it rather than wallow in it. I believe what you focus on expands. Of course you can't be delusional however language like: "I'm fighting this off!" rather than "Uggghhh I'm soooo sick and exhausted!" is going to be more effective.
Step three: Focus on doing everything that's good for your body. 
Give it plenty of sleep. A heap of high quality micro-nutrient rich #plantstrong fuel and water and yes also its regular dose of exercise.
It's 100% not the time to gorge yourself with stodgy comfort food. Your bodies battling for you and it deserves quality fuel.
I heard recently that humans generally are more successful at doing something rather than stopping something. So rather than stopping an old habit of resorting to comfort food instead focus on ADDING as many high value nutrient dense foods to your day as your can. Such as: leafy greens, organic berries, fibrous veg and fresh herbs.
To be honest I think there's value in exercising no matter how greatly you lower the effort bar. It's about consistency.
For most of us the exercising habit was harder to build than it is to break. I don't take that for granted and I recommend you respect the power of habit and consistency too.
Perhaps you don't miss exercise when you don't do it – that's ok – however is breaking your routine if it doesn't come easily yet something you want to risk?
Because the thing is where do you draw the line?
I've heard the "I think I'm getting a cold" which moves into the "I'm sick" which drags into the "I'm trying to get over this horrible cold."
If you leave exercise to only when you feel fit and healthy there's going to be a lot of skipped sessions.
And skipped sessions mean disheartening results. It also means that each session you do feels like struggle-street. You never get to that place where you feel fit and strong and even where you enjoy the process.
So to get nice and specific: if you're well enough to do the activities you really love to do then you're also well enough to get yourself out for a gentle walk or off to the gym for a slightly less intense session.
Otherwise you're making an excuse.
Ok, time to make today actionable.
I'm going to roll with the doing something rather than stopping something component of today's show. It can be in relation to anything not just something to do when you're feeling unwell because my wish for you is that you're NOT feeling unwell today!
What is something you've being trying to stop without success? And how can you instead turn that into something you're going to start doing?
Perhaps you're looking to stop hitting snooze and sleeping in where really it might be easier to start going to bed earlier. Or possibly you want to stop the takeaway after a night out where instead you could start preparing an easy yet tasty and healthy meal to arrive home to before you hit the pub.
That's it for today in Healthification.
I do have a quick important request. If you're one of my super dear listeners who would like to leave a review and make my week – oh, and also help push the show out of the MASS of 700,000 active podcasts so that more people discover it here's the easy way to review if you're not listening in iTunes at your laptop or via the E650 show notes at strongbodygreenplanet.com. If you're listening inside the podcast app on your phone. In the podcast library you get the choice to view all your different podcasts as either a list of "Shows" "Episodes" or "Downloaded episodes." I find it's easiest to choose The Healthification Podcast from within the "Shows." When you tap on it "my episodes" will display from most recent and if you scroll down to the bottom (it's not far – not all 650 episodes display!) it shows you the "Ratings and Reviews" box which gives you the 1 second choice to just hit 5 stars (thank you!) or the 30 second choice to tap "Write a review" and get connected quickly straight to a page to do that (HUGE thank you).
The Healthification podcast is proudly bought to you by my FREE 'Easy Vegan' plan, running LIVE again this month! It took me 25 years to transition from a meat eater to a happy, healthy Vegan! You can do it in just 3 days with  my simplified 'easy vegan' plan!  Get the fit, strong, and healthy plant based body you deserve… while avoiding ALL the mistakes I made along the way!
Till next time, remember Creating a body and life you love is Freedom. (If this ex-carb queen, non genetically gifted, naturally uncoordinated vegan chick can do it – so can YOU!!!)
If you liked "Should I Exercise When I'm Sick?" you'll also like Plant Based Recipe Template, 24/7 Fat Loss PLUS Month In Review.
If you liked "Should I Exercise When I'm Sick?" you'll also like E631: 5 Fat Loss Myths Sold To Women and What To Do Instead.