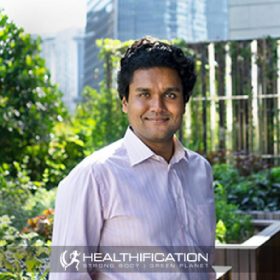 Podcast: Play in new window | Download
Subscribe: RSS
Vikas Garg is founder and CEO of the user-generated, plant-based app abillion and he is on a mission to change the world by inspiring a billion people to go vegan in the next decade.
Abillion is vegan made easy.
On downloading, the app tells you: this app will change your life and life on our planet.
And I'm inclined to agree.
Since the idea was conceived in 2017, abillion has raised $6.5 million in funding, has crossed a million downloads and has surpassed a million and a half US dollars donated to the world's most impactful animal rights and environmental organisations.
So how exactly does it work?
Vikas and I get into that however in short: you eat or purchase vegan, you review that dish or product on abillion and abillion credits one US dollar for you to then donate to some of the world's most impactful organisations.
So basically you get to consume all the deliciousness while ALSO receiving money to donate to the charities you most respect.
Win:Win:Win right?
In this conversation we cover:
Abillion's vision to shape a world guided by compassion, social responsibility and sustainability.
How abillion lets us use social media for social good.
In 2018, abillion began redirecting the company's marketing dollars with a donation mechanism on the platform.
The plant based trends Vikas is excited about in 2022.
And so much more!
About from excitement for the massive potential for social good that Vikas and team abillion are creating in the world, on a personal level – and perhaps you can relate – gosh it's a welcome change to have a social media platform you can actually feel good about using!
Just when I was thinking it might be time to ban myself form ALL the socials… there is hope!
To connect with Vikas online I have you all linked in the show notes. However the really simple, fun next step is to download the abillion app and start sharing and discovering your favourite vegan products.
Through technology, we are connecting and helping people live, shop and eat more sustainably. @abillionapp
Click To Tweet
DOWNLOAD abillion via Apple App Store:
DOWNLOAD abillion via Google Play:
Connect with abillion via www.abillion.com:
Connect with the Vikas and abillion across the socials: YouTube | Instagram | Facebook | Twitter | Pinterest
That's it for this week in Healthification. Please consider sharing the show with someone you think would find value in it. Big thanks to YOU for sharing this week with me.
The Healthification podcast is proudly bought to you by my FREE 'Easy Vegan' plan. It took me 25 years to transition from a meat eater to a happy, healthy Vegan! You can do it in just 3 days with my simplified 'easy vegan' plan!  Get the fit, strong, and healthy plant based body you deserve… while avoiding ALL the mistakes I made along the way!
To learn more check out: strongbodygreenplanet.com
Till next time, remember Creating a body and life you love is Freedom. (If this ex-refined-carb queen, non genetically gifted, naturally uncoordinated vegan chick can do it – so can YOU!!!)
If you liked "Vikas Garg and abillion Are Making Becoming Vegan Easy and Inspiring a Billion People To Go Vegan." you'll also like Turning Dairy Farms Into Animal Sanctuaries with Geraldine Starke and Refarm'd
If you liked "Vikas Garg and abillion Are Making Becoming Vegan Easy and Inspiring a Billion People To Go Vegan." you'll also like Look Good, Feel Good and Do Good by Becoming a Fabulous Vegan with Jasmin Singer.