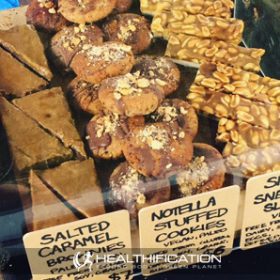 Podcast: Play in new window | Download
Subscribe: RSS
Todays encore episode on 7 Guidelines To Stop Binging In Private is inspired by my most recent roasted cashew induced haze. Each Tuesday I'll hide out in the staff room and devour the lion's portion of my weekly quota of roasted nuts. Only a crazy person would ask me to share. And they'd be disappointed!
Now as much as you might be thinking: "Well Kate if that's as bad as it gets then you really have nothing to worry about!" Mid binge I do certainly feel at the mercy of those cashews. And whatever you tend to binge on, I think the 7 guidelines I share today will be helpful. 
Obviously they're not a magical fix all. If they were I wouldn't find launch myself into excessive roasted cashew gorgeousness every single week.
However, aside from the gentle hassling of the boys at work who hear the incessant crinkle, crinkle, crinkle of the cashew bag and exclaim: "Just how many have you eaten?!" Apart from that, because I follow my own 7 guidelines I really don't experience any repercussions from my binging in private.
As an aside, binging shouldn't be a shameful activity. Humans are hard-wired to binge. In less abundant times it was beneficial to be able to make the most of a rare bush or tree laden with ripe fruit. However now, we have 24/7 access to super high caloric density and addictive food and constantly binging is not going o be a winning strategy. That's where some guidelines aligned with modern day living come in.
Now lets power onwards with,
7 Guidelines To Stop Binging In Private.
Here are the show notes for the original 062 episode: Binging In Private:
The Healthification podcast is proudly bought to you by my FREE 'Easy Vegan' plan. It took me 25 years to transition from a meat eater to a happy, healthy, non-judgemental Vegan! You can do it in just 3 days with  my simplified 'easy vegan' plan!  Get the fit, strong, and healthy plant based body you deserve… while avoiding ALL the mistakes I made along the way!
To learn more check out: strongbodygreenplanet.com
Till next time, remember Creating a body and life you love is Freedom. (If this ex-carb queen, NON-genetically gifted, naturally uncoordinated VEGAN-chick can do it – so can YOU!!!)
If you liked 7 Guidelines To Stop Binging In Private you'll also like: 6 Steps To Quit Sugar For Good:
If you're yet to share the Healthification love – just click here to zip over to iTunes and leave an honest rating and review. It'd help me out big time. With gratitude, Kate.