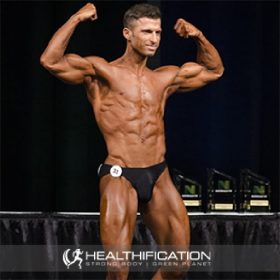 Podcast: Play in new window | Download
Subscribe: RSS
Giacomo Marchese is the co-founder of VeganProteins.com and also co-founded PlantBuilt.com, a non profit organizstion of strength based vegan athletes who compete together to raise awareness for veganism and money for rescued animals at farm sanctuaries.
Giacomo has been vegan for over 10 years and involved with fitness for over 20 years in many different arenas. He coaches others and actively competes in bodybuilding and powerlifting.
This is a causal and wide ranging conversation where we cover some of the myths and misconceptions about getting and staying in amazing shape.
As you will hear it's certainly not just us ladies who struggle with body image and equally maintaining a healthy relationship with food and your body can be an ever present battle even when on the outside it appears you've got everything sorted.
In this conversation we cover:
Giacomo's becoming vegan story. 
Nutrition myths about being a strong, healthy vegan athlete.
Vegan fat loss AND muscle gain tips.  
Body image for guys.
The expectation to be strong, lean AND muscular.
Overcoming disordered eating and creating a healthy relationship with food and your body.
The myth that you can maintain a superhero physique for a long period of time!
In just a couple of weeks I'll have a follow up to this conversation – from the female figure competitors perspective with a Giacomo's wife and co-founder of VeganProteins.com and PlantBuilt.com, Dani Taylor.
To connect with Giacomo online I have you all linked up below.
While we're talking upcoming shows please stay tuned for a conversation I was so excited for that absolutely exceeded my high expectations next week, when I interview award winning journalist and chief features  writer for the Financial Times Henry Mance.
Connect with Giacomo via the Vegan Proteins Website:
Also via veganstrong.com.
Connect with the Giacomo across the socials: YouTube | Instagram | Facebook | Twitter
Facebook Muscles by Brussels Group:
Listen to Muscles by Brussels Podcast:
That's it for this week in Healthification. If you're yet to subscribe wherever you're listening please do and equally awesome, please consider sharing the show with someone you think would find value in it. Big thanks to YOU for sharing this week with me.
The Healthification podcast is proudly bought to you by my FREE 'Easy Vegan' plan. It took me 25 years to transition from a meat eater to a happy, healthy Vegan! You can do it in just 3 days with my simplified 'easy vegan' plan!  Get the fit, strong, and healthy plant based body you deserve… while avoiding ALL the mistakes I made along the way!
To learn more check out: strongbodygreenplanet.com
Till next time, remember Creating a body and life you love is Freedom. (If this ex-refined-carb queen, non genetically gifted, naturally uncoordinated vegan chick can do it – so can YOU!!!)
If you liked "Vegan Bodybuilder Giacomo Marchese Can Help You Get Plant Built." you'll also like Hench Herbivore, Ex-Vegans and Being On The Right Side Of History.
If you liked "Vegan Bodybuilder Giacomo Marchese Can Help You Get Plant Built." you'll also E644: Torre Washington and Thriving On Plants as a Vegan Bodybuilder.
If you liked "Vegan Bodybuilder Giacomo Marchese Can Help You Get Plant Built." you'll also Gaining 100 Pounds Of Vegan Muscle with Vegan Bodybuilder Robert Cheeke.