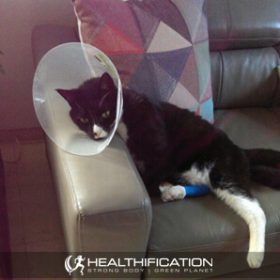 Podcast: Play in new window | Download
Subscribe: RSS
My little brother is one unhappy golden child right now.
He injured his leg slightly and then proceeded to worry the injury to the point where it required stitches. Sadly this also necessitates Sir Thomas – my little bro the cat – must endure a plastic cone on his head for a week or two.
As a caring big sister I asked mum to send me some photos of Mr Cone Head. I love him and yet still find the photos endlessly hilarious. Unfortunately my poor mum is less amused at having a Mr Cone Head cat on top of nursing my dad who's into week 5 with his arm in a sling after shoulder surgery.
Usually I actually look to Thomas as an inspiration for choosing your mood. He's generally brilliant at making the best of any situation. However in todays show on:
4 Steps To Choose Your Mood 
I'll be drawing on my own tactics. If you can relate to sometimes feeling a little low, like life is more glum than fun or just decidedly BLAH (even though nothing has changed it's just everything is affecting you more) then this show is for you. 
Step one: Motion Creates Emotion.
This is something so important I recommend both automating it and also turning to it when your regular movement is not pulling you through glum and into fun. So, automated is the training plan or daily walk to work that you do proactively to help stay positive.
The older I get I'm finding exercise becomes a little less about aesthetics and increasingly important for mood moderation.
Reactively, if you're feeling rubbish and you can drag yourself outside for a walk you'll almost certainly feel better.
If that's more than you can manage there's huge value in at least being aware of your posture and compelling yourself to sit / stand up straight with shoulders set down and back and eyes straight ahead.
If that does not work then just picture a super cute yet slow to learn little black and white cat repeatedly running at the hole in the fence he can usually fit through and getting stopped by his pesky cone head!
Step two: Choose Your Inputs.
If I were to ask you to rate the inputs – like food / information / personal interactions – into either generally makes you feel good or generally makes you feel bad, it'd be an easy exercise right?
Yet either we don't ask ourself the: "Will this make me feel better or worse?" question or we muddle along mindlessly perpetuating our current habits be they effective or ineffective. 
Right now I'm asking you to take control and choose your inputs so that they help you choose your mood.
I know minimizing such inputs as: playing the comparison game via social media, training clients who don't accept responsibility, reading vegan-hating comments helps me feel better. 
Equally, maximizing inputs such as: time doing vegan street out-reach with like minded activists, walks in nature, quality sleep, prioritizing water over coffee (or alcohol for that matter!) all help me feel better.
While your choosing your quality inputs spare a thought for Thomas who prefers to partake of his water from mums lounge room table centre-piece of floating candles and flowers in glass bowl. It's much more his style than the drab water bowl next to his cat biscuits. Sadly the arrangement does not allow for a cone on the head. Happily, dad came to the rescue and topped the arrangement up to the brim with water so Thomas could both drink freely and (to mums further frustration) catch excess water in his cone to cascade over the table.
Step three: Manage Your Expectations.
For someone who's usually pretty good at choosing my mood, this is the step that has been tripping me up recently. When I first became a personal trainer over 12 years ago I decided I wanted to be the most: Positive, Happy and Focused trainer around. Initially I set these expectations for the benefit of my clients however I benefited at least as much as they did.
Although I still expect those standards of myself in my role as a trainer I know I could get better at:
A) Raising my expectations to also expect those standards in the rest of my life (within reason)and,
B) Easing off a tad on ALL the other expectations I seem to have heaped on myself over the years.
Can you relate?
It's easy to acquire completely unrealistic and as such daunting and debilitating expectations for yourself if you base what you expect of YOU everyday on the ideal / manufactured / highlight reel life of others. Particularly if those others are the most successful, happy, healthy, beautiful, privileged people in the world (however you rate any of those slippery and subjective things).
If we relate expectations to Values one of the things I've reminded myself of recently is to make the rules you create for yourself to experience your most important values as easy to meet as possible. I know I'm making this sound more complicated than you might think it needs to be however please hear me out!
Either consciously or unconsciously you will create 'rules' that either enable you to or exclude you from experiencing your values.
To take my number one value: Freedom, as an example.
Tough to meet rules would be:
=> I experience freedom when I earn the income that allows me buy a beautiful house in a good suburb and take overseas holidays every year.
=> I experience freedom when I get to choose who I spend my time with and how I spend it all day every single day.
Conversely, easy to meet rules are:
=> I experience freedom when I appreciate I'm doing a job I love working hours of my choosing, with clients I respect and colleagues I have fun with.
=> I experience freedom when I schedule time every single day for the things that keep me happy and effective like: meditation, preparing and eating delicious plant based food, exercise and listening to a podcast I find inspiring.
Can you can imagine how tough the rules you might have unconsciously created to allow you to meet the value of: Health, be?
Or, as I've just realized, how tough the rules I've unconsciously created to allow me to meet the value of: Happiness, be?
It really can be as simple as DECIDING on some easy to meet rules such as:
=> I experience happiness when I wake up in a city I love, in a home I feel safe in, with the opportunity to have positive, joyful interactions with multiple people every single day.
I will turn to Thomas for some further inspiration here as he really is a master at being utterly thrilled when his low, super achievable expectations are met multiple times every single day. As 'stairs monitor' he escorts whoever is descending for their first time each morning to his scratching pole where he expects to be combed good morning. At lunch and dinner time his excitement for his vet approved half cup of rank, dry older cat biscuits and their mandatory accompanying comb never ceases to amaze me.
Step four: Source Go To Mood Lifters.
When I was a teenager and I was feeling low I wallowed in the misery by playing all the saddest Cure songs I knew. I remember spending hours with one particular friend entrenched in The Cure and in our angst.
Obviously this is not an effective approach to choose your mood!
I still love The Cure however I'll choose more uplifting music when I feel a little flat now. Even better I'll move to uplifting music. For me that is likely going to involve a walk in nature or lifting weights however do what works for you. Perhaps you like to dance? Maybe team sport is more your deal?
If you're thinking: "Well Kate that all sounds pretty time consuming!" well I have you covered. In podcast number 183 I share: '5′ 5 Minute State Changers. 
One: Do a 5 minute work-out.
I have 5 exercises for you. Perform each one for 20 seconds working and 10 seconds rest times 2.
Push up. So it looks like this, 20 seconds push ups, 10 seconds rest, 20 seconds push ups then move on to,
Sumo in out jump squat.
Mountain climber.
Side plank with elbow to knee tap and hip dip. (20 seconds one side, 10 seconds rest, 20 seconds other side)
Oblique v-up.
Two: Spend 5 minutes on your gratitude's, goals and today's reference point for success.
Three: 5 minutes of thanks. 
The fastest way to feel better is to stop focusing on YOU and brighten someone else's day.
Four: 5 minutes cleaning your work-space.
Five: 5 minutes ditching the refined crap-o-la from your fridge and pantry. 
Or the half used and expired stuff from your pantry or even your bathroom cupboard.
If none of these resonate with you that's cool. It's just a matter of coming up with what does sound good to you and sourcing that Go To Mood Lifter before you need it. Perhaps that's calling a good friend or family member. Maybe there's a funny You Tube channel or Instagram page. Re the later I've recently discovered kyledunnigan1 on Instagram. His videos are utterly unique and hilarious. Likely not for everyone and certainly a break from all the overly politically correct'ness.
Maybe funny cat pics are more your style? If so then I recommend you check out the show notes for todays show because my little bro is starring and looking hilariously unhappy as he tries to recline on the couch with his cumbersome cone.
That brings us to the end of todays show.
Is there anything you'd love me to cover in an up coming show? Or do you have an interviewee recommendation?
Please let me know. I'd love to hear from you via the show notes or even better via an iTunes review. Those little reviews absolutely 100% make my day.
Thanks so very much for hanging with me today. I appreciate it. Till next week, happy training and remember…
Creating a body and life you love is Freedom. (If this ex-carb queen, NON-genetically gifted, naturally uncoordinated VEGAN chick can do it – so can YOU!!!)
If you liked 'Vegan Lifestyle: 4 Steps To Choose Your Mood' you'll also like:  Choose Your Mood Revisited.
If you're yet to share the Healthification love – just click here to zip over to iTunes and leave an honest rating and review. It'd help me out big time. With gratitude, Kate.