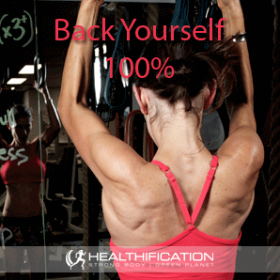 Podcast: Play in new window | Download
Subscribe: RSS
When was the last time you finished a book and immediately started it again?
I'm listening to one such book – or moreso presentation right now.
It's Brene Browns' 'The Power Of Vulnerability.'
Of the numerous amazing insights that have been smacking me between the eyes time and time again as I listen to Brene is her description of how prevalent: The Scarcity Mindset is.
To paraphrase Brene she describes how common it is for our first thought as we wake up each morning to be: "Wow, I didn't get enough sleep" and then equally the last thing we think as which collapse into bed at night is: "I didn't get enough done today."
In todays show I'm covering: The Scarcity Mindset… how it will undermine your attempts to achieve your body gain goal and how to gradually turn the tables on scarcity.
When I think of the more common excuses that regularly prevent people from taking the actions they know they need to take so far as their health and fitness a lot of it stems from scarcity.
I'll go so far as to say False Scarcity.
"I don't have enough time"
"I don't have enough energy"
"I don't have enough money"
Now this may be a jump however I believe there has got to be a connection here with that human fear that is common to us all – to one degree or another, the I'm Not Enough fear. Perhaps,
"I'm not perfect enough"
"I'm not thin enough"
"I'm not unique enough"
Heavy stuff right?
Here's my thinking… as we covered in show #096 on your unconscious mind, your unconscious mind takes everything personally. If all it's hearing is not enough, Not Enough, NOT ENOUGH… well surely that's not the input you want to be sending it? It'll search for evidence to support whatever you're choosing to believe so the not enough cycle becomes self perpetuating. (I cover this in the #001 show, on what you focus on will expand)
As a side note, if you're listening via iTunes and find the earlier shows hard to reach they are all also accessible via my website, here: Moving back on track…
The antidote to The Scarcity Mindset is to cultivate your Abundance Mindset.
In the way the scarcity has crept it's way into our day to day thinking, nourishing an abundance mindset is likely going to be a gradual process too. Any progress, not matter how small or how slow counts though.
Here are 3 ways to think abundance so far as your body gain goal. I'm going to roll with my FUEL, MOVE, LIFE format for todays tips. To recap, if you haven't yet heard me speak about fuel, move and life:
Fuel = everything food. Move = everything exercise. Life = everything time.
FUEL: The scarcity mindset focus's on the restriction you must suffer through. All the food you can't have. The stuff you miss out on.How you'll never get to eat your favourite food again.
This sort of focus is not only miserable, it's unsustainable.
Your alternative: Focus on all the amazing, nourishing, delicious foods you can give your body. The vast variety of one ingredient whole foods and the countless ways you can cook up new and exciting meals to enjoy.
At a deeper level, how about focusing on how lucky we are to have the abundance of food choices we have?
We live in a society where food is so abundant our problem becomes not getting enough food to survive but rather how to eat primarily the stuff that keeps us fit and healthy… and avoid the stuff that makes us fat and sick.
Put like that it's a privilege to have the choice.
MOVE:The scarcity mindset focus's on what you have to give up to exercise. It's an either/or sacrifice. If I haveto exercise then I don't get to do this…. How hard it's going to be to drag your body through that painful work-out.
That's a pattern here! This sort of focus is also miserable and it's also unsustainable.
Your alternative: Focus on the huge benefits you get to enjoy as a result of your exercise. Those evident immediately:
Like the increased energy, productivity and positivity you power through your day with after a work-out. Also the fact that each exercise session you do makes the next one that much easier.
If you're being brutally honest exercise does not have to be an either/or sacrifice. Yes your time and energy are finite however how efficiently you chose to use each can always be improved.
I'll never forget hearing Richard Branson interviewed by Joe Polish. Joe asked for Richards #1 productivity tip and Richard replied that he exercises every day, and that allows him to get twice as much done in a day.
If Richard Branson can always has time to exercise then so can I and so can YOU.
LIFE: The scarcity mindset focus's on everything there is to do and how little time there is to do it in. 
It's – as Brene so perfectly put it – starting the day lamenting you didn't get enough sleep and finishing your day stewing over not getting enough done.
You're setting yourself up for pain and disappointment if you believe you can ever get 'it all' done! You won't. All you can ever do is prioritise what does get done.
Your alternative: It's counter-intuitive, however when you're feeling overwhelmed by all there is to do sometimes the very best thing to do can be to just take a break. To break that self-perpetuating scarcity cycle and just go for a 60 minute walk… or whatever it is for you that helps you connect with the abundance of time, freedom, pleasure we actually all can have access to. I'm getting better at this one. Every time I do it I feel so much better that I know it'll be even easier to do it again next time I feel myself getting sucked into a scarcity spiral of ineffectiveness.
Another thing I'm getting better at is being more conscious of the thoughts I choose just before sleep. This is not the time for bemusing what didn't happen… or what you don't have. 
Instead reflect on what you did achieve today.  
What you are grateful for today.
To get actionable today I've love you to think of 3 things you are grateful for that you have an abundance of.
=> It may be something seemingly inconsequential – like the organic veggie delivery box I just got delivered last night and I'm excited to chow into at lunch today.
=> It may be something more significant – such as the constant ideas I have flowing to me to implement for my online business… and that in my mind a happy challenge to have.
=> it may be something personal… like the abundance of people I have in my life who I love to spend time with… who support, inspire and make me laugh!
Your abundance mindset is something to cultivate daily. As I mentioned I'm loving just before bed as the ideal time to think of some of the many things that I have in abundance to feel grateful for.
I'll finish today with a quote from Wayne Dyer, "Abundance is not something we acquire. It's something we tune in to"
That's it for today. I'll be back tomorrow for the Tuesday Tucker show and, Comfort Food: 3 Myths.
I hope you can join me.
If you liked this you'll also like: Focus On Your Little Daily Success's For Big Weight Loss Results
If you're yet to share the Healthification love – just click here to zip over to iTunes and leave an honest rating and review. It'd help me out big time. With gratitude, Kate.