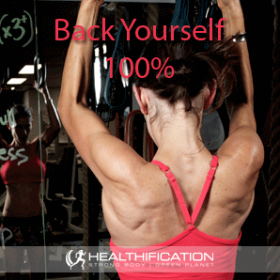 Podcast: Play in new window | Download
Subscribe: RSS
I was discussing this with a girlfriend recently…
It tends to start with 'I deserve' (now insert your 'REWARD' for physical effort) …OR a tough day. late night. big week. slight sickness. minor disappointment.
In todays tucker show I'm covering the detrimental: Licence To Splurge.
Download Top 10 Tuesday Tucker FREE PDF
That free pass you give yourself to eat or drink above and beyond your bodies nutritional needs in an attempt to satisfy an often unknown emotional need or lack.
The I deserve splurge will likely catapult you above and beyond any calorie deficit you've created this week.
It's actually incredibly easy to do. Especially in the company of friends or family. What is it that clicks over in our mind that makes it ok because she is??
I'm not nearly as susceptable to this as I used to be – it took years to be ok with being that old one out – however I can absolutely remember that crazy calculation that equated one chick mindlessly munching plus one chick greedily guzzling EQUALS two chicks not piling on the pounds for those chips, biscuits, lollies and whatever else….
The simple fact:
If you expect your body to look after you, you need to look after it and it 'deserves' the best possible fuel you can find it.
As always that's easier said than now right?
Before we get into some tactics to out-wit the I deserve splurge it's worth examining what's happening… at an emotional and physiological level.
One: Let's get Emotional:
What Feelings are you seeking when tempted by the I deserve splurge?
Reward?  Comfort?  Certainty?
Any how could you achieve those feelings without the detrimental I deserve splurge?
As with every nutritional habit or crutch theres a whole lot more than the mere taste of the food at play.
Two: Let's get Physical:
What were the Eating, Exercising, Sleeping circumstances leading up to your last I deserve splurge?
Meal skipping?  Excessive moderate intensity cardio?  Lack of sleep?
I cover the vicious fitter and fatter cycle that a focus on moderate intensity cardio can prompt in show #008 and also the correlation between lack of sleep and over eating in show #067.
So far as meal skipping it's worth a revisit…
I'm always disappointed when a client proudly proclaims they 'skipped lunch' or just had a 'side salad' for dinner. Thats because the meal you skip will ALWAYS come back to bite you.
Whether its later that night or even the next day it will at some point lead to: the "Now I can have" factor.
"Now I can have" food is not the quality fuel that makes up your best planned meals.
It's little nibbly, morish, high caloric density stuff. That likely adds up to a lot more calories than "a decent meal" (as mama Galli would say) …and that's with a lot less micronutrients and subsequently less satisfaction, less energy and MORE CRAVINGS.
So NO meal skipping ok?
AND now let's get Actionable…with 3 simple actions to survive the I deserve splurge:
1) Find some 'Go2' meals/snacks that aren't detrimental to your health goal and are easy to grab for your 'I deserve' moments.
Before You Need Them!
2) Move your mindset from the @Effect Victim mentality of 'I deserve…' to the @Cause and accepting Responsibility mentality of 'How can I…?'  For example:
=> How can I best refuel my body after that big work-out/long day/late night?
=> How can I turn this minor disappointment into a positive, an opportunity to learn and grow?
3) Become aware of those 'I deserve' life moments that previously may have stalled your progress. Plan your healthy – non food – alternatives and consciously choose them until they become your new habits. For example:
=> A bath / calling a good friend / a manicure, facial or massage / downloading a new book.
=> Or how about doing something special for someone else, as that is the most sure-fire way to move beyond your own challenges.
Today's action step to farewell the detrimental I deserve splurge is to choose your Go2Snack that you can turn to when call a friend just isn't going to cut it.
I'd love to hear what works for you.
You can let me know via the comments below.
Or you can check out some of my Go2Snacks in this popular safe snacks post:
That's it for today. In the Wednesday Weigh-in show I'm covering: Being Vegetarian And Getting Lean.
If you liked this you'll also like: Manipulate Your Addictions And Accelerate Weight Loss.
If you're yet to share the Healthification love – just click here to zip over to iTunes and leave an honest rating and review. It'd help me out big time. With gratitude, Kate.