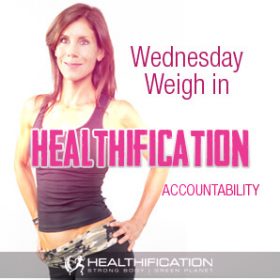 Podcast: Play in new window | Download
Subscribe: RSS
In todays show I'm weighing in on something I didn't think I needed: ACCOUNTABILITY.
I spend my days holding other people accountable… they pay me for it and generally they thank me for it – however I really didn't think it was something I needed help with.
I've always been of the mindset: If it's important enough TO ME, I'll do it.
And that's often true. It's absolutely true in the areas in which I excel. I really don't need anyone holding me accountable so far as my exercise or my eating.
I think there's even a little of the resentful school girl who really doesn't want to be checked in on.
I spent enough years being held accountable for homework… for socks pulled up… for no cardigans in the street… for wearing my hideous-bright-tartan-extremely-over-shoulder-padded-blazer… that I'm pretty keen to hold myself accountable thank you very much!
If you can relate then todays show is for you.
I've recently been embracing ACCOUNTABILITY just a bit. Today I'll share my learnings with you in the format of 3 stages. Let's get rolling:
Stage One: The Dangerous Deception.
The dangerous deception is that game you play with yourself.
The, "Yeah, I'll get to it" or "I've got this sorted" or even "It's just not a priority right now."
Except that you don't get to it. Which means you really haven't got it sorted.
And what if it IS a priority right now… or should be?
I've fallen for playing the dangerous deception game so far as daunting video stuff and tedious financial stuff and I'm sure many other things. Things that when left to my own devices I continuously let myself down.
If you're thinking of a couple of things in which you've been deceiving yourself… telling yourself you'll get to it though reallywhen you look back on the past few weeks or months or years you haven't yet got to it you are likely ready for…
Stage Two: The Initial Investment.
This is where you bite the bullet and get some skin in the game.
For me it was hiring a professional to help with with my videos. When you share your intention with someone else. Perhaps book their time – pay for their service – well then that's a whole other level of accountability than the easy to palm off accountability you have with yourself.
An initial investment means it's someone else's job to help you to stick to your word.
Sometimes it can be tempting to skip on the initial investment because, well you should be able to make it happen yourself right?
However here's the thing: Have you made it happen yourself yet?
I've made the shonky videos myself. Or done a contra deal with a friend. Or attempted a weekly video routine with a colleague. However it's never been satisfactory or sustainable.
Stage Three: The Self-Sustaining System.
As you'll already know with the areas in which you currently excel, once you're seeing results it's a lot easier to hold yourself accountable.
When you know preparing nutritious meals means you get to love what you eat, to eat generous amounts AND to avoid eating the rubbish that makes you feel guilty + lethargic and look puffy + bloated… then it's comparatively easy to hold yourself accountable to the meal planning habit.
You don't need to be reminded of the value of that habit because the way you look and feel every single moment of every single day reminds you.
Possibly a weekly time allocation in your calendar and weekly tracking of results is all you need to implement so far as your self sustaining system. You've built references points for success and momentum and that is easy to maintain.
I'm not there yet with video however I'm making progress.
I guess the main learning I'm looking share share so far as accountability is that all though some of us want, like perhaps even need it less than others of us… it's still some we can all benefit from.
At least in the area of our life in which we are not yet excelling.
To get actionable today I've got 2 steps for you. Though one you've likely already done. I'm guessing you've already got that area in which you could benefit from a little accountability in mind?
That's the first step: An awareness that you've been playing the Dangerous Deception game.
Next step: Decide on and take the Initial Investment. YOU are best placed to know how much skin you need in the game to hold you accountable. What is the tipping point – that will force – or more delicately put compel you to take action?
You can always adjust your investment up or down until you find the perfect action inspiring commitment.
You'll also likely enjoy the added benefit that when you make the initial investment, it's actually really awesome to have someone else on your team. To know that it's not just you in charge of your progress. Of course 100% responsibility is all yours however a helpful little nudge in the right direction every now and then can (I'm learning!) be… well, helpful andwelcome rather than annoying.
The goal is that Self Sustaining System of accountability that you can maintain yourself. You'll know when you're at that point because your results will show you.
That brings us to the end of todays show. As with every show, I'd love to hear your thoughts?
Have you long been a fan of accountability? Do you see the value? OR, conversely are you holding tight to: If it's important enough TO ME, I'll do it.
I'm off to brainstorm before my scheduled phone call with my video gent. If that call wasn't scheduled, I 100% KNOW I'd be finding something else to do right now… perhaps finishing Friday's show part 2 of, Will Power: 6 Steps to Build Your Self Control Muscle. Or maybe heading up to the gym because today is my most fav lower bod weights day!
If you liked this you'll also like: How To Program Your Thoughts To Create The Fit, Lean, Healthy Body You Were Born To ROCK 24/7 365 Days.
If you're yet to share the Healthification love – just click here to zip over to iTunes and leave an honest rating and review. It'd help me out big time. With gratitude, Kate.