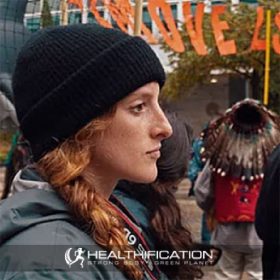 Podcast: Play in new window | Download
Subscribe: RSS
After a mother orca carries her dead calf for 17 days, two filmmakers spring into action, joining Indigenous leaders and scientists making a final attempt to protect the last 73 Southern Resident orcas from extinction.
Today it's my huge pleasure to chat with one of those filmmakers, Gloria Pancrazi.
Gloria is Director and Producer of Coextinction and with fellow director Elena Jean has documented the urgent, dire situation facing the last 73 Southern Resident orcas however it's about so much more than this one majestic species.
This is a documentary that powerfully highlights just how utterly interconnected and inter-dependant we all are. Human animals and non-humans animals.
We simply can not destroy one species or one species' habitat without it hugely impacting our own lives.
In this conversation we discuss:
Gloria was obsessed with orcas from a young age.
The fight to protect the last 73 Southern Resident Orcas from extinction.
Orca's as individuals. What can we learn from them?
What is the current situation for these 73 Orca.
Orca's are an indicator species. Are they asking for help? Are they trying to sound the Alarm?
The multitude of urgent factors impacting the orcas and contributing to ecosystem collapse in BC.
Including:
Noise disturbance: from whale watching + recreational boats + oil tankers + bulk carriers.
The impact of the trans mountain pipeline expansion on the orcas.
Exploitation of salmon via salmon farming and the wild salmon decline.
The 4 lower Snake River Dams.
The critical role Indigenous people can play in teaching us how to live in harmony with the Earth.
Gloria's personal epiphany and transformation from someone who loved Orcas and ate Salmon.
How individuals can support and advance the Coextinction mission.
Gloria and I covered a lot however there is so much more to Coextinction.
I was both inspired by brave and determined individuals and also frustrated by the predictable slow pace of change-makers at a government level. 
To help advance the Coextinction mission by taking action for environmental and social justice,
Or to organize a community screening,
Or to learn when Coextinction is available online I have you linked up in the show notes below.
Connect with Gloria via www.coextinctionfilm.com
Subscribe to learn when Coextinction will be released online here:
Take action with Coextinction:
Connect with Coextinction across the socials: Facebook | Instagram | YouTube | Twitter
That's it for this week in Healthification. If you're yet to rate, review and subscribe please do!
Exciting news! My Plant Positive Journal is the proud NEW sponsor of The Healthification podcast.
Perhaps you are plant-based curious? Maybe you are already vegan but need a healthier approach to nutrition?
In this daily journal you will learn how to consistently prioritize food, exercise and other healthy habits that build on each other to have a compounding and lasting effect.
To help you create a BODY and LIFE you LOVE by successfully managing your TIME and your MIND.
It makes a great gift to YOU! Or, for the loved one who would benefit from some support managing their time and their MIND. Even better, the loved one who is vegan curious or who has been a valuable vegan ally to you.
To learn more check out: strongbodygreenplanet.com/journal
With love and gratitude plant friends.
If you liked "Coextinction Why No Species Goes Extinct In Isolation." you'll also like Artifishal, Director Josh Bones Murphy and The Devastating Reality Of Fish Farming.
If you liked "Coextinction Why No Species Goes Extinct In Isolation." you'll also like E612: A Plastic Ocean and Shifting Our Reliance On Plastic with Julie Anderson.
If you liked "Coextinction Why No Species Goes Extinct In Isolation." you'll also like Sea Shepherd's Captain Paul Watson and Protecting Marine Wildlife Worldwide with Aggressive Non-violence.