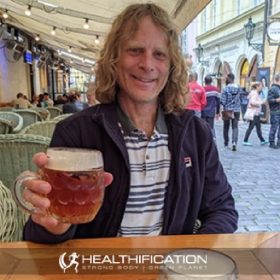 Podcast: Play in new window | Download
Subscribe: RSS
Todays conversation is all about making adopting a vegan lifestyle easier.
My guest, Erik Marcus publishes vegan.com, maintains its Twitter feed, and has written extensively on vegan and animal rights topics.
A couple of his most important pieces are an essay titled Why Go Vegan?
Also his vegan activism piece. That said, the vegan.com site is an absolute wealth of information. 
Today we cover some new subjects – which 800+ episodes on is a novelty! Such as animal millionaires (it's not about money) and why it can sometimes be effective to not tell people you are vegan.
Please enjoy this conversation with Erik Marcus of Vegan.com…
In this conversation we discuss:
Erik's becoming vegan story.
Any misconceptions Erik had about the lifestyle prior to being vegan.
At Vegan.com the tagline is "making vegan easy." What are Erik's recommendations for the vegan curious individual that might make the lifestyle change easier.
Animal millionaires and how to be most effective in our activism.
Why Erik rarely tells people he is vegan and the benefits to flying a little more under the radar with your own personal identity.
Problems that veganism can't address and why vegan doesn't (and cannot) mean perfect.
I must say Erik challenged me to something I am not quite ready for… could you tell?!
We will see how my line in the sand continues to move however for now I am very happy letting others advocate for Meatless Mondays or vegan before 6 and I'll stay strongly – yet compassionately – aligned with my hearts ask,
Go Vegan!
Talking of making veganism easy, Erik shared his top three tips and here are mine:
One: Connect with your WHY. The emotional fuel that will fortify your resolve and also, the benefits and value it will bring to your life and the lives of the people you love.
Two: Find mentors or people YOU can relate to who are living and loving the lifestyle and learn from them. They are proof and inspiration for how the lifestyle can be and they are abundant and free online if in person isn't possible.
Three: Deliciousness wise? Start with the meals you already eat and already love that simply need a small tweak to become vegan.
I have you linked up in the show notes below to all the resources Erik mentioned today and also to some of my posts on making adopting a vegan lifestyle easy.
The pages Erik shouts out to:
Why Go Vegan + How to Go Vegan.
Vegan Nutrition Guide, by Virginia Messina MPH, RD
Animal Rights Activism Guide: How to Be Effective
Connect with Erik via Vegan.com and check out the very occasional newsletter.
Connect with Erik across the socials: Facebook | YouTube | Twitter
Erik also mentions, the activist Henry Spira and the book about him 'Ethics Into Action' by Peter Singer.
Here is Hillary Rettig's assay on Local Vegan Activism:
That's it for this week in Healthification. If you're yet to rate, review and subscribe please do!
Exciting news! My Plant Positive Journal is the proud NEW sponsor of The Healthification podcast.
Perhaps you are plant-based curious? Maybe you are already vegan but need a healthier approach to nutrition?
In this daily journal you will learn how to consistently prioritise food, exercise and other healthy habits that build on each other to have a compounding and lasting effect.
To help you create a BODY and LIFE you LOVE by successfully managing your TIME and your MIND.
It makes a great gift to YOU! Or, for the loved one who would benefit from some support managing their time and their MIND. Even better, the loved one who is vegan curious or who has been a valuable vegan ally to you.
To learn more check out: strongbodygreenplanet.com/journal
With love and gratitude plant friends.
If you liked this, you'll also like Look Good, Feel Good and Do Good by Becoming a Fabulous Vegan with Jasmin Singer.
If you liked this, you'll also like Kathy Freston and 72 Reasons To Be Vegan: Why Plant-based Why Now.
If you liked this, you'll also like E559: Virginia Messina and how to Fight Injustice, Save the Planet, and Fuel Your Resistance with Protest Kitchen.
If you liked this, you'll like E563: Using Plant Foods To Protect Against Chronic Diseases with Brenda Davis.
If you liked this, you'll like 006: 10 Tips To Stay Motivated To Eat Healthy Plant Based Meals (Part 1).
If you liked this, you'll like 007: 10 Tips To Stay Motivated To Eat Healthy Plant Based Meals (Part 2).
If you liked this, you'll like E641: 11 P.L.A.N.T. S.T.R.O.N.G. Standards For A Fit, Healthy, Mind and Body.