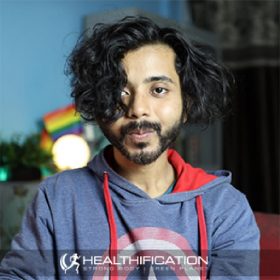 Podcast: Play in new window | Download
Subscribe: RSS
Friends this conversation tackles some of the objections to veganism that previously I might have steered clear of tackling!
Some words can be used effectively to nudge a well intentioned white skinned animal rights activist off track. Or at least cause us to feel a little less certain in passionately, uncompromisingly advocating for the animals.
Words like, Privilege. Colonialism. This should not be the case.
My guest today, animal rights advocate and founder of the popular Soytheist YouTube Channel, Aditya Prakash has a straightforward, honest approach to speaking about what he considers to be "the greatest moral emergency of our time."
He annihilates the excuses Woke Anti-Vegans make and in doing so paves the way for more of us to speak with clarity and freedom about what surely are just more excuses to not be vegan.
Sometimes we make such a simple moral decision, appear so much more complicated than it needs to be. 
If we're human and we have the choice to live without exploiting non-human animals then the animals need us to make that choice regardless of our race, culture, socio-economic position, privilege or lack there of.
In this conversation we cover:
Aditya's personal journey to veganism.
Veganism is a privilege.
Comparisons between Veganism and Colonialism.
Aditya's "White Vegans Will Eat Animals If …" video.
What does Aditya see as the biggest threat to veganism globally?
As I shared with Aditya when we stopped recording, I was well out of my depth at times however he was a gracious podcast partner and some topics are so important that we shouldn't shy away from them just because we're not that knowledgeable yet.
If our intention is true and we're willing to learn then we've just got to jump into the conversations and have the right partners in discussion which Aditya absolutely was.
Friends, I really do recommend you check out Aditya online. Especially via YouTube where he dedicates his Soytheist channel to providing a rational and straightforward approach for animal rights in an easy-to-access form.
To quote Aditya: "many who engage with this issue are often unwilling (for good reason) to take such an approach — often out of fear of being accused of being tone-deaf. Being in the position I am in, I have to worry far less about such baseless accusations which take attention away from non-human animals."
This argument that indigenous people because of their ethnicity, not because of the situation because of their ethnicity, have a different kind of moral responsibility is what I would refer to as the soft bigotry of low expectations. @Soytheist
Click To Tweet
To connect with Aditya online I have you all linked up below!
Connect with Aditya via https://www.soytheist.com/
Connect with the Aditya and Soytheist across the socials: YouTube | Instagram | Twitter
Listen to Sinta with Soytheist podcast:
That's it for this week in Healthification. Please consider sharing the show with someone you think would find value in it. Big thanks to YOU for sharing this week with me.
The Healthification podcast is proudly bought to you by my FREE 'Easy Vegan' plan. It took me 25 years to transition from a meat eater to a happy, healthy Vegan! You can do it in just 3 days with my simplified 'easy vegan' plan!  Get the fit, strong, and healthy plant based body you deserve… while avoiding ALL the mistakes I made along the way!
To learn more check out: strongbodygreenplanet.com
Till next time, remember Creating a body and life you love is Freedom. (If this ex-refined-carb queen, non genetically gifted, naturally uncoordinated vegan chick can do it – so can YOU!!!)
If you liked "Veganism is a Privilege Debunked with Aditya Prakash from Soytheist." you'll also like E640: Sam Marra | Why Veganism Is A Human Rights Issue.
If you liked "Veganism is a Privilege Debunked with Aditya Prakash from Soytheist." you'll also like David Ramms is Battling Meatflakes and Vegan Wokeflakes with Comedy.
If you liked "Veganism is a Privilege Debunked with Aditya Prakash from Soytheist." you'll also like Might Be Vegan's Kimberly Renee and The Intersection Of Food and Social Justice.