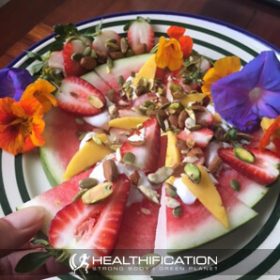 Podcast: Play in new window | Download
Subscribe: RSS
In todays show part 2 of How To Be Fit & Healthy This Holiday Season I share my fav step and it's all about why saying YES to your exercise and nutrition as a priority is not Selfish! In fact it's a necessity. 
If you want to be Fit & Healthy This Holiday Season (and beyond!) and have the health and energy for all the people and experiences most important to you then you're going to have to get good at contrary!
Having said that – I look forward to the day when eating plant based is normal not contrary.
I got a glimpse of it on the weekend at the Sydney Vegan Markets. These markets are on the 3rd Sunday of each month and happily there were 1,000's of people. Just as happily there was also some AMAZING food. Delicious pop corn chicken (made from zero chicken!), salted caramel and peanut dairy free ice-cream, plant cheese so realistic some were a little too realistic for me! And so many more treats that I declined yet have on my demolish list for next month.
Back to my fav step to Be Fit & Healthy This Holiday Season: Be Proud To Be CONTRARY & Communicate Why Effectively. 
The expected result of contrary with prioritising your food and exercise is that you get really awesome results.
The happy less expected side effect is that with time, you can also be a super positive influence of those you love.
Like when you make a watermelon pizza with fresh fruit, nuts, seeds, coconut yoghurt and nut butter for an entree at the family BBQ instead of the fall back option of chips or other processed high caloric density low nutritional value rubbish.
Or perhaps you suggest a group walk when everyone is getting a little sluggish after a big meal rather than settling in front of the TV and nibbling away at leftovers mindlessly.
Possibly it's just that small seed planted that the rest of the family see how delicious and non-restrictive and EASY your plant based meal looks… they may not ask for some (yet!) however every positive seed planted counts!
Here's the overview of the steps we covered in part 1:
Step One. Start on a PEAK.
Step Two. GRATITUDE.
Step Three. PLAN.
Now let's get rolling with steps 4 – 6.
Step Four. Set Your STANDARDS. 
Step Five. Be Proud To Be CONTRARY & Communicate Why Effectively.
Step Six. LOVE What You Indulge In.
Onwards with todays encore episode, How To Be Fit & Healthy This Holiday Season (6 step survival blueprint part 2).
Here is the complete blog post / blueprint: How To Prevent Weight Gain Over Christmas and New Year.
The Healthification podcast is proudly bought to you by the 30 Day Plant Strong Jumpstart. Over 30 Days Sculpt a Fit, Strong, Healthy, Body Simply and Sustainably.
This 59 page PDF with daily supporting email series shows you how to create a fit, strong, healthy smokin' body while eating Delicious, Nutritious, Healthy Vego or Vegan food. For the 1st 100 people you also get UNLIMITED PERSONAL SUPPORT, motivation and accountability with 30 Days FREE access to the Strong Body Green Planet Community. Essentially you'll have your own vegan health coach for 30 days!
Learn more here:
If you liked this you'll also like: 101 Ways To Cut Carbs When Eating Out.
And also: Why You Need To Be Proud To Be Contrary.
If you're yet to share the Healthification love – just click here to zip over to iTunes and leave an honest rating and review. It'd help me out big time. With gratitude, Kate.