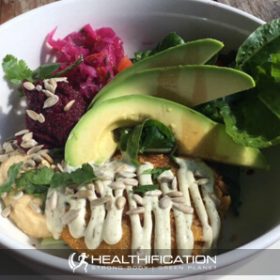 Podcast: Play in new window | Download
Subscribe: RSS
If I were capable of summing up todays show on: Flat Belly Foods in a mere 3 words, it'd be…
ONE INGREDIENT FOODS.
If you're followed Healthification for any period of time that won't come as a surprise… however wait – there's more – you know I'm up for more of a chat than 3 words so I'm going to dig a little deeper with 5 Flat Belly Foods AND also share why I'm letting a NON-one-ingedrient-food into my 5!
First up let's get a little controversial, just a little, here's a food that's a new love of mine…. it's super versatile and easy to transport and a simple addition to your omelette, smoothie, salad, stir-fry, dip or most anywhere.
And, it certainly won't give you the munchies. (that's a solid clue!)
One: Hemp Seeds. 
Let's call hemp our make friends with anyone food… it just gets on. In all seriousness I'm loving a tablespoon in my double batch omelette/frittata thingy that I make for breakie and lunch on the days I don't eat lunch at home. Hemp is an easy, versatile addition to a meal (at home or out) that may otherwise have been a little light-weight and unsatisfying. It adds a real substance to the meal… AND an extra 5 grams of protein in that one little tablespoon. 
Hemp is a complete protein that naturally contains all 10 essential amino acids plus 14 fatty acids including Omega 3-6-9.
For that omelette recipe, it's really whatever you have that needs using. I like 2-3 whole large organic eggs with 3-4 extra whites. Next I'll add as much veg to the bowl as those eggs can hold… mushrooms, onion, broccoli, cauliflower, carrot, capsicum and often kale. Next up some chilli, smoked paprika, mixed herbs and a good teaspoon of pesto PLUS my tablespoon hemp seeds.
Two: Leafy Salad Greens.
Let's call leafy salad greens our appealing to your minds eye food… they mean you get to eat big, generous meals. Now that might not be essential for you however it's worth considering your eating patterns after eating some measly, unappealing, severely portioned controlled meal.
Of course leafy greens like kale, spinach and rocket are chocka full of craving fighting micro-nutrients however I love them just as much for their restriction fighting capabilities.
When building a meal if you first start with a massive serve of a selection of your fav leafy greens or really any fibrous veg before adding a quality lean protein and finishing with a satisfying good fat… sitting down to a generous visually appealing plate of food like that is a really easy way to not feel the need for the after meal extras that contain empty-more'ish-nutiritonally-void-calories.
That's the thing with a lot of my flat belly food: It's at least as much about the foods that eating these flat belly foods helps you avoid eating. It doesn't matter how many super foodsyou're jamming into your day OR for that matter how much exercise you're doing if flabby belly foods are still a regular part of your daily eating routine.
Prevention is the easiest solution and these 5 foods help prevent me from resorting to refined-carb-crap-o-la.
Three: Your Fav Nuts.
Let's call nuts our save you from Hangry (and hot chips) food… that's certainly been the case for me many a time. Again I'm talking prevention. An extra serve of 50 grams of roasted, ideally unsalted cashews is my fav and I'll often resort to it if lunch is going to be late or if I'm at the pub and everyone else is sharing hot chips and ordering something I don't want the results for eating.
It means I'll still be in control of Hangry-Kate enough to make my ideal lunch or dinner decision when I do get to that meal. 
So far as a recommendation I'd really go with the nut you love. They all have value. Natural is best… although I go with natural roasted as raw just doesn't cut it for me. Work out the strategy that works for you so far as portion control. Mine involves buying the amount that needs to last me one week and keeping it at work not home. I can keep raw nuts at home as I'm really not tempted to snack on them and they are handy for cooking.
Back to that point on it's at least as much about the foods that eating these flat belly foods helps you avoid eating… nuts are rockstars here!
If there's a food that isn't a flat belly food for a lot of us it's belly bloating dairy.
I've ditched dairy from my regular eating routine and replaced it mostly with nut alternatives. From natural, unsweetened almond milk to cashew cheese (I buy the almond milk and make the cheese).
I share an easy cashew cheese recipe in the #127 show: 5 Healthy Substitutes.
Four: Free Range Organic Eggs.
Let's call eggs our cost effective complete protein food… I go through enough eggs that when I stay with my parents I buy my own as they get annoyed at how fast I power through them. In reality though – they are a very budget friendly protein. I buy my free range organic eggs at the farmers markets and they are huge. At $18 for 30 if I use 2 whole eggs and 2 extra whites for a meal more substantial than my normal 2 egg omelette for breakie that's still only $2.40 a serve.
Where else do you get quality protein that cheap?
On the complete protein front… a complete protein is a source of protein that contains an adequate proportion of all of the essential amino acids (10 if we include infants 9 otherwise) that cannot be synthesized by humans and as such must be supplied in our diet.
If I had to pick the one food addition to my diet that has had the most substantial effect on my body composition I'd go with the egg. 
Starting the day with eggs was the upgrade that saw me farewell probably 30 years of carb-festing at breakfast.
From there I replaced tofu at lunch and often no protein at dinner for a post lunch and post dinner dessert of my zero-carb-delicious protein pancakes. Made simply with egg whites, vegan protein powder and Natvia.
Yes, it lets me cut craving-causing-refined-carbs and give up thigh-thundering-tofu (and soy) for good however it's also left me much more satisfied for longer (no more embarrassing stomach rumbling) and helps fuel my metabolically active lean muscle (no sense working hard at the gym and not giving your body the fuel it needs to build and maintain lean muscle).
Five: Plant Based Protein Powder.
Let's call plant based protein powder our super-convenient-NON-one-ingredient flat belly food… as much as I'm a huge fan of one ingredient goodness I'm also an emotional eater. And a lazy cook. AND I like to feel full.
I'm often also an idealistic however when It comes to food I've learnt from my past binging mistakes and become a little more realistic.
=> on occasion I can't be bothered whipping up something creative like zucchini hummus or cauli tabouli with hemp seeds.
=> as much as I love them I won't turn to leafy greens when I'm looking for food to irrationally-emotionally-devour… unless, it's kale crisps, however they do take a little more effort than I'm sometime up for.
=> the need for portion control means it's necessary to make myself stop eating nuts when really I could easily gobble down 5 times the quantity.
=> eggs are perhaps the most amazing, versatile food I've found however at times even they need help…
That's why protein powder is an essential part or my flat belly repertoire. I choose plant based (I'm currently using a brand called Sunwarrior which uses raw sprouted whole grain brown rice protein) because I prefer to steer clear of Whey and Soy.
Plant Based Protein Powder is that quick, cheap'ish, low-carb, high protein ingredient that turns bland egg whites into yumbo-guilt-free-protein-pancakes.
Or provides your muscles with the easily absorbed protein they need within 30 minutes of your weights training session.
Or even could become a complete flat belly meal when combined with todays other ingredients into a smoothie.
For that smoothie recipe, again it's really whatever you have that needs using. However a good place to start is a couple of handfuls of kale or spinach, 1-2 egg whites (I think yolks are great fuel they're just a bit weird in smoothies), 1 tablespoon of hemp seeds, 1 tablespoon of natural nut butter, a scoop of plant based protein powder and mix these fab 5 with a good handful of berries and either just water, coconut water or almond milk.
To get actionable today, what is one food you know is doing your belly no favours AND what is one food you can upgrade it to instead?
That's it for me today. Thanks so very much for taking the time to join me, I'll be back tomorrow with the Wednesday Weigh-in show where I'll cover: A Day In The Life: REFRAMES revisited.
If you liked this you'll also like: 5 Exercises For A Flab Free Belly.
If you're yet to share the Healthification love – just click here to zip over to iTunes and leave an honest rating and review. It'd help me out big time. With gratitude, Kate.