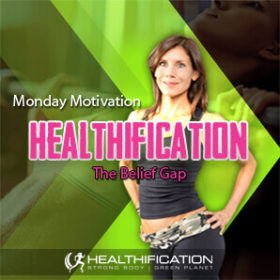 Podcast: Play in new window | Download
Subscribe: RSS
Todays show is a fresh look at one of my favourite subjects.
It's a chance to turn a self perpetuating cycle that may be working against you on it's head. To close:
The Belief Gap.
The Belief Gap, is that often unknown yet decidedly debilitating gap between what you say you want and your belief in your ability to have it. I'm sure we all drag beliefs gaps around. Let's think of it as a ball and chain around your ankle. It's weighing you down. 
It's bringing zero value and yet it's attracting more of the same so far as no good beliefs that filter in the life you don't want.
If I'm sounding a little extreme – good – this is something I'm really passionate about!
Beliefs are possibility filters. Filters by which you unconsciously delete, distort and generalize the information you're presented with each day… each hour… each second!
The question is: Are your filters working to your best fit, strong, healthy body's advantage?
It honestly does not matter how much you say you want something if at an unconscious level for every time you declare:
"I'm serious this time! I need to get healthy… lose weight… get consistent with exercise…"
There's that nagging self defeating voice in your head shouting back:
"Yeah sure! You never stick with it… you always give up… it's never worked before…"
Perhaps you can muscle through and take the right actions when it's convenient.
Anyone can turn up at the gym the day after they set a really compelling goal. Or feel confident about starting tomorrow with a refreshing, nutrient rich green smoothie after dumping a huge guilt inducing fatty-carb-fest-zero-value-meal on your body tonight. You've eaten so much even an early morning run sounds good… not right now of course – you'd throw up – the couch is the only option! BUT tomorrow…
Your unwavering, relentless, stubborn and patient belief in your ability to have what you want will compel you to take the right actions when it's inconvenient. When you're the odd one out. When you're a little sick. Tired. Stressed.
Let's get specific. I know there's something you say you want and yet, you don't have it. I've got several such things. For the purpose of todays show let's dig in with the health example. So it's however YOU would describe it however I'm going to roll with:
I have a fit, strong, healthy body. 
Step one: Turn the self perpetuating cycle on it's head.
To do this it's a matter of asking a better question. Perhaps you're currently asking: Why do I find it so hard to stick to meal planning and regular exercise? Now this is not a question you want your unconscious mind working 24/7 to provide answers to. Answers like: because you're too busy… too lazy… because you don't want it enough! They're obviously rubbish-untrue-LIES however it's amazing the lies we'll believe about ourselves if they're being repeated on auto-pilot.
Your alternative: Why do I find it so easy to prioritize my exercise and make delicious nutritious meals?
Step two: Start small.
In this way you conspire for your success. This is the only way I made a the habit of meditation stick. I'd struggled to get consistent with meditation for years. I'd made it too hard to succeed by starting with 30 minute guided meditations (I'd barely ever make the 10 minute mark and hate it and feel like a failure). Eventually I started with 5 minutes. First thing in the morning with a full daily discipline quota. Each week I added ONE minute. At 10 minutes it felt like a good amount and that's what I've stuck with. 18 months on I love and look forward to my meditation habit.
If you've previously found it impossible to stick to a complete food overhaul I recommend starting with just one meal. Ideally breakfast. Fuelling your body with a great breakfast allows you to power into your day with a reference point for success. Rather than feeling that you let yourself down. It'll make it easier to decline that banana bread for morning tea and it'll make it more likely you'll make your scheduled gym session. However that's not even the point! Start small and progress only once you've got the first upgrade solidly locked and loaded.
It really doesn't matter how small your progress is if you're always taking one step forward… and avoiding frustrating stop:start:backtracking. 
Step three: Proceed with patience and persistence rather than seeking out easy or extreme. 
Each of us likely have aspects of our life that come easily. You have a skill and it seems to just happen naturally. However in contrast to that skill there will be the things that are a little more struggle-street!
If creating a fit, strong, healthy body has not come easily to you then the unsexy truth is that patience and persistence are required.
Expecting too fast a result makes you consider those easy NON-solutions that you know are too good to be true. It leaves you vulnerable to giving up on the extreme, unsustainable approach you've been forcing yourself to stick to for 3 WEEKS now when the weight it falling off like surely it should!
The way I see it: patience and persistence EQUALS permanent results.
And that's preferable to: easy or extreme EQUALS elusive results.
Here are a couple of things to consider to make patience and persistence work for you:
One: You're in for the long haul. For life!
So you need to put effort into finding the effective meals and exercise that you actually enjoy! If you hate either you'll find an excuse to not stick with it.
Two: Track the right actions instead of the results you're seeking.
You're in control of your actions. You can feel satisfied at the end of a day of great meals and a focused exercise session. However what about the day you devour those great meals and push through your exercise session and yet the number on the scales does not change? If the primary means by which you judge success is just that number on the scales you're setting yourself up for disappointment.
To get actionable today, in relation to your health: your best, most fit, strong, healthy body (or however YOU choose to describe it!) can you relate to The Belief Gap?
A decidedly debilitating gap between what you say you want and your belief in your ability to have it.
Step one is to: Turn the self perpetuating cycle on it's head.
If you liked The Belief Gap, you'll also like: A Day In The Life Of An Effective Fat Loss Mindset.
If you're yet to share the Healthification love – just click here to zip over to iTunes and leave an honest rating and review. It'd help me out big time. With gratitude, Kate.