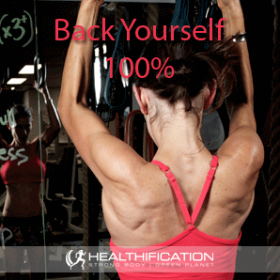 Podcast: Play in new window | Download
Subscribe: RSS
There's a popular thread in a paid forum I'm part of right now titled: Is Social Media Evil?
Of course the emotive title was well chosen to provoke discussion… which it certainly has.
It got me thinking.
Can you remember the last time you saw, read, heard something inspirational and immediately took action?
Not just so far as social media. However we'll use it as the point in case.
Of course I design this lil podcast to be inspirational and each show I include the time of the actionable to help you implement… however, Do YOU?
Zero judgement because I often don't either.
For example: Just then I logged onto Instagram and saw a lovely picture of my fav fitness model.
Her name is Andreia Brazier and when I say fav, I guess I mean purely from a point of view of aesthetics I think she's pretty mind-blowing. I respect the work it takes to get a body like that. It's certainly inspiring to look at however I can't think of a single action I've implemented as a result of looking at her photos.
In fact just then I lost a couple of minutes reading the scathing comments in her feed about the supplement brand she's apparently selling out to by promoting yet not using. I clicked on their profile and scanned their other sponsored athletes and got lost for a good few fairly UN-inspirational and squarely UN-implementational minutes.
Until I dragged myself out of the Insta-scam.
In today's show I'm weighing-in on:
Inspiration versus Implementation.
Of course you need both. However to be effective here are three guidelines that I've found to be helpful:
One: Self Awareness.
This is a skill I'm gradually getting better at. I think it'll be a lifelong process. It involves recognizing your strengths & also the things that come less naturally. A component is working out the questions that encourage a positive response.
These are some of the questions I ask myself:
A) Do you feel better after indulging in inspiration?
B) What is your prime most effective (often called Golden) working (implementing!) time?
C) What's a realistic amount of implementation time Daily? Weekly? Monthly?
Everyone is different here however personally it's such a fine balance between setting an amount that is make-it-happen-motivating and setting an amount that is doesn't-get-done-daunting. 
Again I'm constantly refining this one.
Two: Boundaries.
If we were to 80:20 it, implementation deserves 80% of your time.
When you think about it you're either consuming or creating. In body gain terms consuming or doing.
Here are a few effective body gain boundaries or put another way: positive constraints. 
A) Your Training Plan. So that's the non-negotiable plan you stick to whether you feel like it or not. Set days. Set times.
B) To dig a little deeper with that training plan, how about a time limit? Whatever you have:30, 45, 60 minutes – it's there for focused training. Not for phone time. Or chat time. Not even to get lost gazing at that guy or gal with the inspirational body!
C) Set blocked Golden Time designated to your most important tasks. Those big rocks. The things that bring you closer to your goals.
D) Set times, that are out of that prime most effective golden time designated to those inspirational distractions that must not eat into implementation time. So maybe inspiration is one of the few times you multi-task. Like listening to a podcast as you walk to work. Or checking social media while you're stuck in a que. It should count as the smaller pebbles that fit into your routine once your big rocks have already been accommodated.
Of course none of us are going to stick rigidly to our ideal best case scenario plan all of the time. However knowing your ideal plan and striving to get close to it is a great start.
Three: Self Control / Personal Responsibility.
Once you've taken the time to get clear on YOU… to have that self awareness around what you need to do to feel and be effective and once you've set some boundaries to make it easier for you to do the implementing do (!) well that's the time to simply get to it.
Self control and personal responsibility are tough when you haven't done the groundwork.
If you're in the habit of expecting a mammoth implementation session from yourself at the end of a long day… where you skipped your workout, worked through lunch, let demanding yet not vital inbox requests from others dominate your day, and then mindlessly gorged on stodgy takeaway for dinner… if that was your day it's going to be really tough to muscle your way out of that downward spiral via just self control and personal responsibility.
Make it easier on yourself by laying the groundwork with guidelines One: Self Awareness and Two: Boundaries.
Doesn't mean it's going to be easy just easier than the alternative.
If you've got a dash of the control freak in you (and I'm raising my hand to this one!):
Know that whenever you're tempted to ditch implementation mode and scuttle off for a quick-UNfix of inspiration… which has it's place however in reality it's also just hoping for someone else's hard work and focus to kick your butt into action! At that point my fellow control freaks remember: Accepting 100% responsibility gives you 100% control.
To get actionable today – because of course we have to get actionable today (!) let's get real so far as part A) of One: Self Awareness. Specifically with regard to the question A) Do you feel better after indulging in inspiration?
=> What are a couple of sources of inspiration that DO make you feel better and are worth implementing (out of that prime most effective golden time) into your routine?
=> And what are a couple of sources of inspiration that absolutely DO NOT make you feel better and are worth eliminating or drastically reducing from your routine?
That's it for me today. I hope you can join me for the Friday FAQ show where I cover: Emotional Hygiene.
If you liked this you'll also like: Stop, Start, Continue Action Based Weight Loss Goals.
If you're yet to share the Healthification love – just click here to zip over to iTunes and leave an honest rating and review. It'd help me out big time. With gratitude, Kate.