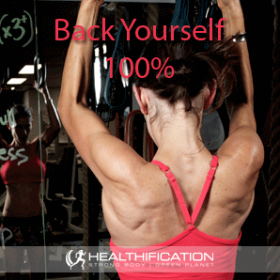 Podcast: Play in new window | Download
Subscribe: RSS
When humans started practicing personal hygiene life expectancy rose 50%.
Things that we now take for granted like daily showers, doctors washing their hands and flushing toilets were not always common practice.
Thankfully most of us now take our physical hygiene pretty seriously. But what about our:
Emotional Hygiene
I discovered this fascinating perspective on mindset via Guy Winch's TED talk on: The Case for Emotional Hygiene.
It made me realize how much I still take for granted.
Perhaps you've heard me say "If your mind is stuck you're wasting your time moving your body" and maybe you too are sold on the importance of creating a strong, supportive, resilient Mindset… however what about the psychological injuries we each encounter and don't treat?
As Guy shares when you cut yourself you'll at least chuck on a band aid.
When you sprain your ankle you'll likely R.I.C.E. it (rest, ice, compression, elevation) and then try to stay off it as much as you can. With a worse injury… like when I crashed into my chest of drawers as a youngster trying to slide standing up, in socks, down the ramp I'd set up for my toy cars …that's the sort of stitches-very-early-on-a-Sunday-morning injury mum and dad certainly didn't want to wake up to yet absolutely sort professional help for!
For example do you have an emotional hygiene response for, FAILURE?
Or, REJECTION?
Let's look at Failure first.
The danger with Failure untreated is that it can convince you that you can't succeed. Encourage you to give up earlier than you should. Persuade you to not even start.
Failure can nurture helplessness.
It will if you: Dwell on all your past failures. Search for evidence of everything that could go wrong in the future. Focus on why other people are more skilled, more lucky, more anything.
Alternatively, a more supportive response to failure is: To look for the learnings. Build a resolve to come back stronger and better informed. Foster a determination to stick with it for as long as it takes because an individual failure (or 20!) never makes YOU a failure.
And what about Rejection?
Whether we're talking a job you didn't get or perhaps that boyfriend that broke up with you out of the blue… all seemed to be going blissfully and then with zero reason given YOU'RE DUMPED.
The (my!) natural instinct is to hunt down reasons WHY: Every area in which you're lacking. Each little physical and emotional fault. How other people are more beautiful, more vulnerable and compassionate, more anything!
Alternatively, a more supportive response to rejection is: To ensure your self talk is as kind and supportive as that which you'd share with your best friend if she got dumped. To have appreciation for all the great friendships and relationships you still have. To be brutal in reframing the self critical thoughts that still want to worm their way into your mind.
Of course there are likely limitless other potential psychological injuries that each of us encounter beyond just Failure and Rejection that deserve an emotional hygiene response.
However, as I've been mulling over recently: How do you even know what injury is going to heal itself and what injury is going to need more help?
I'm not sure I have the answer.
Is it as simple as the training injury where my personal strategy is "Give it a week and if it's not noticeably improved then seek professional help." 
Although unlike my worst exercise injury – I was running to work in the dark at 5.30am, downhill, with my laptop on my back and somehow manage to catch my foot on a lip in the pavement and launched myself through the air to fly spread out super woman style a decent distance until I impacted with the pavement… laptop was fine, knee was a little dodgy for a few lousy-lunge-lacking weeks!
Unlike that injury perhaps a Failure or Rejection or whatever else it may be might need more than a week?
As I said I don't have The Answer however I do have 6 rapid fire emotional hygiene responses:
1). Resist the habit of ruminating on (or obsessively replaying in your mind) anything that didn't go to plan.
2). Be swift and creative in reframing any negative self talk that tries to infect your thoughts.
3). Focus on your intention even more than your results. Whether it's a conversation, a decision or an unsatisfactory outcome there's freedom in giving yourself a break so long as your intention was genuine and true.
4). If you insist on using the word Failure (I'd prefer you reframe it to feedback) however always know your most recent approach may have resulted in a failure however that never makes YOU a failure. 
5). Notice the States (such as feeling tired, hungry or stressed), the People, the Situations that fuel your negative self talk and actively avoid / out plan them. 
Alternately check out this show on '5' 5 minute state changers!
6). Make a habit of adding to your emotional hygiene bank. Whatever resonates with you. Perhaps daily Affirmations or Reference Points For Success or Gratitudes.
I guess my key take away is: Like physical hygiene, Emotional Hygiene doesn't take care of itself. 
It needs to be monitored, nurtured and at times prioritized.
To get actionable today: Did one of my 6 rapid fire emotional hygiene responses sound worth implementing?
My most to-work-on is #5). Notice the States, the People, the Situations that fuel MY negative self talk and actively avoid / out plan them.
Or even better do you have your own emotional hygiene responses? If you do I'd love to hear them. You can let me know via the comments below.
That's it for this week in Healthification.
Super huge thanks to the most awesome Amanda for her recent iTunes review… Amanda I'm sending you huge gratitude for all your lovely support and encouragement.
If you've enjoyed this show and gotten value out of it I'd love to invite you to go to iTunes and search for Healthification and leave me a review. I'd really appreciate it. It gives me great feedback to keep on powering through the triweekly shows and helps other people to find Healthification as well.
If you liked this you'll also like: How You Can Eliminate Emotional Eating.
If you're yet to share the Healthification love – just click here to zip over to iTunes and leave an honest rating and review. It'd help me out big time. With gratitude, Kate.