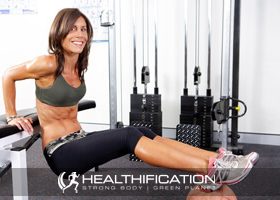 Podcast: Play in new window | Download
Subscribe: RSS
Here's a little (perhaps too honest!) behind the scenes perspective for todays show on:
5 Steps To Reset Your Metabolism.
One of the statements I used to really struggle to respond to graciously is: "You're so lucky to have that body" or "I'd do anything to look like that." Because actually the super-vast-majority-of-the-time: NO you wouldn't do anything! If you spent a week with me you likely wouldn't even do just what I do in a week. And I 100% guarantee you'd come to realize LUCK has zero part in my results.
Sure luck is certainly something ALL of us healthy enough to be able to choose to exercise have to be grateful for. And I am. So many times every single day. However beyond that luck are some non-quick-fix, non-sexy, non-negotiable steps.
If you're still with me (I know this is a tad tough love!) then please know I'm sharing these steps to give you hope if you believe your metabolism is a ball and chain keeping you stuck. It's not. It can be changed. It's within your ability to change.
It will take some work – however most things worthwhile do right?
The good news is the toughest part of any body transformation is the beginning. It only gets easier if you stick with it. The most important thing is to stick with it rather than Stop : Starting and consistently putting yourself through that hardest beginning bit time and Time and TIME again!
Onwards with todays encore episode, 5 Steps To Reset Your Metabolism.
Here are the show notes for the original 068 episode How To Reset Your Metabolism.
The Healthification podcast is proudly bought to you by the 30 Day Plant Strong Jumpstart. Over 30 Days Sculpt a Fit, Strong, Healthy, Body Simply and Sustainably.
This 59 page PDF with daily supporting email series shows you how to create a fit, strong, healthy smokin' body while eating Delicious, Nutritious, Healthy Vego or Vegan food. For the 1st 100 people you also get UNLIMITED PERSONAL SUPPORT, motivation and accountability with 30 Days FREE access to the Strong Body Green Planet Community. Essentially you'll have your own vegan health coach for 30 days!
Learn more here:
If you liked 5 Steps To Reset Your Metabolism To Reset Your Metabolism you'll also like: 24/7 Fat Loss, Weights Is Like A Passive Income
If you're yet to share the Healthification love – just click here to zip over to iTunes and leave an honest rating and review. It'd help me out big time. With gratitude, Kate.