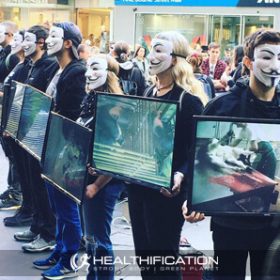 Podcast: Play in new window | Download
Subscribe: RSS
Todays show is for you if increasingly you struggle with being vegan in a non-vegan world.
Perhaps you used to be fine taking your vegan burgers to a friends BBQ and now you just don't want to be anywhere near other peoples unnecessarily cruel, ignorant and selfish food choices. You can no longer accept that: "What I eat is my personal choice" because you can only see the dead bodies of sentient beings who did not give up their lives willingly.  
Maybe you feel angry that your loved ones won't take the time to even try to understand something that is so important to you you've dedicated your life to it. Is watching one documentary really that much to ask?
Possibly you get overwhelmed by the enormity of animal exploitation globally. The stubborn determination of otherwise compassionate individuals to continue to perpetual the cycle of cruelty at every single meal while also declaring: "I love animals and am opposed to animal cruelty."
Until recently I'd never heard the term Vystopia. It's a term coined by vegan psychologist, animal activist and author Clare Mann in her new book "Vystopia: The anguish of being vegan in a non-vegan world."
Why would smart people cling to stupid excuses and continue to fall for preposterous marketing?
How can taste and convenience ever be more important than life?
Is it really possible to remain genuinely ignorant to the atrocities we humans inflict on animals OR are 95-99% of humans just actively choosing ignorance because it's the easy option? 
These are some of the questions I ask myself daily.
I've been passionate about a lot of causes in my life. Before becoming a personal trainer 12 years ago I worked on behalf of many amazing environmental, animal welfare and humanitarian NGO's. The difference with Veganism is that never before has another persons lack of passion caused me pain. I was always of the belief that as individuals we each have our 'pet causes' so to speak, and that's cool.
However it's REALLY NOT COOL. To my knowledge there is no other cause / movement / atrocity that normal, everyday humans actively perpetuate unnecessarily multiple times every single day. At breakfast, lunch and dinner otherwise compassionate humans demand animal products and in doing so condemn 56 billion land animals and 2.7 trillion sea creatures to suffering and death every single year.
I've just ordered "Vystopia: The anguish of being vegan in a non-vegan world" and as I wait for it to arrive I wanted to take todays show to share some of the strategies that are helping me feel a little less anguished. Once I have my hot little hands on the book I'd love to interview Clare Mann here on The Healthification Podcast as she absolutely has an abundance of knowledge and valuable advice to share.
Until then, here's what's (mostly) working for me as a vegan in a non-vegan world:
One: Focus On The Wins.
This is applicable to any aspect of your life in which you'd like the result you're seeking to have been achieved well before now.
Concentrate your energy more on how far you (the movement) has come rather than how far there is to go. It can be tough to do at first however with persistence you'll build the habit of seeking out the good news rather than the reverse. Some positive constraints will help initially. For example:
Limit your social media intake if you find it's getting you down. I know my feed is full of horrific animal abuse and the more I interact with the videos the more the algorithm filters them into my feed. If this motivates you to take action, fine. However if it just builds anger and despondency then perhaps try to only follow / interact with the good news stories.
Reframe negative / hopeless thoughts the moment they burst into your mind. Instead track your personal daily progress by listing 1-3 reference point for success daily. Perhaps this is as simple as the short conversation with a client that planted a vegan seed.
Priorities good news stories / wins in conversations with other vegans and non-vegans alike. 
Wins such as:
The biggest meat processor in America recently expanded its investment in vegan alternative, Beyond Meat.
The world's leading chocolate supplier, based in Zurich, has announced plans to focus on its new dairy-free line, in a bid to keep up with consumer demand for vegan products.
Over the past three years, veganism in the US has grown by 600 percent. In the past two, it has grown by 700 percent in the UK.
Australia is the third fastest growing vegan market in the world after the United Arab Emirates and China.
Two: Learn To Know When You Need To Recharge.
Anything important is worth doing for the long haul and sometimes that means taking a short step back to recharge an come back fresh and focused.
Further to this, I've found the more you priorities 'you time' / keystone habits on a daily and weekly basis the less likely you'll be forced to take an extended unplanned time-out for self preservation and sanity. Some examples might be:
Your weekly structured exercise.
Your weekly walks in nature.
Weekly meal prep so you have your wholesome, nourishing plant based meals sorted at the beginning of the week.
Meditation.
7-9 hours sleep each night.
Digital detox for 24 hours every week.
Having said this only YOU know your body. When you genuinely no longer can scrape up the energy or enthusiasm to do the things that usually are most important to you it's a signal your body needs rest. Pushing through is great until it isn't! When deciding if you need tor recharge or if you're just making excuses I'd recommend asking: "How will I feel tomorrow?" and responding with the action that is most likely to leave you feeling better / on track / positive tomorrow.
Three: Seek Out Those People Who Spending Time With Gives You Energy / Inspiration.
This is especially important for my fellow introverts. As introverts we recharge / get energy by spending time alone and can find spending time with people incredibly draining. It doesn't mean we're shy or insecure. Just that we need alone time to be able to handle ALL THE PEOPLE! 
Surprisingly I've found the right people can also help give me energy. I'll always come away from my time spent volunteering with other vegan activists inspired. The lesson I've had to keep relearning (!) is to structure this time before I need it. Ideally to make it a habit that happens on autopilot and that I'm less likely to reason myself out of. It's worth paying attention to how you feel after you spend time with certain individuals and limiting those energy sucking interactions where possible while prioritizing this energy giving interactions.
Getting good at saying No comes first and gives you the space, time, energy to say Yes to the people and situations that make it easier to be a vegan in a non-vegan world.
Four: Negotiate Between Those Battles Worth Fighting and Those Not!
Further to point 3, given each of us have limited energy and discipline each day it's important to spend it with volition rather than wasting it. I've begun to look at it as the 3 P's.
Pick your battles. These are those conversations and interactions where you really believe you can have a positive influence… maybe even be that tipping point that encourages someone to adopt a vegan lifestyle. I love having a conversation with someone who is vegetarian for ethical reasons. Or someone who is fearful being vegan will have a negative impact on their fitness, strength or body composition. I have a lot of personal experience here and consider these (and many other) interactions energy and discipline very well spent.
Plant some seeds. These are those conversations and interactions where as Joey Carbstrong describes it you might just add a few points (seeds!) on someones list of reasons to adopt a vegan lifestyle. You might not be the tipping point however you have a good chance of planting some seeds and leaving the person with a positive impression.
Preserve your energy… Discipline… SANITY! Perhaps most important to recognize and avoid, these are those conversations where you know before you even start that someone is not the least bit open or receptive. So far as the ethics of animal exploitation there are people who won't respond to either calm logic orto the more heart felt conversation. In my heart I believe these people will at some point become more open to at least a conversation however right now if you struggle with being vegan in a non-vegan world then this is not a battle to engage in.
To get actionable today I'd love to know what's (mostly) working for YOU as a vegan in a non-vegan world?
You can let me know via the show notes.
As I hinted at earlier in the show I'm planning to start having some conversations on The Healthification podcast. It's been on my list for waaaay too long and I have not yet made it happen. So, for some public accountability (!) I'll make a start this month, To date the show that's June 2018.
Do you have any suggestions? Anyone you'd LOVE to hear from?
I have a bit of a wish list of both well know vegans and also people I respect who are not vegan. I see the value in having conversations with people who have opposing view points to myself and am committed to doing that to avoid falling into a closed minded echo chamber! Additionally I think it'd be fun to do a sort of 'Everyday Vegan' series where I chat with well… Everyday Vegans such as myself!
Again please let me know via the show notes or even better and sooo much appreciated via an iTunes review. You can do that by searching The Healthification podcast in iTunes.
That's it for this week in Healthification. Huge thanks to YOU for sharing this week with me.
The Healthification podcast is proudly bought to you by my FREE 'Easy Vegan' plan. It took me 25 years to transition from a meat eater to a happy, healthy Vegan! You can do it in just 3 days with  my simplified 'easy vegan' plan!  Get the fit, strong, and healthy plant based body you deserve… while avoiding ALL the mistakes I made along the way!
Till next time, remember Creating a body and life you love is Freedom. (If this ex-carb queen, NON-genetically gifted, naturally uncoordinated VEGAN-chick can do it – so can YOU!!!)
If you liked 'Vystopia: Do you struggle with being vegan in a non-vegan world?' you'll also like: Easy Vegan Iron Sources: A Flesh Free Zone!
If you're yet to share the Healthification love – just click here to zip over to iTunes and leave an honest rating and review. It'd help me out big time. With gratitude, Kate.