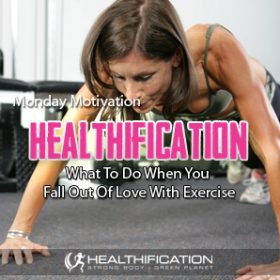 Podcast: Play in new window | Download
Subscribe: RSS
In todays What To Do When You Fall Out Of Love With Exercise encore episode my goal is two-fold. For sure, if you've lost your exercise love…
If, so far as exercise right now (as my favourite rapper declares!) "love is "evol"
Spell it backwards I'll show ya" well if that's the case then I want to help you find your exercising love again!
However equally, I also want to propose that some things in life are important enough…
More so the results they provide and more so again the NON-results you'll suffer for NOT doing them make those things (like exercise) important enough to do regardless of whether you're feeling the love or not.
The thing is today we live a highly filtered existence.
By filtered I mean the vast majority of what you see – the news and the information you consume and the marketing that gets thrust in front of you is carefully chosen, scripted, edited, censored and distorted to portray a certain angle.
To keep it light (!) let's take Instagram for example. In reality the only reality you get to see is your own worts and all bumper real. So far as the charmed life everyone else sails through… well, even though you know they must have their struggles… their failures, their insecurities, their lazy, fat, ugly and hopeless days (!) the sad UN-reality is that is not what YOU get to see posted day in day out.
Perhaps you expect to LOVE everything you do? All of the time? Ok, I'm exaggerating. You know I can be a little passionately-prone to slight exaggeration and I know you're not completely unrealistic however I genuinely believe our current highly filtered existence makes it almost impossible to have realistic expectations.
If you don't get to see reality how can you have realistic expectations?
Before we get too side-tracked I do have a simple definition for realistic expectations. You may or may not agree. And it certainly does not apply to every aspect of life. However one of the many things I LOVE about exercise is that this definition always applies to exercise.
Realistic expectations means you expect to get the results aligned with the consistent, focused effort you put in.
Not always with business. Or love. Or disease. However with exercise you get the results when you do the do! If that's not enough to pull you through when you've lost the exercise love well that's ok. I've got you covered with some more implementable advice in the encore to come.
Now lets power onwards with, What To Do When You Fall Out Of Love With Exercise:
Here are the show notes for the original 119 episode: Thursday Training, What To Do When You Fall Out Of Love With Exercise.
The Healthification podcast is proudly bought to you by my online community for Vego's and Vegans (launching 01.03.17) who want to create a strong, healthy body and also help eradicate inhumane and unsustainable animal agriculture.
Learn more here:
If you liked What To Do When You Fall Out Of Love With Exercise you'll also like: Bullet-proof Your Motivation To Exercise.
If you're yet to share the Healthification love – just click here to zip over to iTunes and leave an honest rating and review. It'd help me out big time. With gratitude, Kate.