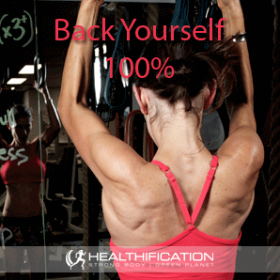 Podcast: Play in new window | Download
Subscribe: RSS
Of all the amusing personal trainer and gym junkie stereotypes I'll admit there is one I absolutely meet… it's the level of anxiety I will experience if separated from my post weights protein shake.
That is absolutely a time you'll find me repeatedly checking the clock on my mobile as I power home towards the shake that must be consumed within 30 minutes of my session.
In todays training show I'm sharing: Pre And Post Weights Work-out Nutrition basics.
Although it's not as exciting as cheat meal – or most meals – from a body composition point of view your POST weights work-out meal is your most important meal of the week. You've just pushed your body hard, and now it deserves the fuel that helps repair muscle tissue and stimulate muscle protein synthesis.
I'm a lot more chilled with PRE weights work-out nutrition. My approach is do whatever works best for you to a strong, energised training session. For me that means I need to have fuel on board… I'm fairly relaxed whether it's an hour or two or four ago as long as I've eaten.
A couple of considerations:
If you're not a breakfast person and you work-out first thing in the morning try a small snack an hour or two before exercise and see if you have a stronger session.
It's important not to dump a massive meal on your body just before exercise as for some people this will make you feel sick and also your body uses energy to metabolise that food and if it's working hard powering through a mountain of food that's less energy for your work-out.
For a pre work-out snack that should be worked into your regular eating plan so it'll be a light breakie or morning tea or afternoon tea no random extra calories here are some good options:
=> Spread a medium apple with a tablespoons all-natural nut butter.
=> Top 1 cup Greek yoghurt with ½ cup fresh blueberries.
=> Mini mushroom and spinach frittata.
For that essential post weight work-out snack you can go the whole food option that I 99% of the time absolutely advocate. However the easy, no fail, super simple approach is to go the protein shake option instead.
=> Your protein shake is quick, cheap, does not require refrigeration and is easily utilised by your body.
=> The brand you go with will be based on your goal however for a non-muscle gain goal I always go with a low carb version. I just find carbs are way to easy to accumulate in a day and there are plenty more fun ways to account for them than in a shake …like bread, shiraz, muffins…
…back to your shake…
=> What you mix it with will depend again on your goal and also if this is counting as a meal or snack or if it's just the shake you have after weights.  
So if you primarily want to strip away some fat and build a little muscle or at least see better definition, which is what most of my clients are after then here are 3 options:
The, just a Post-work-out-shake: (this is my usual approach) A scoop or 2 of protein powder and water. Thats it. It tastes fine when you fine a brand you like. Here is the brand I like.
The, Snack-shake: (I'd do this if it was also counting as morning or afternoon tea… or if I magically morphed into an I don't do breakfast person which will never happen) A scoop or 2 of protein powder, 200 mils of unsweetened almond milk or coconut water, 50-100 grams of berries and a tablespoon of nut butter.
The, Meal-shake: (I can't imagine doing this regularly as I like to eat my meals rather than drink them… however if you don't have an emotional attachment to eating then you can get a very nutritious meal into a shake) A scoop or 2 of protein powder, 200 mils of unsweetened almond milk or coconut water, 50-100 grams of berries, a small frozen banana, 1 tablespoon of nut butter, 1 teaspoon of raw cacao powder, a large handful of baby spinach or kale leaves, 1/2 – 1 teaspoon of spirulina.
Of course the list is limitless.
At this point you may be thinking… and what about supplements?
I'm not a supplements girl – absolutely not my area of expertise – and although I don't have any massive issue with them I do believe that they provide just an extra little nudge to the very-crazy-few people who ALREADY have their nutrition and training near perfectly dialled in AND their body fat % super-step-on-stage-low.
To the people with work to be done so far as clean eating and consistent training I think fat burners, appetite suppressants and the like can be a too good to be true shiny object that promises a lot while distracting you from the hard work that actually delivers results.
I'll put them in the some can be useful, yet they are really not necessary box and they are not a part of my personal approach or anything I ever recommend to my clients.
So we must be at actionable time.
It's simple today. If you're yet to implement a protein shake within 30 minutes of lifting weights into your non negotiable routine then please give it a go. 
The powders around today can taste awesome – they don't have to be Whey based and they aren't all crazy-fake or super-sickly-sweet – if this little fuss pot can find one I love then I know you can too!
That's it for today, tomorrow I'll be back with the FAQ show: How To Break Free Of Procrastination.
If you liked this you'll also like: Why NOT Being Genetically Gifted Is A Weight Loss Advantage.
If you're yet to share the Healthification love – just click here to zip over to iTunes and leave an honest rating and review. It'd help me out big time. With gratitude, Kate.