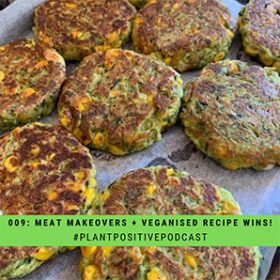 Podcast (plantpositivepodcast): Play in new window | Download
Subscribe: RSS
Hey plant friends,
Thank you for tuning in, it's such a pleasure to be here with you!
In todays Plant Positive we'll chat training tips, self care, good news stories plus plenty of eating and exercising inspiration and motivation. My intention is to share with you how simple, sustainable and of course DELICIOUS a #plantstrong lifestyle can be.
Speaking of which the main component of todays show is all about
Meat Makeovers and Veganised Recipe Wins
and my inspiration for this is of course my dear mum!
I was lucky enough to have 3 glorious weeks staying with the fam over Christmas / New Year and as I say that, please know I really do appreciate how lucky I was to both have the freedom of movement and everything else that made that break possible.
As I've shared before I'm a fairly lazy cook. I've gotten better since being vegan however the eating is what gives me joy NOT the kitchen time.
In delicious contrast, mum's a fab cook who shows love by sharing food. Good combo for me right? For my fellow lazy cooks there are some pretty easy recipes that will win over even your flesh loving family and friends.
I'm going to split these Veganised Fav Recipes into 3 groups:
One: Tiny Tweaks. Swaps so easy even the most resolute non-cook can manage and even the most or die-hard meat eater will be none the wiser.
Vegan Hot Cross Buns. What a WIN! Mum used her old (pre-vegan) recipe and substituted: Nutellex for butter, almond milk for milk and maple syrup for honey. No eggs needed here.
Vegan Carrot Cake. My FAV cake in the world! Here mum substituted: Flax eggs for eggs (ditch 2 eggs and use 2 tablespoons ground flaxseed in 6 tablespoons water. Let stand 5 minutes), Nutellex for butter and in the icing a mix of creamy sheese, vegan butter, orange rind and icing sugar.
Anzac Biscuits. My FAV biscuit in the world! Here mum substituted: Nutellex for butter. That's it! So easy! (Says the NON-cook) These things were crispy and chewy and SO SO GOOD, is it Anzac Day yet??
Corn Fritters. Chocka full of veg and mum substituted: Feta for dairy free feta. Full recipe in todays show notes. (you're welcome!)
Vegan Baileys. I made this one! I swapped cream for a mix of canned coconut milk and almond milk and sweetened it with maple syrup.
The takeaway: find your fav pre-vegan recipes that use ingredients with an easy vegan swap. Butter becomes Nutellex or similar. Milk becomes nut milk. Eggs become (surprisingly easily) flax eggs.
Two: Major Makeovers. The HUGE wins you might not start with however it's encouraging to know are so very possible!
Tofu Scramble.  I made this one too! For all my egg lovers, this stuff ROCKS! Without the cholesterol or the macerated baby boy chicks… I thought tofu was bland, actually it's the perfect cheap, high protein, high calcium base to suck up all the flavours of: garlic powder, cumin, smoked paprika, turmeric, nutritional yeast and salt. Hot tip: scramble with extra veg and serve over crispy baked, smashed potatoes!
Other examples of "major makeovers" a nut roast with mushroom gravy (here's a link to my fav recipe) and cauliflower buffalo wings (again my Hot For Food fav recipe here).
The takeaway: you want either a super high quality star of the meal (so if you're doing a whole roast cauliflower you're going to want it to be a pretty delicious cauliflower) and / or a delicious combo or both flavours and textures to pull off the makeover successfully.
Three: Ultimate Upgrades. This is where you upgrade a meal that was not a quality meal. Sure it might have tasted good in all it's processed addictiveness… yet it was not good fuel for your body and now, when upgraded it ultimately is good fuel!
Banana Bread. Mum and I found a vegan recipe! No eggs, milk or butter… just 4 (instead of 2) bananas, hemp seeds, and coconut oil. Although it's still not exactly a health food, ultimately this is a much higher nutrient rich makeover and WOW, it's delicious.
Other examples of "ultimate upgrades" your standard cow, lamb or chicken burger swaps with cheese and white buns swaps to a hearty protein and nutrient packed mushroom + bean burger with portobello mushroom caps as bun replacements, dairy free pesto and all the glorious veggie extras(top of my list is caramelised onion!).
The takeaway: recipes wins are of course about the taste however value for your body counts too! Consider how you feel before, during AND AFTER demolishing a meal.
[RECIPE] Annie Galli's Corn Fritters:
* 4 cups shredded zucchini
* 1 ½ cups corn kernels
* 6 spring onions, finely chopped
* 3 cloves garlic finely chopped
* 1 ¼ cups chickpea flour
* 2 teaspoons ground cumin
* 1 tablespoon fresh herbs (parsley, coriander, oregano or thyme)
* 6 slices non dairy feta, crumbled into pieces approx. ½ inch size
* Salt and pepper to season.
Combine all ingredients together in bowl and stir. Will appear very dry at first, but after 5 minutes or so will form a nice batter.
Heat frying pan, add a drizzle of olive oil when hot, and cook fritters about 5 minutes each side.
I find it makes about 12, but depends on what size you like.
Serve with drizzle of veganaise and sliced avocado, with salad or greens. Freeze spares for next time… these are especially handy to take to an impromptu BBQ or picnic!
Let's further explore the plant based deliciousness by continuing with my 10 Tips To Make Adopting A Vegan Lifestyle Easy (we covered tips 1-5 in previous shows and the complete 10 are available as a free PDF via the show notes). Today lets dig in with tip six.
Six: Find Creative Alternatives For Those Meals You Used To Love As A Meat Eater. Instagram is my favourite inspiration here. As I discuss in the latest Healthification podcast episode, Look Good, Feel Good and Do Good by Becoming a Fabulous Vegan with (the amazing) Jasmin Singer: There is literally a vegan version of everything. Up your insta-inspiration game by experimenting with switches that make your meat-make-over meals lower processed carb and higher protein.
Action step: Make 3 high value whole food carb swaps, perhaps one each at Breakfast, Lunch and Dinner.
Some of my go to lower refined carb switches are:
Swap burger buns for portobello caps and slider bread for sweet potato rounds.
Swap nacho chips for kale crisps.
Swap taco shells for cos lettuce leaves.
Swap rice for cauli-rice and pasta for zoodles.
Swap cannelloni sheets for rolled lengths of grilled eggplant.
Way back in the Healthification Podcast E468 I covered, A Meat Makeover 6 Plant Strong Strategies! I'll of course link to the full show in the show notes however as an overview in a Meat Makeover you're aiming for:
Calories and taste, by Avoiding The Grams For Grams Trap. 
Micronutrients and taste, by Eating The Rainbow.
Texture and taste, by Treating Veg Like Meat.
Satisfaction and taste, by Embracing Fat.
Protein pimping and taste, with Finishers.
Sustainability and taste, by Never Settling.
Can you tell I'm big on taste?! 4/6 points I've covered already in Plant Positive however let's dig in the other two, that's:
Plant Strong Strategy One: Avoid The Grams For Grams Trap. 
One of the reasons plant based eating has a bad rap for being unsatisfying is that it's common to not eat enough when replacing meat. For example: 100 grams of kale has vastly less calories than 100 grams of chicken. In fact at 195 calories in 100 grams chicken you could instead eat:
=> 150 grams EACH of kale (75 calories), cauliflower (45 calories), broccoli (45 calories) and zucchini (34 calories).
Now I'm not about the calories. I'm always about the nutrients and equally the supreme food deliciousness so this meal still needs some significant making over!
The point is: Your effective meat makeovers are going to take a little more thought than switching a slab of beef steak for a slab of cauliflower steak.
Plant Strong Strategy Five: Finishers.
As much as exercise finishers are my clients' least fav part of the workout – rightly so as they're that little super high intensity ending to a session, a circuit, a set (a friendship – just joking!) that is there to get your heart rate up, to get your sweat on, to squeeze that little bit extra out of you that you didn't know you had… as much as that (!) meal finishers are often my fav part of a plant strong meal.
Plant strong finishers are there for protein pimping, texture and taste. Think nuts, seeds, crispy baked veg / beans or fresh juicy fruit.
=> So to a cauli-kale tabbouleh base I'd add: a tablespoon or 2 each of protein rich nutritional yeast, hemp and toasted pumpkin seeds. Also for enhanced taste: some garlic, chill, onion powder, Celtic salt and some fresh herbs like basil + oregano. Even, for pure food joy: a giant baked falafel or one of Annie Galli's corn fritters! 
Now we're talking about a pretty delicious plant strong meal that even the meat eaters will enjoy.
Let's chat Exercising Inspiration. I know there are some of us only too eager to resume our regular exercising routine for the new year and perhaps annoyingly, some of us who joyfully even upped our exercising action over the holiday / new year season.
This segment is for you is you can't relate! If resuming or commencing an exercise routine feels utterly struggle street.  
Although I did cover What To Do When You Lose Your Exercising Mojo! back in P+ 001, these are 3 new and more new year specific tactics.
One: Temptation bundle your exercise with something you DO love or piggy back your new exercise habit on the back of an existing entrenched habit.
So perhaps you only listen to your fav podcast or audio book while jogging / walking? Or perhaps you follow your ten minutes meditation with 10 minutes of body weight exercises / stretching. Everything counts and it's about building the habit first and then, as you feel ready increasing the time and / or intensity. 
Two: Buy an outfit you feel confident or at least comfortable in. Or best yet, an outfit that gives you joy!
I don't usually go with the consumer based solution however this year I'm focusing more on what I love and actually I love nice clothes that I feel confident wearing. My preference is to buy less things and have those things be good quality. If you can relate, then go for it: Buy yourself that new gym or walking outfit!
Three: Engage a friend/s or colleague/s to help hold you accountable to your exercise routine if that's how you best perform. 
This is not my vibe. However I know it works for many people. My dear friend in Noosa has a huge community of friends that all track and share their daily workouts via their apple watches. Of course there are cheaper even free options. Like a daily text / email! I'd regularly go walking with this friend and on the super rare day when he got low steps in he'd be getting communication from friends to check if he was ok.
If you're competitive or more externally motivated this might well be a really effective strategy for you too. My friend is the fittest and leanest he's ever been and I'm crazy proud of him.
Moving on to Good News Stories and VegNews declares: Vegan-related searches on Google increased by 47 percent in 2020, according to data from Google Adwords. 
This means veganism is now almost twice as popular as it was five years ago. When compiling the countries and cities with the highest concentration of vegans, for the third year in a row the most popular country was the United Kingdom, according to Google Trends. Following the United Kingdom in popularity, Australia came in second, Israel third, New Zealand fourth, and Austria fifth.
And this from Plant Based News: Vegan Restaurant In France Awarded Michelin Star.
Claire Vallee launched Origine Non Animale (ONA) back in 2016, after receiving a loan from a green bank and raising funds online. ONA also won a Michelin Green star – a recent distinction that awards "those operating at the forefront of their field with sustainable gastronomy practices."
Vallee first approached several traditional French banks for funding but was turned down. She was told "the outlook for veganism and plant-based food was too uncertain." As Vallee said, "This goes to show that nothing is impossible."
Let's finish todays show with Self Care and a practice I'm prioritising right now: Conscious Compartmentalisation. 
This is a you do you suggestion because, I know there's a time in my life when I might have considered this a cop out! There was a time when "always be advocating" was my chosen approach. I kept the urgency and horror of animal exploitation at the forefront of my mind and I felt an immense pressure to always be doing everything I could.
I was also always sad, angry, frustrated and exhausted. I felt in conflict – always – with people I otherwise loved and respected.
So right now – and it may change – however right now "always be advocating" is not my chosen approach. I'm choosing conscious compartmentalisation that allows me to exist more peacefully in a non vegan world. I don't live in a vegan bubble. I'm not sure that I'd want to either. Of course I want the whole world to be vegan immediately, however while that is not the case, I've decided I can be more effective leading with love, compassion and even, more grace (not a natural state for Kate!) I can have more impact moving within this non-vegan world. Showing how happy, healthy and welcoming a vegan can be.
Basically it means I have to put my feelings of "you're so selfish, lazy, hypocritical and apathetic" in one little compartment and bring to the fore front all the good things I also think about many of the generally loving, generous and well intentioned non vegans in my life. I'm consciously focusing on the good, on what we have in common without forgetting or discounting everything else.
Dear friends, if you're desperate for a break from the conflict. If you're always sad, angry, frustrated and exhausted, then I really recommend you take the idea of conscious compartmentalisation for a spin too.
That's it for today in Plant Positive. As always, I'd love to hear from you. Is there anything you'd like more or less of? I'm here to support you and I'm super open to any constructive criticism as to how I can get better at doing that. You can reach me via kate@strongbodygreenplanet.com or @strongbodygreenplanet across the socials.
If you found even a little broccoli sprout of value in this episode then please share the love with a friend or family member that needs to hear it. It's quick to share and it'll mean a lot to your loved one and so much to me.
Finally, please stay tuned for a quick snippet from a super inspiring episode of the Healthification podcast – that's my interview style show where I have conversations with amazing athletes, activists, authors and generally passionate and compassionate individuals! Today my chat in E716 with author and activist Jasmin Singer.
Jasmin is a worldwide leading expert on veganism and a coveted speaker on topics including radical body positivity, personal narrative as a means of social justice, and how to change the world for animals. 
I've respected and admired Jasmin from afar for years now and she was exactly the kind, passionate, compassionate yet powerful guest I anticipated she would be.
Plant Positive was proudly bought to you by: BiOptimizers, a nutritional supplement company with the mission to help humans shift from a sick unhealthy condition into a peak biologically optimized state. You'll get a 10% discount for all BiOptimizers products by using the "Healthification10" code.
My personal fav is their Magnesium Breakthrough to help reduce your stress levels, feel relaxed and at peace PLUS sleep faster and deeper. Who doesn't need more peace and great sleep right now?
Check out: www.strongbodygreenplanet/deals to find all the sponsors of this show listed on one page. Again, that's www.strongbodygreenplanet/deals.
With love and compassion plant friends.
If you liked "Meat Makeovers and Veganised Recipe Wins!" you'll also like E547: The Ultimate Vegan Food Pyramid For Getting and Staying Lean.
If you liked "Meat Makeovers and Veganised Recipe Wins!" you'll also like Dr. Will Bulsiewicz and How To Become Gut Healthy Through A Plant Based, Fiber Rich Diet.