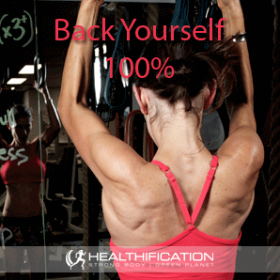 Podcast: Play in new window | Download
Subscribe: RSS
Convenience is the most common reason for resorting to refined carb-crap-o-la. However, once you put a little thought into it you'll find the whole food option can absolutely be as quick and delicious as the refined carb alternative.
In this episode I'll share… 101 fab whole food carb cutting switches.
It's not just about the food though. It's also a matter of: switching your mindset from refined-whatever-seems-quick-and-easy-mentality to "What can I eat instead, that going to provide my body with great fuel and taste great?"
Here are the show notes for the original episode:
Dig this? Cool! You may also like this:
[WEBINAR REPLAY] 3 Mindset Hacks To Build Your Belief In YOU and create the fit, healthy body you were born to ROCK!
The resolve to Back Yourself and to give it 100% trumps any and every quick-fix-silver-bullet-over-promising-hope-eroding-MYTH!
In this free training I share:
=> How to escape a comfortable and result crushing need for Certainty.  
=> This previously debilitatingly shy chicks' A, B, C approach to Backing Yourself 100%.
=> My 'Carb Cutting Cheat Sheet' with the simplest switches to get a fast, belief building result. 
=> How to break free of the motivation myth and create your own 'Effective Motivation Strategy.' 
=> How you can let go of the constant pressure to get it all done and Overcome Overwhelm in 6 steps.
CLICK HERE TO WATCH NOW.