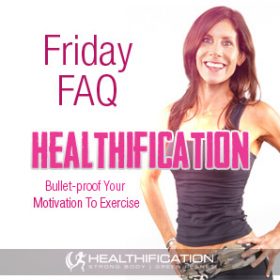 Podcast: Play in new window | Download
Subscribe: RSS
One of the top barriers I hear from people struggling to stick to the eating and exercising they know will let them achieve their ideal body is: A lack of motivation
The motivation myth is that you either have it or you don't. That if something is important enough to you, you'll be and stay motivated.
That is rubbish. Like any quality, motivation takes work – it needs to be nurtured rather than taken for granted.
In this episode I'll share my strategies.
Dig this? Cool! You may also like this:
[WEBINAR REPLAY] 3 Mindset Hacks To Build Your Belief In YOU and create the fit, healthy body you were born to ROCK!
The resolve to Back Yourself and to give it 100% trumps any and every quick-fix-silver-bullet-over-promising-hope-eroding-MYTH!
In this free training I share:
=> How to escape a comfortable and result crushing need for Certainty.  
=> This previously debilitatingly shy chicks' A, B, C approach to Backing Yourself 100%.
=> My 'Carb Cutting Cheat Sheet' with the simplest switches to get a fast, belief building result. 
=> How to break free of the motivation myth and create your own 'Effective Motivation Strategy.' 
=> How you can let go of the constant pressure to get it all done and Overcome Overwhelm in 6 steps.
CLICK HERE TO WATCH NOW.