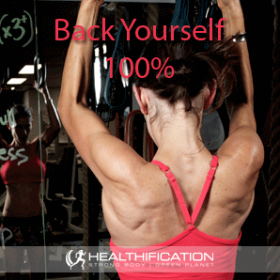 Podcast: Play in new window | Download
Subscribe: RSS
When I first became a personal trainer almost 10 years ago I could not do a push up from my hands and toes. Not even one. That's one of the things I think back to when my clients frequently ask me todays question:
Will it ever get easier?
My answer? YES, certainly, not that the work-outs will get easier, actually I'll make it harder as you get fitter, stronger and more importantly even better at pushing through the discomfort.
HOWEVER, as your attitude and power to do the exercise do (!) strengthens it'll seem A LOT easier.

You'll also build a reservoir of reference points for success… once you stick with it long enough to feel fitter, that feeling is something you can remember if you ever get tempted to slip outta the exercise groove.
You'll know how great it feels to be able to power through a tough session, and you'll know that missing a session will only make it harder again next time. The more attractive option will likely be maintaining and building on the fitness you've worked so hard for.
One of the other memories I recall when someone struggling through that uncomfortable, perhaps un-coordinated and likely UNfun phase of exercise asks me if it'll ever get easier is my first job.
I don't drive so I'm not going to run with that analogy however hopefully you can relate to the first job scenario.
I was 18 and it was at a silver service Italian Restaurant in Wellington, New Zealand where I grew up.
It's seems I have an abundance of embarrassing tales and life lessons from that job, however the one that relates to today is the Saatchi and Saatchi boys. At 18 I was still debilitatingly shy and prone to putting others on a pedestal (ok, I still do the pedestal thing a bit now)… however, my ideal job back then when I worked as the piano bar chick at this restaurant was working at a cool advertising agency – ideally Saatchi's – and to say I was impressed by the boys when they'd come into our restaurant for their long lunches was an understatement.
So this particular day, a table of just 2 of the Saatchi's boys had ordered a couple of beers.
Every drink was to be delivered on a silver platter with a white linen napkin and balanced on one hand. Even the super thin bottomed and wide brimmed beer glasses that are just not made for balancing! Anyway, that was my predicament and you'll guess where this is heading… young Kate made her way in high heels and fitted skirt across the length of the restaurant floor concentrating furiously on those 2 beer glasses. I arrived safe at the table and as the boys stopped their conversation to smile and thank me, the silver platter tilted just slightly as I bent down and I dumped a whole beer right in one guys lap.
Mortifying.
In short the Saatchi's gent was lovely. And I got to see my boss do the Haka. If you've ever seen the All Blacks play you'll know what the Haka is. It was a joke at work that our boss did the Haka as when he was super angry with you he'd yell and jump up and down with hands and legs in all directions… and like the Haka, close up it was super intimidating!
The moral as it applies to your exercise is 3 part:
1. If it's important enough to you, you will stick with it and it WILL get easier.
2. If you surround yourself with people who are skilled at – carrying silver platters – or making exercise a part of their lifestyle you will learn from them and fast-track your journey.
3. Ego is super limiting. Obviously it's ideal to not dump a schooner of beer on your VIP patrons, however, there is really no value is stressing about how you awkward you look or what other people are thinking.
I can promise you, if you're the new, slightly uncomfortable looking person in any gym I'm in my first thought is GO YOU… massive respect and support to you… because we've all been there, in that stage where it's new and hard and you'd rather be doing anything else… however it's absolutely worth sticking with.
Stick with it until it gets easier… as it did for me at the restaurant and with my push ups.
Your action step for today is: to focus on your reference points for success. Document one reference point for success each day in relation to either the measurable progress you're making with your exercise or your more positive attitude surrounding your exercise.
That's it for week 3 of Healthification, I'd like to say a big shout out and heart felt thanks to you for listening and especially to YOU if you've left me an iTunes rating and review. Healthification hit New and Noteworthy in it's first 24hours and 3 weeks in the show is on the up and up and for that I'm super-crazy-grateful.
If you liked this you'll also like: Work Smarter NOT Harder… to make weight loss easier on yourself.
To share the Healthification love – just click here to zip over to iTunes and leave an honest rating and review. It'd help me out big time. With gratitude, Kate.