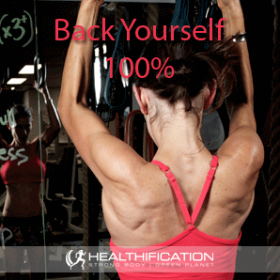 Podcast: Play in new window | Download
Subscribe: RSS
When I first got into a regular routine at the gym I was a fan of lifting as heavy as I could with every exercise.
I was a young little 21 year old so my body did actually handle that just fine… however there were some draw backs.
One that springs to mind is standing in line at a club one night – in a fairly short skirt – and hearing a boy behind me point out to his mate "WOW, check out those tree-trunk calves!" Needless to say I never went near the seated calf raise machine again… or any type of calf raise… and it still took a long time to whittle down those chunky calves.  I imagine the lad in question suffered from chicken leg syndrome, but still…
My point, and the topic for todays training show is that even though lifting heavy weights rocks and is hugely vital for a fit, lean body it's also super valuable to: Embrace body weight exercises.
I think I avoided body weight exercises for years because they are hard!
My top 3 body weight exercise (today) are certainly hard – however they all have easier variations to start with which can be progressed as needed.
These top 3?
1. Plank Leg Raise: this one is for your adductors and core. Or as I say, it's the 'inner thigh love' exercise.  It involves being in a side plank position balanced on one forearm with elbow aligned under shoulder and one foot balance on top of a bench or table or anything handy.  Then you simple engage your core and bring your bottom foot up to meet the top one… except it's not as simple as it looks!
2. Walk-out: this one works almost everything. It starts like a 1 leg dead-lift and turns into a 1 leg push-up. You start off with one leg in the air then flex forward from your hip joint and gently walk your hands right out to that push-up position – do the push-up (or 6) – and then walk your hands back and come back into the standing position… ideally all with-out the non-grounded foot ever touching the ground.
This awesome exercise gets your glutes, hammies, quads, chest, shoulders, triceps and core.  Almost everything.  Not back though right?
To make it the perfect exercise I start with a hoop-chin up land on one leg and then come into the walk-out.  That has to be one of my all time fav combos.
3. Pistol Squat: if you ever thought body weight was easy surely you haven't met the pistol squat.  I need something to hang on to for this 1 leg squat… I actually cannot even imagine being able to get a full range of motion with nothing to hold onto – I'm always super impressed when I see someone who can.  The pistol squat will work your glutes, quads and hammies.
Maybe I also thought body weight exercises may not be as effective at building lean muscle as hefting barbells, dumbbells and kettle-bells.
Well for starters, even at my leanest my body is a fairly heavy weight, and I believe that'd be applicable to you to.
Previously loading up a barbell or grabbing some dumbbells would comprise the majority of my work-out.  
Now, I still love my barbell and dumbbell work, however I've realised the perfect pairing is to combine them with body weight exercises.  
Combing heavy weights AND body weight exercises will get your heart rate racing with minimal recovery time needed between exercises.  So in short it's a great way to up your training intensity and ensure you're getting maximum bang for your fat burning buck, rather than just resting between each heavy set.
Here are 3 more reasons to include body-weight exercises in your very next work-out:
1. Body-weight exercise are very often super effective at working your core and improving your balance and stability.  That's because they tend to be less supported. You don't have a bench or a machine doing a lot of the core and stabilising work for you, or completely supported and guiding your range of motion.
As someone who's naturally fairly un-co I really value the improvements in my balance and co-ordination including body weight exercises has allowed me to see.
2. It minimises the chance of injury which can come from just lifting heavier and heavier and heavier... however you still feel strong being able to throw your body weight around.
3. Finally – and vitally – you get to take some of your favourite exercises on holidays with you. With zero equipment required.
Todays action step is simple and fun: I'd like you to add a new body weight exercise to your routine.  If you're up for the challenge I'll post the video of my 4th fav body weight exercise with todays show notes – my X-Trainers aptly named it – The Vomit.
If you liked this you'll also like: Choosing Your Curves: exercises to tone hips and thighs PLUS lose stubborn belly flab.
If you're yet to share the Healthification love – just click here to zip over to iTunes and leave an honest rating and review. It'd help me out big time. With gratitude, Kate.