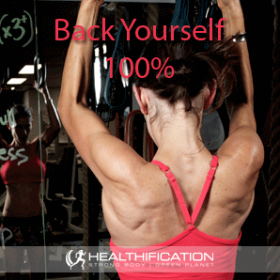 Podcast: Play in new window | Download
Subscribe: RSS
You've Got This. 
I've told myself that many times this morning. And it's only 6.19am! It's my simple message to YOU today too.
Sometimes, for whatever reason the self-talk that muscles its way into your mind is so negative it can make you feel like giving up. It's natural, normal and human to have that self-talk however it's also your responsibility to slam the door of your mind on any negative self-talk as soon as it starts to preech.
You know the, "Why bother?" "What's the point?" "You're wasting your time!" ALL THAT RUBBISH that I'm hoping you wouldn't accept from your best friend however at times you let your guard down and accept it from YOU.
I hear frequently that the most successful people still have this self-talk… the difference is they don't give it the stage.
Equally, I'm sure you've met that person who's pretty much hired a venue, erected a stage and given their negative self-talk the microphone? Hell, they even record the event and then listen to it on repeat for days, months, YEARS after!
The sad fact is that you're going to encounter enough people that give you negative or even just unhelpful feedback on a regular basis. You won't be able to avoid all of them. Some you may just have to humour in that effective yet slightly draining way of just imagining their comments flowing right past you, through to the keeper (to use a cricket analogy my mum likes). Or even sliding off that sexy teflon coat you're protected by… as long as the criticism doesn't stick!
However that spiteful little voice in your mind that doesn't believe in you? It's got to go.
It's funny as I started to write this I was distracted by this annoying vertigo type thing I seem to be fighting off right now.
I felt like I was swaying at my computer and that little voice in my head was getting louder, "Just go back to bed" "Perhaps eating more will help?" "You're going to write rubbish just take a day off – what difference does it make?"
That's the thing with our negative self-talk… As insistent and convincing as it may seem, it's not the least bit rational.
For a start I feel the swaying at least as much in bed.
Eating as a solution? As much as my mind tells me to turn to eating as a solution for: Tiredness. Stress. Overwhelm. Sadness. Procrastination. HA, Vertigo!!! Eating is only ever the solution to… Hunger!
Regardless of the quality of my writing today, it's like whether YOU exercise today… regardless of the quality of that exercise session I guarantee you will feel better for doing it and I double guarantee at the end of the day you listen to your negative self-talk and skip your exercise or I skip my writing… 100% at the end of that day we'll feel worse.
We'll have given our negative self-talk the stage.
So, to get a little actionable let's feed the positive self-talk.
It's one of those super worthwhile habits that may feel a little manufactured at first. To really get supportive of YOU your self-talk is only one part of a trifecta that Tony Robbins speaks about:
ONE: Self Talk or Language.
Do you know who has the most impact on the way you think of YOU? It's not your parents, your friends or your boss. It's you.
The next time you catch yourself handing the microphone over to your negative self-talk it's time to grab it back and boot that no-good-deceptive-little-fraud off stage too.
Consciously choose the language that resonates for you to use at those times when you used to let the negative self talk take over. Perhaps it's as simple as: You've Got This. Or maybe you need to put some time into what sounds right to you.
TWO: Focus.
Beyond just your language your thoughts will naturally drift to the negative from time to time. It'd be naive to ignore the possibility of the negative however if you dwell there focusing on all that is wrong in the world, all that could go wrong, all that has gone wrong in the past… well it's hugely UN-fun and equally you'll likely attract more of the same because those are the only possibilities your mind is filtering in.
I'm a fan of the expect the best and prepare for the worse approach. Day to day the most enjoyable and effective approach is to focus on what you want – that goal you're working towards… also to focus on everything big and tiny that you are grateful for right now today… finally to consciously focus each day (or each moment that negative self-talk tries to climb back on stage!) on something you did well, a reference point for success.
THREE: Physiology.
To round off our trifecta lets finish with the mind body connection. Your physiology impacts your psychology. Sit all slumped over, lethargic and beaten and that's how you'll feel. Changing your physiology is as simple as it sounds.
Remember the last time you felt super confident, supremely positive… the posture you had at that time: standing tall, looking directly ahead, chest proud, shoulders set down and back (I almost feel like I'm in a P.T session!)… that is the posture to take on as that negative self-talk tries again to drag itself back on stage.
To get a little more specific with the actionable component of today it's time to recall the last time negative self-talk dominated your thoughts… for more than a few seconds? A few seconds is normal, however it doesn't need to be longer.
In relation to that specific past experience:
Step one: What is the self talk you're going to choose instead next time?
Step two: What will you focus on to back up step one?
Step three: What will your physiology look and feel like to complete your 'You've Got This' trifecta?
That's it for me today. I'll be back with the Friday FAQ show and: How To Eliminate The Decision Making Process. I hope you can join me.
If you liked this you'll also like: How Certainty In Yourself Helps Beat Weight Loss Overwhelm.
If you're yet to share the Healthification love – just click here to zip over to iTunes and leave an honest rating and review. It'd help me out big time. With gratitude, Kate.