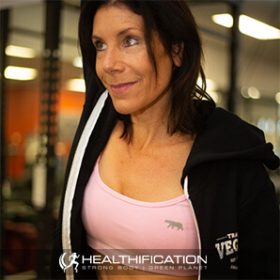 Podcast: Play in new window | Download
Subscribe: RSS
There's something the vast majority of us humans are proving to not be especially awesome at right now…
Dealing with uncertainty. I'll certainly put my hand up as an individual who wants to be in control. A dear friend even calls me "The Planner!"
We want to know what's coming and find it really unsettling when we don't. And yet, actually we don't ever really know what's in store for us and for those we love. We perhaps just kid ourselves we have some sort of an idea. Some degree of control over what's to come.
We really don't though right?
Todays show on Dealing With Uncertainty by Backing Yourself 100% is for you if you're a planner. If you find comfort and security in settling your own rules, goals and daily structure.  
It's also for you if you're more of a guidelines person. That individual who likes to cruise through eating, exercising, socialising and work… favouring the impromptu and spontaneous over scheduling.
What happens when our carefully planned days or our wilfully and joyously unplanned days get thrown into global pandemic induced turmoil?
Destructive, un-resourceful and detrimental thoughts and habits could absolutely muscle their way into your mind and your every single day. However my intention in todays show is to share some tactics so that both of us can,
Deal With Uncertainty by Backing Ourselves 100%.
Dealing With Uncertainty Tactic One: Cultivate the attitude of certainly in YOU rather than seeking certainly in what's in store for you today, tomorrow or next year.
I'm talking about backing yourself to come up with the goods regardless of the hand you're dealt. Having absolute certainty in your ability to achieve whatever you desire so long as your intention is always genuine. To never be swayed by the opinions of people you do not trust, like, respect or believe to be genuine. In saying this it seems odd that you could allow this to be the case. I absolutely did though.
I spent years believing other peoples certainty in their self. At times unwarranted certainty and un-proven ability, while I gradually let my own certainty of self get eaten away.
You see certainty is contagious. And the reverse is true. You teach others how to treat you, so if you want others to have faith in YOU, then you must first have faith in you.
If self belief does not come naturally please know it's a skill you can build.
A few practices to get you started in cultivating an attitude of certainly in you:
Document 3 reference points for success every single day. 3 things you did well, not matter how small.
Reframe any negative self-talk. Upgrade your "I can't"'s and your "I always stuff this up!" to "I've got this" and "I'm a person who sticks with it as long as it takes!"
Consciously recall and fixate on those times in the past where you did come through for you. The skill you acquired with dog'ed tenacity. The relationship or career you had the courage to leave. The thing you thought you could never get through and yet, you did.
Dealing With Uncertainty Tactic Two: Set a daily structure you can rely on 
and work in both the amount of flexibility / agility you need to if you're less of a planner and also to be able to respond to those factors beyond your control.
Your morning routine is of particular importance right now. It's how you set the tone for the day to come. You have the opportunity to set that tone to the flavour of a delicious nutrient dense #plantstrong breakfast, some sort of mindfulness practice like meditation or journaling and some sort of movement.
Of course you could stay the day down the rabbit hole of social media and coronavirus stats however, honestly: Why would you?
To get a little more specific so far as the flexibility each of us might need in our daily structure right now:
In the same way that you want a wet weather alternative if you're not up for getting your exercising action on in the rain right now it's important to have a Go2 equipment free home workout routine ready for if / when you don't have access to the gym. I have you sorted there with my twice weekly Live workouts across at the Plant Strong Squad Facebook group!
Connection is no less important even though it might be harder to physically experience. Incorporate the daily activity that is allowed (!) and ticks that connection box. In the height of lock down round one here in Aus I loved my socially distanced sunrise trip to the cafe. For the individual that can't leave home, perhaps you could share a virtual coffee at the same time each morning with a friend? While you're connecting why not also share your positive intentions for today, your wins from yesterday or even ONE thing you're grateful for right now.
Have offline work ready to power into for those annoying tech failure type times that will inevitability rear their ugly heads, especially in a world where we are even more dependant on technology such as Zoom calls.
As I document this it's clear most of these strategies are relevant irrespective of Covid-times and the current levels of uncertainty. It's always worth cultivating the attitude and habits of that will let you back yourself 100%.
Dealing With Uncertainty Tactic Three: Proactively choose positive habits to rely on in uncertain times.  
It's human nature to seek certainly in uncertain times. Now that certainty could be a comforting reliable alcoholic drink, cigarette or tub of ice cream. So that it's NOT (!) it's vital that in advance – before you crave an easy certainty fix – you decide on an equally easy and accessible positive substitute.
I've been turning to walks outside, liquorice tea, plenty of filtered water and even journaling.
To up the anti to an even more beneficial degree how about learning a new skill / taking an online course and dedicating an hour or two an evening to it? I'm toying with the idea of an iPhone photography course – all online – a little X'y, however there is also plenty of super cost effective or free content online for the devouring and up-skilling.
Potentially you swap your Friday night drinks out habit for trying out a new recipe each week? Even if you're single or live alone, building up your repertoire of healthy, delicious recipes is absolutely a valuable use of your time. It also means you'll have a whole host of impressive new recipes to treat your loved ones to once we return to the new "beyond normal"! More on that soon in Tactic Five…
To get even more strategic with those positive habits to rely on in uncertain times I recommend deciding on: 3 achievable habits each day that are within your control and that will make today "a Win." Perhaps:
Quality whole plant based meals for breakfast, lunch and dinner. Dependant on where you're at that might sound like a given or it might sound like a HUGE step. Decide what's achievable and realistic for you right now. Maybe your best #plantstrong breakfast is enough of a WIN for now.
Prioritising 10-20 minutes of mindfulness or gratitude or both. There are some habits that are so potent I'd wager they are worth getting up 10 minutes earlier for even for the most time poor individual. It's just matter of finding the flavour of mindfulness or gratitude habit that resonates with you. Perhaps rather than meditation, a positive interaction with another human – even being the bright spark in their day– would make today a WIN for you?
Committing 45-90 minutes on your most important task. If that's unrealistic start with 15 minutes. The main thing is that you're making some progress towards that which is most important to you every single day. Schedule it. Make it a non-negotiable. By sticking to it you'll also be building your belief in you, as a person who comes through for you.
Dealing With Uncertainty Tactic Four: Work in the "self love" or "self care" strategies that are necessary to turn to in unprecedented times such as these. 
These are different to the proactively chosen positive habits I discussed in tactic three. I see them as a little more indulgent. To a degree it takes a trust in yourself, that you have your own best interest at heart. Your own long term best interest at heart.
Surely that's what long term health is about?
Knowing what's in your best interests right now and longer term. Trusting yourself to know the difference between skipping a workout because you're in genuine desperate need of a rare sleep in NOT because it's just another attack of the lazy! Or enjoying that extra serve of crispy baked smashed potatoes because they are AMAZING and you LOIVE them, NOT because you're sad, bored, self-sabotaging.
There's a huge difference.
As well as trusting YOU have your own long term best interests at heart I see these self care strategies fitting into your non-ideal days and there might be quite a few non-ideal utterly uncertain days right now!
So in my most efficient – most ON (!) – most disciplined times I'd never dream of watching Netflix mid-week. Or taking a break mid morning to go for a walk. Or just whiling away a break between clients at the gym chatting to my colleagues. However right now? Right now, sometimes it feels like the right choice, the keep me sane choice not the lazy choice.
The "self love" or "self care" strategies I've discussed so far are a little more instinctual or reactive. It's also important to work in the things within your control that you can look forward to. So many things are too uncertain to be excited about right now: the holidays away, the large gatherings for a special event / celebration / sporting events. That just means we each need to get better at hunting down those things to schedule in the future that will not be impacted adversely by uncertain times. How about:
A 3 day weekend with NO commitments. Even an afternoon off, with NO commitments!
A day trip to a national park for picnicking and hiking. 
A special date night / friend night in with dinner delivered from your fav restaurant.
I'm not sold on any of these suggestions though – I still think a long weekend in Noosa for my mums birthday next month and a dear friends HUGE 50th birthday party and returning to Cube of Truth animals rights activism each week where we can gather on mass and actually hug hello (!) sound better! I need to get better at hunting down things within my control to can look forward to, I'd love to hear your ideas?
Please let me know via the E694 show notes below or even via an iTunes review!
Dealing With Uncertainty Tactic Five: Consider what your "beyond normal" rather than "new normal" or "back to normal" might look like.  
Choose the terminology that resonates with you. I don't want it to feel like less than and absolutely also please on a societal and global level let's not aim for how it was before. That's not acceptable on so many levels.
The silver lining in life not going to plan. In life feeling incredibly uncertain. In sacrifice, and solitude and more time to think… is that each of us can get really clear on what we want and what we don't want. If you were cruising along on auto-pilot in any aspect of your life. Or maybe just taking some things for granted like me – then consider this period a "break state" in which you could if you chose to – really make some big changes.
On a small and personal level I don't want to return to "back to normal" where I'm at the gym 6 days a week and feel like one day slides into the next in the relentless hamster wheel of city life.
Beyond normal for me, means Freedom of time and schedule in every single day. It's not a goal I'm working towards down the track, it's something I can (and have) made happen right now.
I wonder, if each of us got to experience a little more "beyond normal" where we had the time, and the peace to just be. To contemplate, to dream and to have hope… then perhaps that would compound and perpetuate into a kinder, more compassionate world?
That's something I'm absolutely going to be marinating on as I head of for a mid morning walk along the beaches right now.
I've recorded todays show as a timely little reminder to ME however gosh I really hope it has been helpful to you too.
That's it for this week in Healthification. Big thanks to YOU for sharing this week with me. You rock and I appreciate your support!
The Healthification podcast is proudly bought to you by my FREE 'Easy Vegan' plan. It took me 25 years to transition from a meat eater to a happy, healthy Vegan! You can do it in just 3 days with my simplified 'easy vegan' plan!  Get the fit, strong, and healthy plant based body you deserve… while avoiding ALL the mistakes I made along the way!
Till next time, remember Creating a body and life you love is Freedom. (If this ex-carb queen, non genetically gifted, naturally uncoordinated vegan chick can do it – so can YOU!!!)
If you liked "Dealing With Uncertainty by Backing Yourself 100%." you'll also like: Creating A Positive Addiction To A Plant Based Lifestyle (6 core needs)
If you liked "Dealing With Uncertainty by Backing Yourself 100%." you'll also like: Back Yourself 100%.
If you liked "Dealing With Uncertainty by Backing Yourself 100%." you'll also like: How To Strengthen Your MINDSET.