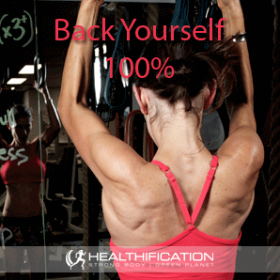 Podcast: Play in new window | Download
Subscribe: RSS
Avoiding pain is a pretty powerful motivator right?
It keeps people in bad jobs, relationships, health habits… perhaps the perceived pain of change is more powerful than the potential pleasure once you come out the other side of change.
It doesn't haven't to be that way though.
You can use both pleasure and pain to your body gain advantage and that's exactly the focus of today's show.  Today let's check out: Pleasure vs. Pain.
Before we power on with 3 steps lets check out 4 considerations.
One: You are in control of what Pleasure means to you and also of what Pain means to you.
=> Pleasure could absolutely be cake and sleep-ins and late-night TV.
Equally you can instead see pleasure as your best breakfast an early morning work-out and a solid nights sleep.
=> Pain could absolutely be high intensity cardio and heavy weights and training after a long day.
Equally you can instead see pain as letting yourself down on the commitment you made to your health, hating what you see in the mirror and living stuck in a body you feel uncomfortable and insecure in.
Two: You are in control of the intensity to which you feel both Pleasure and Pain.
=> What value could there possibly be in building the pleasure around something you no longer want to do or eat.
=> Equally what value is there ever in building the pain surrounding something you know you need to do or eat (!) to achieve your goal?
Three: Pain is a more powerful yet less focused motivator. 
If you have intense pain you just want to get away from it right? You may not even know where – just outta there!
=> Now this can be useful to light that fire and get you moving… however you're also going to need some specifics so far as where you're heading.
Four: A Pleasure focus can be laser like and super specific.
=> If you know exactly what your ideal body looks like, then you're going to have a much clearer idea of the steps you need to take to get it.
Ok, lets move in to 3 steps to use pleasure and pain to your best body advantage.
Step 1. Take Your GOAL and Build the Pain around NOT achieving it:
If you don't change how will your life look in 3 months time?
What will you be seeing when you look in the mirror after your shower, feeling when you hunt for the pair of jeans that fits ok – what will you be telling yourself as you avoid any activity that requires wearing a swim-suit in public…
What will it be like if 3 months from now you are still no closer (and likely even further) from achieving your health goal?
Let's dig a little deeper…
How will your life look in 6 months time?
How will your life look in 12 months time?
How will your life look in 3 years time?
Step 2. Now Intensify the Pleasure around achieving your GOAL:
I'd like you to imagine that time in your life when your body and your health is exactly as you would love it to be…take yourself there in your minds eye, to that time when you are fit, lean and healthy – and become aware of what you are seeing….what you are hearing….what you are feeling….and anything you may be telling yourself as you know you have achieved this goal that means so much… 
What will your life be like when you achieve this goal and what will it mean to the faith you have in YOU and your ability to achieve anything you put your mind to?
Step 3. A Congruency Check:
If there is both pleasure and pain associated with achieving your goal and they are both pulling in different directions the result is at best a stop, start completely inconsistent and ineffective approach and at worse absolutely no movement to take action at all.
With congruency and a clear set of instructions your brain will throw the full force of it's effort behind helping you achieve your goal.  It is possible to change the neuro-associations about what means pain and what means pleasure and achieve congruency in a moment and it can be as simple as choosing a different way to look at the same information.
If you notice that you're drawn in different directions so far as your goal here's how to get congruent:
A. Identify what the way it is now is Giving you?
As we covered in the secondary gain show #081 the way it is right now IS giving you something.
=> Perhaps it's giving you the familiar routines, connection and relationship building surrounding certain unhelpful eatting habits?
B1. How can you change either your PERCEPTION to support both the attainment of your health goal and your need for whatever it is you identified in question A.?
=> Love can be shown in a million ways beyond cooking and sharing a meal.
B2. or How can you change you PROCEDURE to support both the attainment of your goal and your need for whatever it is you identified in question A.?
Family meals can still be enjoyable and nurturing without a crazy-carb-fest and decadent desserts.
It must be time to get actionable.
If you're yet to achieve your body gain goal my honest question to YOU is how much pain do you truly have around NOT achieving it?
My challenge to you is to pump up the pain involved in staying where you are right now. You have an in-built turbo-charged motivator which you may very well be disregarding. It's easy to avoid the pain of even thinking about the pain of not achieving your goal!
If you're unsatisfied then put your natural human aversion to pain to work FOR you rather than against you.
It's often easier to imagine the pain with intensity than it is to imagine the pleasure with intensity… especially if you're yet to experience the pleasure in that area of your life.
You can make pain your tool rather than your handicap.
Potentially think of it as a:
P.owerful
A.ction
I.nducing
N.udge
For todays quote I'll hand over to Tony Robbins: "The truth is that we can learn to condition our minds, bodies, and emotions to link pain or pleasure to whatever we choose. By changing what we link pain and pleasure to, we will instantly change our behaviours"
That brings us to the end of todays show. I'll be back tomorrow with the Tuesday Tucker show and: Lean, Clean Lunches.
If you liked this you'll also like: 24 Weight Loss Motivation Quotes.
If you're yet to share the Healthification love – just click here to zip over to iTunes and leave an honest rating and review. It'd help me out big time. With gratitude, Kate.