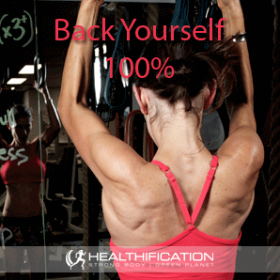 Podcast: Play in new window | Download
Subscribe: RSS
There seems to be an epidemic gaining momentum.
It's a risk to your health and it's a risk to my sanity… or at the very least it's a test of my tolerance.
Yes, there's an epidemic of excuses running rampant and so with a tad of tough love todays tucker show covers: What To Eat When You Have "No Time."
I do believe NO TIME is a big fat, goal destroying excuse.
Today's show is mostly tactical – I do have plenty of fast food options for you – however first the obvious question to ask yourself when you next feel tempted to play the "No Time" card…
What is it that you're choosing to prioritise over quality fuel?
=> Perhaps it's an extra 5-10 minutes sleep?
=> A chat with a co-worker?
=> A email or 10 that really did not need to be replied to as a matter of urgency?
For fun I'm going to split our "No Time" terminating tactics into 3 categories:
One: Better Bad Choices.
This is for the situation you find yourself in unexpectedly. Or the meal you're at that isn't at a restaurant of your choosing.
The key factor is that bad is better than totally-rubbish-off-the-charts-BAD.
Just because perfect isn't an option does not mean you need to throw in the towel so far as your best eating intentions.
A better bad choice is when there is only pasta so you order entree size.
Or when you ask for your burger bun-less with extra salad and skip the fries.
Even, as a client recently recalled to me when you 'scrape together' a salad from the sandwiches on mass at a lunch meeting. Now if that may sound a little confronting the gentleman I'm referring to is on the board of one of Australia's largest companies and he was disappointed in himself that he watched an (and to quote him) "obsessively fit like you Kate" co-board member 'scrape together' a salad at a board meeting while he stuck with the tasty yet not aligned with his goal, sandwiches.
Next time he'll make the better bad choice and I hope that motivates you to too!
Two: Potential for Prior Planning.
This is the most common tactic that will allow you to out-smart your old "No Time" excuses.
I absolutely understand that sometimes we find ourselves in the middle of a 12 hour working day with-out
a break. Actually thankfully, I've never personally been there. I work plenty of massive days however I always
have food breaks as otherwise my brain takes a break.
And I become crazy-moody-irrational-Kate.
However I'm going to believe my dear solicitor clients who say they are "stuck behind" their desk all day or my hairdressers who have no breaks between clients.
Prior planning is when you cook a double omelette at breakfast and eat half for lunch… if I can do this when I leave home at 5.15am, then you can too. And it tastes just fine cold and eaten from a throw away container.
Or when you start you day with a super substantial smoothie that loads your body with goodness and carry a serving of nuts in your pocket for that zero-fuss quick-fix which I used to eat walking from one client to the next back in my early personal training days when I worked for crazy-long-blocks of time without a break.
Perhaps prior planning is the non-refridgerated stash you keep at work that again, may not be ideal however is always preferable to the vending machine or to an over-hungry-take-away-demolishing-session when you finally finish your mammoth working day. So it may be protein powder, vital greens supplement and nut butter.
Canned tuna or salmon. Sodium reduced biltong (or Beef Jerky). Or one of the more natural brands of protein bars which are becoming more readily available.
Three: Save the Day Systems.
This is for the "No Time" excuse that keeps cropping up. As we covered yesterday: A mistake repeated is no longer a mistake, it's a decision.
The S.Y.S.T.E.M. is something you take that little extra time to create today to Save You Stress, Time, Energy and Money tomorrow.
A save the day system is when you order your meals from one of the numerous online services.
Yes, it's not the cheapest option and it all take a little research however it's an option. I googled 'order healthy meals online' and quickly found one site that out of 16 frozen meals on offer I'd be super happy for any of my clients to eat any of those 16 meals. They look that delish, clean and nutritious.
Here's the link to that site.
Those meals included stuff like: SALMON FILLET WITH CAULIFLOWER FRIED RICE / BREAKFAST MEATLOAF / GARLIC PRAWNS AND ZUCCHINI PASTA / BACON, KALE AND MUSHROOM FRITTATA
Or your save the day system if you have a team or secretary as many of my clients do could be to make it a part of their routine to grab that salad for you from the cafe down the road each day. If you're tied to your desk as I hear happens then surely there's value in getting the fuel to your body that will help it work most efficiently and absolutely you can respectfully ask a team member to help you with that.
Perhaps you need your save the day system to be self sufficient? That's cool. It's possible. It just comes down to a prior planning and systemising combo. So it may be the meals on mass you make a couple of times a week at a set time each week. If you think it's boring to eat the same thing several times a week or if you belief a salad must be made that day to be fresh or if you have more pressing activities to enjoy rather than cooking for a mere couple of hours on your weekend and perhaps again on a Wednesday night then tough love Kate is down with that…
That's A-ok and 100% YOUR CHOICE however it's also a big fat, goal destroying excuse!
To get actionable today: When was the last time you played the "No Time" card in relation to eating well?
What is the likelihood of that situation occurring again?
AND, what terminating tactic can you deploy to ensure the "No Time" excuse doesn't become a mistake you decide to repeat?
That's it for today… in tomorrows Wednesday Weigh-in show I'm covering: Stow Your Baggage For Weight Loss Take Off.
If you liked this you'll also like: How to DUMP Measuring to Naturally Lose Weight. 
If you're yet to share the Healthification love – just click here to zip over to iTunes and leave an honest rating and review. It'd help me out big time. With gratitude, Kate.