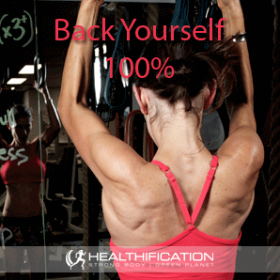 Podcast: Play in new window | Download
Subscribe: RSS
I was reminded this morning of one of the things I love most about exercise.
As another trainers client grumbled (good natured-ly) through his session he asked me "Katie, do you think you'll still be exercising at my age?" to which my response was "John, I hope I'm lucky enough to still be exercising at your age."
His response? "You won't need to – they'll have invented a pill by then!"
Thankfully that will never happen. Because I LOVE that you can't buy your exercise results. It's one of the last frontiers where hard work is your only currency. Sure having the money for a trainer, a chef, and even a bit of liposuction here and there may help… however it's never a complete solution!
If you want great results it's going to take a great training ethic.
However, here's one of the things I don't love so much about exercise – is that you can have a great training ethic, so far as the time and energy you put into your exercise and still not get to enjoy awesome results.
That's pretty disheartening.
So in todays Thursday Training show I'm covering: 4 Exercise Tips To Set You Apart.
4 less known tips to ensure you see the results for your hard work.
These tips presuppose that you're down with my 2 exercise essentials as covered in previous shows. To recap:
1). CONSISTENCY. Check out show 004 for why consistency is key.
2). Prioritise WEIGHTS Over Cardio. Check out show 009 for more on why weights will give you the best bang for your fat burning buck.
Ok, let's roll forward with those tips:
One: Leave Your Ego At The Door.
Basically I mean form comes first. Always. I really don't care how heavy I lift. Having said that lifting heavy is important however it needs to be heavy with great form and a great range of motion.
This is one of the changes I've made to my own training in recent years. I've dropped my weight and increased my range of motion with a few exercises.
My main goal is to have a great training session that leaves me fit and injury free to train another day… likely ideally tomorrow!
I don't need to squat the most. I know that box jumps aren't something my knees want to test out. I only needed to attempt kettle-bell suicides once to be unequivocally clear they never need feature in my routine again! (ok, one close escape from a broken wrist means I guess I could have been even faster on the up-take there!)
Two: Quality Beats Quantity.
If you're spending hours exercising a week and not seeing results, the first consideration of course is food.
I covered that is show ??? so today let's skip to the other common reason your effort:results ratio may not be stacking up as you would love.
It's never about how long or how much you do, it's always about your focus, the intensity and also big compound movements.
I'll take the results of 15 minutes of super focused, high intensity, quality movements any day over 60 minutes spend at low-moderate intensity in cardio land.
To be specific: if I had just a precious 10-15 minutes I might do say '6' hoop chin up, '12' push ups and '18' sumo in out jump squats as a circuit for as many rounds as possible with as little rest as possible... I'll take the fat burning and muscle building results of those 3 compound movements any day over cardio land time or for that matter a session of Bi's and Tri's focusing on isolated movements with indulgent rests between sets.
Three: Focus On What You Did Right.
(ok, so now we are getting less well known right?)
As with everything body gain the way you think will either help you get and keep awesome results or make it a constant struggle.
I notice that with the people who aren't there yet – they have a tendency to focus on how they 'stuffed up" or "what they didn't manage to do." As a result their focus and experience of exercise tends to be everything that is Hard and UN-fun. They are all too aware the the progress they are not making and how dauntingly far they have to go.
How inclined do you ever feel to throw yourself back into the thing you're rubbish at and not making any progress in?
Me either. That's why tip 3, focus on what you did right is vital. Again you're directing your focus towards what you want more of. Your reference points for success. The evidence you're gathering to make and the exercise do easier and also to fuel tip #4…
Four: Nurture The Belief That You Are A Person Who Prioritizes Your Health.
It's amazing how compelled we are to act in accordance with the beliefs we believe to be true about yourself.
Our personal identity beliefs. However they phase it – and you've got to find the way that best resonates with YOU – the people I meet who stay fit and healthy long term BELIEVE that they are people who priorities their health.
If you currently believe you're: not a natural exerciser / big boned and meant to be a little heavy / lazy and comfort seeking by nature then these beliefs need upgrading!
The awesome thing with any belief is that you can manufacture the belief to get you the result you want. The belief can come before the result. You just have to commit to it – to nurture it – and a component of that is choosing to focus on every great action you take as in tip #3.
To dig a little deeper with your beliefs and the huge impact they have on your ability to achieve your health goal…
You have beliefs about what health and getting in great shape mean – whether you're consciously aware of them yet or not.
To act actionable today I'd love you to get clear on those beliefs and if they're not serving you – upgrade them.
For example, although I may joke about not being genetically gifted and being naturally uncoordinated and although there has been countless evidence to support the truth in both over the years (!) the strongest belief I have about my health and my ability to achieve my goals – the personal identity belief that sits at the forefront of my mind 24/7 whenever I'm faced with a "do I exercise?" decision or a "do I eat that tasty yet fake and processed rubbish?" decision is this:
"I am a person who will do whatever it takes to get and stay in great shape."
Now that may well be a little extreme for you. That's cool. It's just a matter of coming up with what does resonate with you.
That's it for me – it's interval training today so I'lll absolutely have "I am a person who will do whatever it takes to get and stay in great shape" at the forefront of my mind… and I'll also be super happy that Quality Beats Quantity!
I hope you can join me tomorrow for the Friday FAQ show where I cover, Keystone Habits (daily and weekly most effective actions).
If you liked this you'll also like:  Travel tips to stay on track with your best health habits.
If you're yet to share the Healthification love – just click here to zip over to iTunes and leave an honest rating and review. It'd help me out big time. With gratitude, Kate.