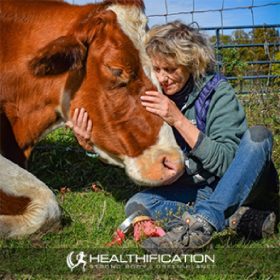 Podcast: Play in new window | Download
Subscribe: RSS
Todays conversation is full of insights, life-altering lessons and heart melting stories about the individual farm animals that have called Catskill Animal Sanctuary in New York state home over the years.
Our guide is Kathy Stevens. Impassioned story teller and founder + director of Catskill Animal Sanctuary, one of America's leading farmed animal sanctuaries.
Over the last 21 years, CAS has saved more than 5,000 animals through direct rescue and exponentially more through groundbreaking educational programs that encourage humans to adopt veganism.
Kathy is the author of Where the Blind Horse Sings and Animal Camp and also takes her message of kindness to all beings to conferences and colleges across the U.S. and Canada.
She has committed her life's work to creating connections between animals and the humans who can become their greatest advocates.
In this interview we cover:
Kathy's journey to animal activism, starting with her childhood growing up on a thoroughbred horse farm.
In 2001 Kathy combined her passion for teaching with her passion for animals and founded Catskill Animal Sanctuary.
Farmed animals feel the same emotions as humans.
How factory farming destroys animal relationships every single day.
Covid challenges, fundraising opportunities reduced and costs skyrocketing.
The 3rd Annual Goat Games fundraiser.
The urgency of veganism if we're going to spare the planet and ourselves from the worst impacts of climate change.
Some of the life-altering lessons Kathy has learned over years of animal rescue and advocacy.
I hope you loved that chat as much as I did. I realised after we finished recording that as I'm in the future – in Sydney – if you're listening to this the day it goes live the Goat Games fundraiser will still be running! 
So if you'd like to support the amazing work Catskill Animal Sanctuary does please go to https://casanctuary.org/ and you'll see all the info on both competing and donating.
The ultimate goal of this event is not just to raise money for animal sanctuaries, but to communicate the need to reduce animal product consumption – not only for the animals, but for the planet and ourselves.
Of course at any time of the year your support is greatly appreciated.
To connect with Kathy and team Catskill Animal Sanctuary across the socials I have you all linked up below.
I choose to believe in humanity's goodness, and in our capacity to be our best selves. It's the only way I can do this work. Kathy Stevens
Click To Tweet
Connect with Catskill Animal Sanctuary via the website: https://casanctuary.org/.
Check out the Herd Around The Barn podcast:
Kathy's books, Animal Camp: Reflections on a Decade of Love, Hope, and Veganism at Catskill Animal Sanctuary and Where the Blind Horse Sings: Love and Healing at an Animal Sanctuary.
Connect with Catskill Animal Sanctuary across the socials: Facebook | Instagram | YouTube | Twitter.
That's it for this week in Healthification. If you're yet to rate, review and subscribe please do! It counts big time in letting this little show – and the amazing guests I get to chat with achieve some visibility among the millions of podcasts out there.
Big thanks to YOU for sharing this week with me.
The Healthification podcast is proudly bought to you by my FREE 'Easy Vegan' plan. It took me 25 years to transition from a meat eater to a happy, healthy Vegan! You can do it in just 3 days with my simplified 'easy vegan' plan!  Get the fit, strong, and healthy plant based body you deserve… while avoiding ALL the mistakes I made along the way!
To learn more check out: strongbodygreenplanet.com
Till next time, remember Creating a body and life you love is Freedom. (If this ex-refined-carb queen, non genetically gifted, naturally uncoordinated vegan chick can do it – so can YOU!!!)
If you liked "Kathy Stevens of Catskill Animal Sanctuary and The Urgency of Veganism. " you'll also like Pam Ahern from Edgars Mission Farm Sanctuary Is Creating A Kinder World For Farmed Animals.
If you liked "Kathy Stevens of Catskill Animal Sanctuary and The Urgency of Veganism. " you'll also like E568: Vegan Athlete Fiona Oakes Is Running For Good.
If you liked "Kathy Stevens of Catskill Animal Sanctuary and The Urgency of Veganism. " you'll also like Former Chicken and Cattle Farmers Go Vegan and Leave Animal Agriculture with Jennifer Barrett.
If you liked "Kathy Stevens of Catskill Animal Sanctuary and The Urgency of Veganism. " you'll also like 638: PETA's Ingrid Newkirk | Animals Are Not Ours To Experiment On, Eat, Wear, Use For Entertainment or Abuse In Any Other Way