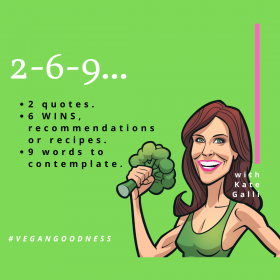 In this weekly email series I'm sharing vegan goodness and good news:
2 quotes.
6WINS, recommendations or recipes.
9 words to contemplate.
My intention is to provide a little spark of positivity for us both (!) to take into our weekend.
This 2-6-9 email is focused on, Courage. 
Courage might mean making a big change in your life. Like backing yourself to start a new business or to move city or to leave a relationship. It could also mean, doing the work. Self work that is. Courage can absolutely be sitting with YOU. Feeling your feelings rather than blocking them. Asking yourself the hard questions like: "How is this current approach working for me?" Or: "How will my life look in 12 months… 24 months… 36 months if nothing changes?"
HA, I promise you GOOD NEWS and GOOD VIBES and then I hit you with these big questions! If they resonate – amazing – they might help you on your way to making a courageous decision and if they do not ring true, all good! Please read on, I still have plenty of vegan goodness to share this week…
2 Quotes.
"Courage doesn't always roar. Sometimes courage is the quiet voice at the end of the day saying, I will try again tomorrow."– Mary Anne Radmacher
"Courage is what it takes to stand up and speak; courage is also what it takes to sit down and listen." – Winston Churchill
6 WINS, Recommendations or Recipes. 
Win: From vegconomist.com: Vegan Diets Slash Emissions by 75%, According to "Most Detailed Study Yet". Described as the most detailed research of its kind ever to be done, the study looked at the real eating habits of 55,000 people, as opposed to using model diets like many previous reports. It found that low-meat diets have half the emissions and land use of high-meat diets, while adopting a vegan diet can halve these figures again — totalling a 75% reduction.
Many of us are already aware that adopting a plant-based lifestyle is the single most effective thing you can do for the environment positively impacting not only green house gas emissions, also: land use, water use, deforestation and species extinction to name a few. However as consumers grow more environmentally conscious it's good to have even more detailed research to share.
Win: From plantbasednews.com: 'Age Is Not A Limit': Vegan Athlete, 66, Secures 1st Place In 48-Hour Ultramarathon. Trishul Cherns, has run 300 ultramarathons and broken more than 110 Canadian ultrarunning records. After the latest grueling 142.5 miles (229 kilometers) in Massachusetts he credited his vegan diet for his success: "I'm a vegan, and that's an anti-inflammatory diet. I'm trying to prevent inflammation in my body because these are stressful events, so I'm trying to make it as easy as possible."
Too often in the gym I hear "I'm too old for this!" When really you are never too old. I have a client who is 79 and can do 12 push ups from his hands and toes with a great range of motion. If you have the freedom and the physical ability to be able to exercise, it truly is a privilege.
Recommendation: Shout out to courageous, quiet achiever, Fiona Oakes. Fiona is the fastest woman in the world to run a marathon on all 7 continents and the north pole. The film, Running For Good follows her attempts to set a new world record in endurance racing and also compete in the "toughest footrace on earth" the Marathon Des Sables, a 250km race through the Sahara Desert.
She does this all to raise awareness for the plight of animals and to help fund her sanctuary 'Tower Hill Stables' where she cares for 450+ animals. 
There's so much more though. At 14 years Fiona she was told she'd never walk properly again. Let alone run. She had more than 17 radical knee surgeries which ultimately led to having her entire right kneecap removed.
So how does she do it? Listen to the my interview with Fiona here:
Recommendation: This After Skool video is 5:38 minutes well spent: the NEED for Acceptance Will Make You INVISIBLE – Jim Carrey.
Recommendation: Award winning photojournalist Jo-Anne McArthur founded We Animals Media to have a broader impact for animals. Four years on this global community of 100 photographers makes a stock platform of 20,000+ free visuals Certainly the images are both stunning and shocking. Heart-melting and heart-breaking. The images are free to use however support is always HUGELY appreciated as Jo-Anne shared in a recent email:
"I'm asking you for your support today, so that our worldwide network of photographers can continue to hold governments and industries accountable, change hearts and minds, and tell the urgent stories that others are not."
NON-RECIPE: Whether you're a tofu lover ora tofu hater please try this texture and flavour creating technique. When you freeze your tofu and then defrost it, something fabulous happens to the texture and the tofu's ability to suck up flavours.
It will discolour slightly, however that is fine. To get more specific, cut your tofu into single serve blocks (100-150gm) and freeze. Defrost the amount you want to consume and marinate it. You will find it soaks up MUCH more sauce. When ready to cook, instead of cutting your tofu try ripping it into small pieces. You will find there is much more uneven surface texture to get all gorgeous and crispy.
If you (or someone you know) are fearful of soy's estrogen mimicking effect, don't be! It's dairy industry propaganda. I write about it here, To Eat SOY Or Not To Eat Soy?
9 Words to Contemplate.
Courage whispers: 'Tomorrow, I'll try again.' Endless strength within.
If you enjoyed this email please share the LOVE with someone who would also find value in it.
They can subscribe to the 269 weekly email here:
See you next week!
Kate Galli
P.S. I didn't share a real RECIPE did I? This proper chef ignores my amateur texture creating technique with delicious results. Check out Chef Bai's Vegan Salmon Bowls here: (I interview Chef Bai in E799: Plant-based Chef Bailey Ruskus and Thriving with Endometriosis)