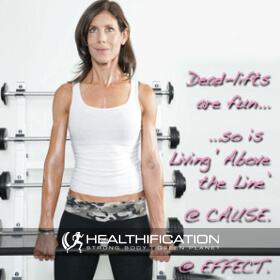 You've likely heard the term to be at effect or to be at cause.
I believe: The ultimate freedom is the ability to assume 100% responsibility and chose how you respond to any given person or situation.
This is the power to be at cause in your life rather than at effect of all that is happening around you.
If you are not yet succeeding in creating and keeping the body you desire it's likely you keep trying to change your behavior (also the effect) without dealing first with the cause behind it… and this leads us to the 5 Logical Levels of Change:
IDENTITY (who you are) = MOST powerful.
BELIEFS (and values).
CAPABILITIES (skills).
BEHAVIOUR (habits).
ENVIRONMENT (the place / people you're with right now or the company / city / world you're a part of) = LEAST powerful.
Taking a look at the 5 logical levels, which one do you feel has been holding you back so far as creating your best health?
AND, is that the level you've been funneling your energy into changing?
Or perhaps, you've instead been tempted to seek out new skills (level III) or enforce new habits (level IV)before first cultivating the Beliefs and Values AND even before that the clarity and congruency of Identity that are the vastly more powerful levels of change at your disposal.
For lasting results the logical levels of change need to be mastered in order.
You can imagine that changing your 'environment' – say joining a new gym, is going to have a far weaker result than believing that part of your core 'identity' is that you're a healthy and disciplined person who keeps yourself in great shape because it enables you to enjoy all the experiences you value most.
Equally trying to create new 'behaviors' or habits – say getting up 30minutes earlier to go for a walk before work rain or shine, without first working on the 'beliefs' they support is not going be sustainable long term.
That first dark, freezing, rainy morning… when you're backing up from an extra late nights work and that warm buttery banana bread and massive cappuccino at the cafe by work is looking a lot more appealing?  You better believe you'll need more than discipline and habit to get you choosing the walk option!
Checking out the logical levels within the framework of the 'Hierarchy of Ideas' will shed even more light on the situation.
The Hierarchy of Ideas is: a way to move between different levels of abstraction.
Stick with me (no more jargon I promise!) and I'll explain the huge value in getting great at this with regard to your health goal.
=> Chunking up involves moving to greater levels of abstraction.
=> Chunking down involves moving to greater levels of detail and specificity.
=> Chunking across (or laterally) involves other examples at the same level of abstraction.
There is more power in the abstract… as the abstract encompasses the specifics too.
Maybe you're already aware of the level of abstraction you're most comfortable in?
=> Are you a big picture thinker who neglects the specifics to bring your vision (or goal) to reality?  "A fit and healthy body means Freedom and Integrity to me"
=> Perhaps you get stuck in the day to day details without the awareness of the greater purpose behind your daily actions? "I'll exercise for 45minutes 6 days a week, sleep 7 hours a night, plan and build my meals around fibrous veg+lean protein+good fats, and swap processed food for one ingredient foods except for each Sunday when I eat whatever I want."
=> Or (like me!) are you clear on your big picture and good with the small details yet struggle to think laterally and come up with alternatives when obstacles jump in your way?
Or maybe get lost with the mid term steps/goals that join your 'fine details' to your 'big picture'? "Less than ideal sleep last night, a rainy morning and a sore knee means I'll just do a moderate intensity upper body+core training session at the gym instead of my long walk this morning" (I'm ok at 'chunking across' so far as health – it's still a 'to work on' in other aspects of my life!)
Equally in any area at which YOU excel, you are adept at traversing the hierarchy of ideas  and the reverse is true.  Luckily, with awareness comes the opportunity to build this skill.
Here are the questions to ask yourself in any level you want to build your skill… along with examples applicable to a weight loss goal.
Up = "For what purpose?" or "What is your intention?"
=> can you see how this fits with your big picture IDENTITY, BELIEFS and VALUES?
For example: You want to lose weight.
You need clarity on your Why before you'll make the How happen.
What will this Give you;
"The confidence and energy to race around – in a swimsuit and carefree! – with my kids and the self belief and sense of freedom that comes from finally following through with my commitment to myself."
Down = "What are examples of this?" or "What specifically?"
=> where as this fits with your specific CAPABILITIES, BEHAVIOURS and HABITS.
For example: I need to eat more veg and less carbs.
This is fairly general… not so easy to take specific, effective, measurable actions.
Specifically you could;
Buy 1kg bag of mixed frozen veg and each day add 200gm to your breakfast omelette.
Add 1 cup of cruciferous veg (steamed broccoli / cauli or perhaps a dressing-free cal-slaw mix) whenever you have a leafy green salad.
Replace processed carbs like cereal, bread, bars and basically anything in a packet with more than 1 ingredient with quality natural carbs… like sweet potato, berries, or quinoa. (monday to friday is a great start with these tips)
Laterally = "What's another example of this?"
=> this is a fantastic solution when your current ENVIRONMENT/situation throws a curve ball… a circumstance non supportive to your goal where you can either choose to be at cause or at effect.  To be at cause requires lateral thinking.
For example: You're going out for dinner for pizza.
If you lack the ability to come up with alternatives… you'll go out and eat pizza!
Alternatively you could;
Suggest another restaurant.
Check the menu on online first to see what's on offer and decide on the best (for your goal) meal choice.  If it's a little light (like a salad), ensure you have a nutritious snack first and don't arrive starving and ready to demolish.
Politely ask the waiter what their non-pizza/gluten free (or as applicable to your goal) options are.
In summary, we've covered: to live at cause / the 5 logical levels of change / the hierarchy of ideas.  Each allow you to become a more powerful communicator.
Notably the most important form of communication is that which you have with yourself… the thoughts and beliefs you have…
…AND especially the questions you ask yourself.
As you've heard me say before, your unconscious mind is like and eager little puppy dog – it wants to please – it'll search 24/7 for the answer to any question you ask it.
Now the choice is yours;
Will you be 'at effect' asking yourself "Why does this always happen to me… why does it always have to be such a constant battle?"
Stuck in 'environment' "If only the weather was nicer, I finished work earlier or the gym classes were at a more civilized hour I'd be able to get into a routine."
Stranded 'chunking laterally' "Committing to a 12 month gym membership, buying a new out-fit, seeing a nutritionalist, and eliminating alcohol+chocolate didn't work last time but it's familiar so let's try it again and see if I get a different result."
OR, are you ready to;
First: Identify what's been holding you back and
Second: Commit as much time and energy as it takes to become the most effective communicator with yourself you can be?