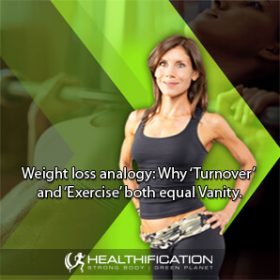 For better or worse I see almost everything though the filter of weight loss and optimal health.
So yesterday when a dear client shared with me a fun analogy – indeed some business gold – my mind set to racing at how to make it applicable to weight loss.
Let's start with the business analogy:
Turnover = Vanity.
=> those big numbers look and sound really good.  However alone they do not mean success or even viability.
Profit = Sanity.
=> you can pay the bills… and sleep at night.  Yet how agile is your business… how sustainable are the actions you're taking to remain profitable and do you enjoy freedom?
Cash flow = Reality.
=> this determines your options and gives you choices.  Both what you can make happen right now and also sowing the seeds for future success.
Now you need all 3 as you do with my weight loss equivalents:
Exercise = Vanity
Eating = Sanity (or insanity!)
Mindset = Reality
Let's take a look at each in detail:
Exercise = Vanity
Have you ever met the gym junkie who spends countless hours slogging away and never actually loses any weight?  I certainty have.  Sometimes this gym junkie even trains really hard – good exercises with decent form and a high intensity.  Perhaps they even prioritize the best of the best for weight loss: metabolic resistance training.  (MRT)
They are proud of the hours they dedicate to training.  Consistent and committed.
However, as you know: You Can Never Out-train a Poor Diet.
Even the very best training program does not mean success if your Eating is not supportive of all that effort you're putting into your exercise.
Here's a MRT Program to give you maximum bang for your fat burning buck:
=> complete circuit style 2-4 circuits, 90 seconds rest between each complete circuit.
SPLIT SQUAT (to progress: 1.5 reps) 12 repetitions each leg.
SWITCH LUNGE 45 seconds.
ASSISTED CHIN-UP (to progress: unassisted or advanced burpee) 12 repetitions.
RENEGADE ROW 45 seconds.
TRICEP DIP (to progress: feet on medicine ball) 12 repetitions.
SQUAT PRESS 45 seconds.
SIDE PLANK LEG RAISE (to progress: 20 reps + don't let foot touch ground) 12 repetitions each side.
PRONE HOLD 45 second.
Eating = Sanity.
Once you've got a great – or even fair – training program and you dial in your nutrition you will see results for the effort you're making.  Finally, it's paying off… and about time too!
However your approach to food is a fine line to walk between results-delivering-sanity and restriction-driven-insanity.  Yes, you plan your meals and cook in batches and give up your carbie-fatty-favourites "nothing tastes as good as being thin feels" right???
If you're feeling restricted by the food choices you need to make to attain and retain your goal shape then there's only so long you'll be able to sustain it.  You're going to drive yourself insane… or at least veer off the eating plan and right back to trying to out-train a poor diet (oh wait – that sounds insane too!)
My top 3 Restriction Eliminating tactics:
=> enjoy a cheat meal every week.  Eat whatever you want, a decent amount of it, 100% guilt-free.  For this to work your meals need to be pretty great at least 80% of the time and it's important to buy only the exact amount your have decided you'll be eating in one sitting.  No cheat meal left-overs… that's tempting trouble.
=> build your meals around low caloric density, colourful, fibrous veg.  This is appealing to your 'minds eye' as you get to enjoy a massive serving of food that looks good and is choc full of craving killing micro-nutrients.
=> choose quality over quantity with your higher caloric density foods.  If something is high fat (like nuts) I'm going to ensure I'm using that fat and those calories for my very most fav nuts, roasted cashews… I'm not wasting fat on lousy peanuts or toxic margarine.  Equally this applies to your carbs and alcohol of choice… for me it's fresh cape-seed rolls on the weekend and red wine… certainty not soft-drink or cheap white bread.
And finally your protein of choice… quality seeds, eggs – and even the protein powder you use should really be one you LOVE.
Mindset = Reality.
The way you think determines your reality.  
Your thoughts determine your decisions… your decisions determine your actions… your actions determine your results.  To focus on restriction so far as your food, or how hard your exercise is, or how slow your metabolism is, is to frame your options and choices in a limited way.
What you focus on expands.  
The way you are choosing to think today is going to sow the seeds for the results you will enjoy in the future.  As such, it's vital to nurture the most positive thoughts and create your most supportive mindset.
A supportive mindset is also flexible and malleable.
And all problems are a result of us framing things in a limited way… a lack of flexibility or imagination.  That means all solutions will result from expanding our awareness to the choices and resources available to us that we may not have previously be aware of.  If a belief isn't getting you the result you want then it's simply a matter of searching for the belief that will deliver the result you want.  HUGE Caveat!!!  By 'deliver' I don't mean visualize and wait with open (entitled!) arms.  Rather, choose the belief that encourages you to take the actions that will give you the results you've earned.
Let's check out a few examples:
To prioritize Health OR Productivity?
=> it doesn't have to be either/or… how about initiating some 'walk and talk' meetings?
=> or listening to your favourite podcasts/audiobooks as you walk to work.
=> or taking 10 minutes tonight to plan your day tomorrow… which will save you the hour you thought you couldn't justify for that work-out that will in turn leave you feeling energized for an even more productive days work.
If you like this post I have a couple more weight loss analogy posts:
24/7 Fat Loss: Weights is like a Passive Income.
The Weight Loss : Relationship Analogy.
Do you get to benefit from little gold nuggets shared by your clients? …it's absolutely one of the best parts of the biz for me – and I'd love to hear your experiences too?