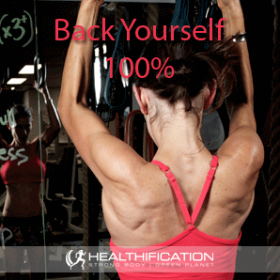 Walking to the gym on the weekend I had an epiphany…
You see in my quest for new strategies to help my clients achieve their health goals I'm constantly analyzing what IS effective for me in my own health and perhaps more so what ISN'T effective for me in other areas of my life!
I've believed for a long time that anyones success can be modeled and replicated to enjoy the same results. 
For years I've also urged the need for Patience and Persistence to my clients. At times I've felt like I'm banging my head up against a brick wall, when I'm told about the perfect training and nutrition routine that has been diligently maintained for days, weeks, perhaps even months (with the odd slip up), that still yields minimal results… Surely ticking all the right boxes – at the right time – with the right attitude for weeks even months (!!!) SHOULD = Awesome Results?
And then it dawned on me… This same impatience, the desire to reap before you sow (or perhaps to dig those seeds back up to see what's grown just after you planted them!) is something I demonstrate in the areas of my life that I'm not yet excelling in!
This is what I call the Run-Way phase (no, not the one where we're strutting down the run-way model style)… it's the Plane Going Full-Throttle Before Take-off.  It takes a lot of fuel and effort and it certainly can't be maintained indefinitely – however unlike the run-way… there is no guaranteed point of take-off!
Here's my point;
I look at the Branson's, the Kern's, the…(insert ridiculously successful entrepreneur/marketer/athlete/actress) who've left the run-way…
=> they're Cruising, Flying High and I easily forget the dues they paid prior to take-off.
They like any other traveler also had to lock away their baggage prior to take-off.
My realization is that whether it be in business or weight loss – once you're soaring it can seem little hinges swing big doors…
=> you Know What Works and so you do it again AND you have Faith In The Outcome based on your previous reference points for success.
When you're still racing along the run-way it's easy to wonder if all the effort will ever really pay off.
When I take the time to analyze what now comes so easily I realize;
Over the past 15+ years I've been:
Inefficient with my Training

Ineffective with my Nutrition

I've followed the Wrong Role Models

I've suffered from Inconsistency
HOWEVER, I stuck with it and learned WHAT WORKED for me (and for my clients)
and I've Done More Of That.
I've Focused on What I Want and
Surrounded Myself With Those Who Already Have It
and I'm Continually & Insatiably Always Seeking To improve & Refine My Approach.
It's clear to me the strategies that equal Business Success are readily applicable to Fat Loss Success and vice versa AND as with the plane – even when you Are Soaring it's important to have your Goal Destination Programmed In.
Key Points:
Exact Point of Take-Off is not Guaranteed => if you are persistent it Will happen.
If Someone can do it, Anyone can do it => Model Success.
Once you Know What Works it's easy to leverage your efforts for even better results.
"You just can't beat the person who never gives up"  Babe Ruth.