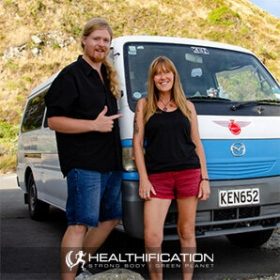 Podcast: Play in new window | Download
Subscribe: RSS
Vegan FTA – that's, For The Animals are a small yet mighty team of vegan activists who are committed to fighting for a vegan world.
Today I'm chatting with NZ based ex Dairy Farmer Jackie and ex Hunter Gareth from Vegan FTA.
Jackie, Gareth and team Vegan FTA want people to get involved in vegan activism across the board, whether it's protesting or creating a positive dialogue for change. They support activism in all its forms. This is a personal, fun and wide ranging conversation with a couple I found it so very easy to chat to.
Team Vegan FTA create videos highlighting the work of activists and animal rescuers. They write and publish articles on all aspects of veganism. They are masters at building relationships and sharing articles, videos, and images from other creators. I think this is a huge part of why they've been able to quickly grow a large community of people who are vegan for the animals.
If you check out their impressive online presence you might assume there's a huge team powering the Vegan FTA community… and yet that's simply not the case. Stay tuned right till the end of our chat where Jackie lifts the lid on how and why Vegan FTA got started, it's an inspirational story.
In this conversation we cover:
Jackie and Gareth's personal journey/s to veganism.
Their health journeys and WFPBNO diet.
Effectively bringing animal rights issues into the mainstream to achieve social change.
Utilising your experiences to be the most effective advocate and specifically, Jackie's Dairy background.
True health being a matter of not just personal health also the health of your family, your community and the planet.
The importance of compassion for animals, for fellow humans and especially self compassion.
How to deal with living in a non vegan world.
What do Jackie and Gareth see as the biggest threat to veganism globally.
And so much more!
My favourite of so many take aways: Collaboration within the vegan movement is key to our growth. If you're looking to model success and get better at amplifying the work of other vegans and animal rights activists then Vegan FTA is certainly excelling at spreading the vegan love far and wide.
If this conversation made you want to spend more time with Jackie and Gareth I agree – they're such a fun, relatable couple right?
Vegan FTA are prolific and easy to find online and of course I will also have you all linked up below.
The Vegan FTA website: https://veganfta.com/
Jump on the Vegan FTA free monthly newsletter:
Connect with Vegan FTA across the socials via Facebook, Instagram, YouTube (including the Activist Series), TikTok and Pinterest.
Jackie mentioned Jordi Casamitjana's book: Ethical Vegan.
Regarding meditation Gareth Andrew Johnson on Insight Timer and Spotify.
That's it for this week in Healthification. Big thanks to YOU for sharing this week with me. You rock and I appreciate your support! If you're yet to subscribe to this podcast please do – it's actually hugely impactful so far as helping others find the show AND it means you'll know when a new show drops. Upcoming amazing guests include: a couple of my FAV Aussie activists and Chicken Farmer turned Mushroom Farmer Jennifer Barrett.
The Healthification podcast is proudly bought to you by my FREE 'Easy Vegan' plan. It took me 25 years to transition from a meat eater to a happy, healthy Vegan! You can do it in just 3 days with my simplified 'easy vegan' plan!  Get the fit, strong, and healthy plant based body you deserve… while avoiding ALL the mistakes I made along the way!
To learn more check out: strongbodygreenplanet.com
Till next time, remember Creating a body and life you love is Freedom. (If this ex-carb queen, non genetically gifted, naturally uncoordinated vegan chick can do it – so can YOU!!!)
If you liked "Dairy Farmer and Hunter turn Vegan For The Animals with Jackie and Gareth from Vegan FTA." you'll also like E648: Seb Alex Will Never Stop Fighting For The Animals.
If you liked "Dairy Farmer and Hunter turn Vegan For The Animals with Jackie and Gareth from Vegan FTA." you'll also like Michael Klaper MD and How To Stay Healthy and Lead With Compassion Through The Coronavirus Crisis.
If you liked "Dairy Farmer and Hunter turn Vegan For The Animals with Jackie and Gareth from Vegan FTA." you'll also like The Plant Trainers Shoshana and Adam Chaim Will Help You Thrive On Plants.